The London & North Western Railway Company, which from the start had operated the Chester and Holyhead Railway including the short branch line opened in 1858 to Llandudno, rebuilt the station in 1891/92 to its present form with five platforms, two of which were closed in 1978. However, the first holiday makers to visit Llandudno travelled by ship from Liverpool and were rowed ashore with their luggage. It was the coming of the railway that made possible the rapid development of the resort.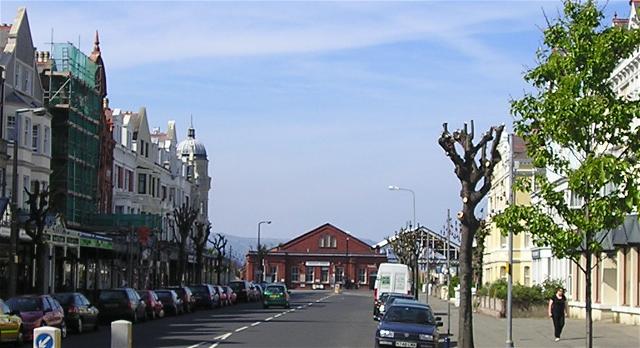 Very many passengers came by train to Llandudno on Saturdays throughout the short summer season from London as well as all parts of the Midlands and the North-West of England. More arrived daily and on public holidays on very crowded excursion trains. Horse drawn cabs and later taxis ran straight into the station and stopped alongside the principal express trains. The carriage road is still there between the two principal platforms and still used by taxis, but the all-over glass roof was largely removed in 1990. The station is shown above at the end of Vaughan Street.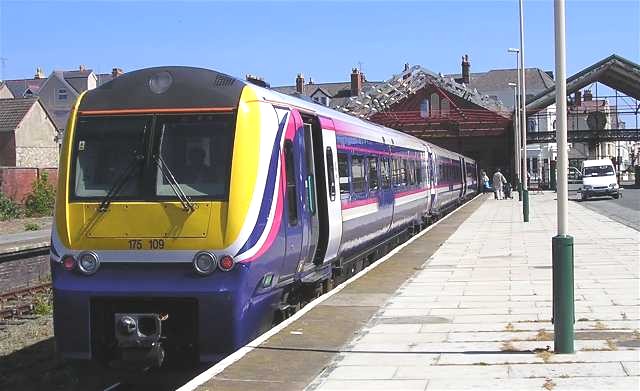 Today the railway continues to serve Llandudno with an hourly service on weekdays throughout the year along the North Wales Coast Line to and from Manchester Piccadilly via
Chester
and Warrington (connexions to north-west England and Scotland). This journey takes approximately two hours and there are eleven modern comfortable air-conditioned trains, like the above, each way daily. This is a more frequent, faster and more comfortable year round service than any in the days of steam trains. There is a less frequent Sunday Service. Travelling by train is quite the best way to visit Chester or Manchester.
At Manchester Piccadilly there is a same platform connection into the very frequent service to Manchester Airport. There are also connecting services at Chester or Llandudno Junction for Crewe and Cardiff (via Wrexham, Shrewsbury, Hereford and Newport). Visit my
Llandudno - Manchester Trains
webpage for details of the enormous improvements in recent years to the Llandudno - North Wales Coast - Chester - Manchester train service.
From Llandudno there is also the delightful and very scenic
Conwy Valley to Betws y Coed and Blaenau Ffestiniog
. The Conwy Valley line trains and all the above are operated by Arriva Trains Wales.
A daily through service (Mondays to Fridays) was operated by Virgin Trains from London (Euston) to Llandudno and back, using 125 mph super-voyager express tilting trains like this one: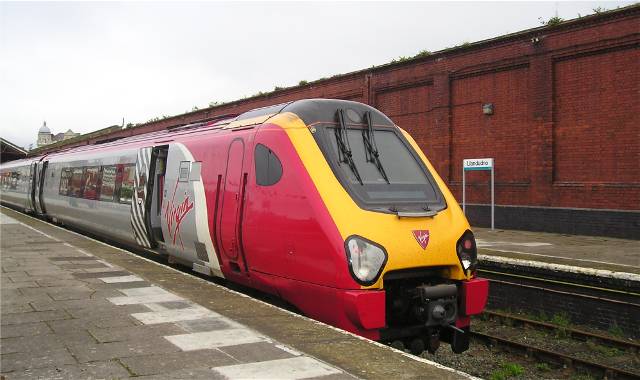 Click this link for the story of the
Llandudno to London
Monday to Friday service restored after a gap of forty years. Regrettably, this through service only operated from September 27th 2004 to December 12th 2008.
F
ollowing the completion of major improvements to the main line between London and Crewe, the 2008/9 winter timetable contains a much improved service from London to Chester (from late January 2009, this will be hourly with a through journey time of 2 hours and 2 minutes from London to Chester) and passengers will be able to travel hourly between Llandudno and London with just one change of train.

There are in addition excellent services from Llandudno Junction (connections from Llandudno) with five through trains daily between Holyhead and London, hourly trains to Holyhead and also to Crewe (some with change at Chester) plus a through train every two hours to Wrexham, Shrewsbury, Hereford, Newport and Cardiff. Several trains daily run from Llandudno Junction via Chester, Wrexham and Shrewsbury to Telford, Wolverhampton and Birmingham.
Plans are being formulated to redevelop Llandudno railway station with the possible inclusion of bus and coach facilities.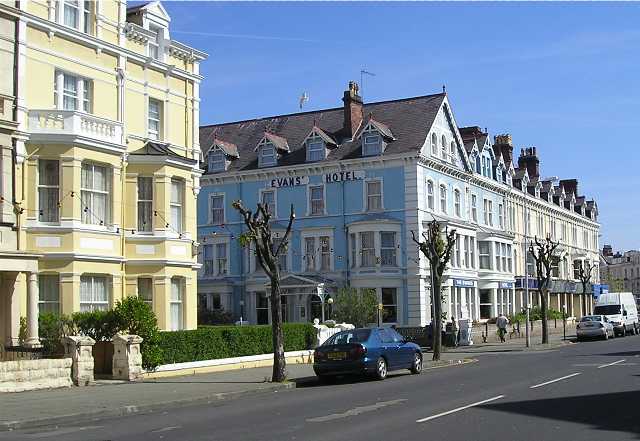 Vaughan Street was constructed in 1858 to link the Promenade and Mostyn Street directly to the station. It is one of the widest streets in the town and was designed to cope with the large number of horse drawn carriages and cabs carrying visitors to and from the resort's many magnificent hotels. The construction of Vaughan Street involved the removal of a stone age burial mound. Situated on the street are several small hotels and guest houses and a number of shops with verandas.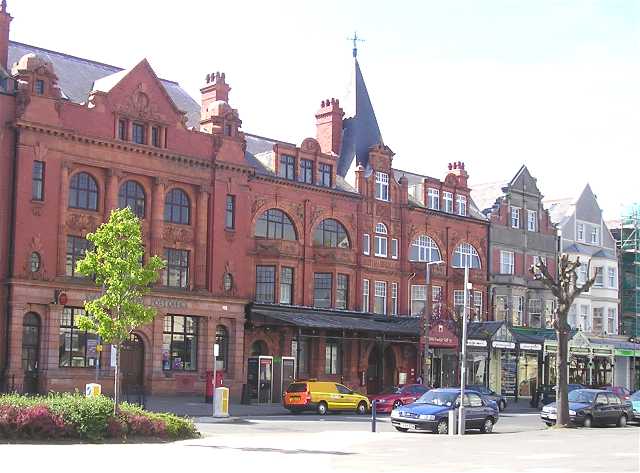 Prominent at the Mostyn Street end are the present Town Post Office built in 1904, and the adjacent Oriel Mostyn Gallery built in 1902 to house the extensive art collection assembled by Lady Augusta Mostyn. By 1914 the gallery was empty and was requisitioned for use as an army drill hall. It was used for storage and warehousing until 1979 when it re-opened as an art gallery presenting occasional public exhibitions. Redevelopment of the gallery started in June 2007 and when completed there will be five exhibition galleries.