Present was Councillor Mrs Linda Groom, Chairman of Conwy County Borough Council.
Also present was the Llandudno Town Crier, splendidly attired as befits his station.
To him was to fall the sonorous duty of welcoming the train.
And the station clock is going again!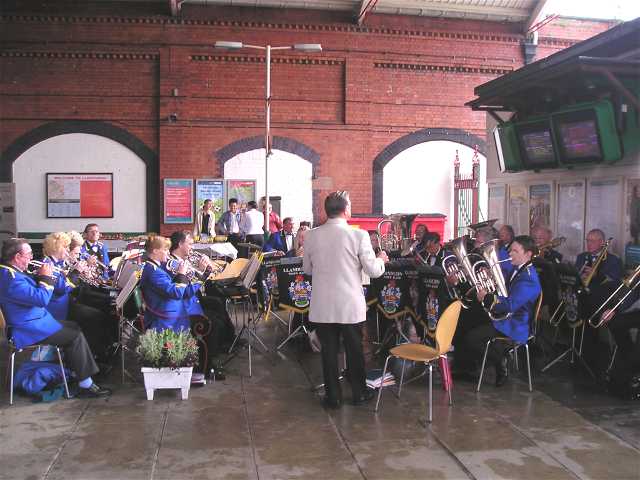 While they waited, the visitors were being entertained, as is traditional on these occasions, by The Llandudno Town Band (seated below the train arrival and departure boards) who played such ditties as 'The Cornish Floral Dance' 'Men of Harlech' 'God bless the Prince of Wales' and for the benefit of
Richard Branson, the
Virgin supremo, they played 'Those Magnificent Men in their Flying Machines'.

In the background, catering staff organized an excellent finger buffet for all present: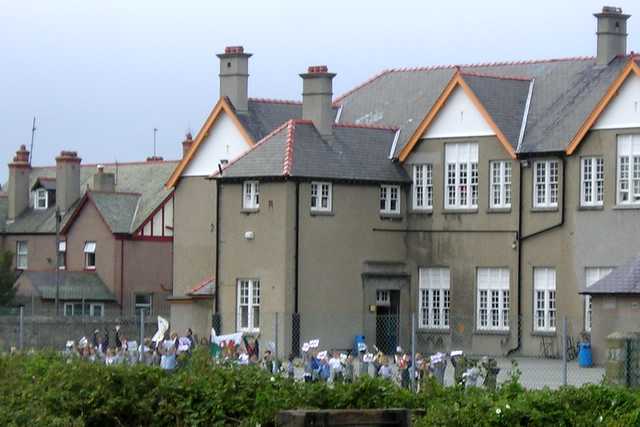 Across the tracks in the local school yard more children cheered and waved Welsh National flags.
So it was that at exactly 14:37 the train arrived in view
through a display of pyrotechnics it slowly came to rest along side platform 2.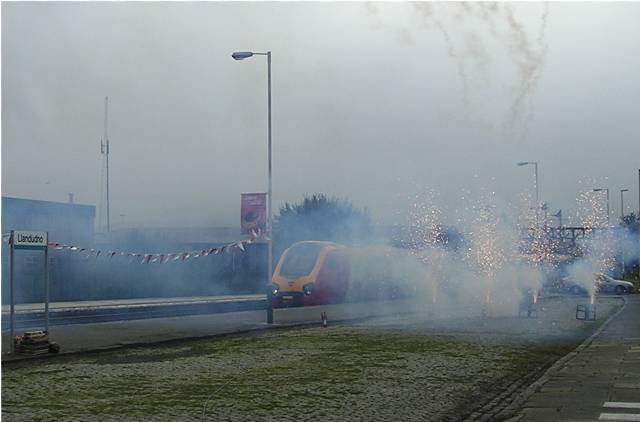 Re-creating with fireworks for Virgin Super Voyager, on this one occasion, the days of steam!



Below, the first

through

weekday passengers from London in half a lifetime alight at Llandudno.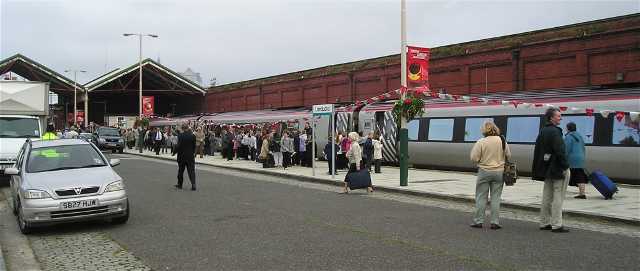 And then came the speeches, several speeches of most excellent quality introduced by the Town Crier: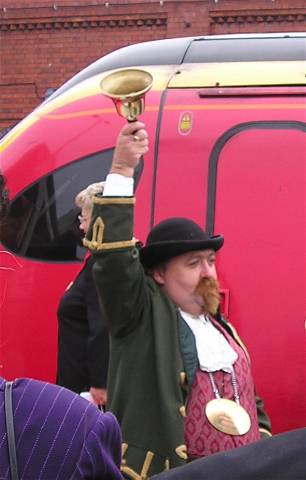 Oh yeah! Oh yeah! Oh yeah! Three cheers for Virgin Trains! Hip! Hip! Hurrah.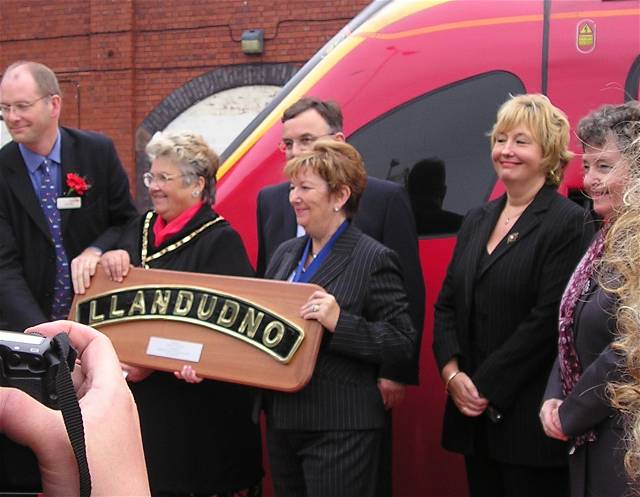 And next a presentation. In 1937, at Llandudno Station, Lady Mostyn had unveiled the nameplate 'Llandudno' on LMS Patriot Class Express Passenger Locomotive No. 5520. A mounted replica of that 1937 nameplate was presented by Virgin Trains Executive Director Chris Gibb and accepted on behalf of the town by Cllr Mrs I.L. Groom (Chairman of Conwy County Borough Council) and Cllr Mrs A.E. Parry (Deputy Mayor of Llandudno). Mr Andrew Davies AM minister for economic development and transport spoke of the very considerable investments now being made in railway services in Wales. Mrs Betty Williams MP for Conwy and Mr Denis Idris Jones AM for Conwy both spoke in praise of the new service.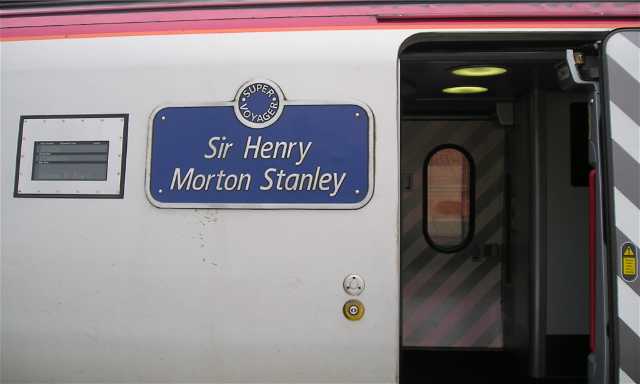 Today's super voyager class diesel electric tilting train bears the name 'Sir Henry Morton Stanley' after the journalist commissioned by the New York Herald to find Dr Livingstone in Africa. Stanley was born in 1841 at Denbigh in North Wales, the illegitimate son of John Rowlands and Elisabeth Parry. He lived in the Saint Asaph Workhouse from the age of six until he was 15. He ran away to sea aged 17 and was befriended in New Orleans by Henry Stanley, a merchant whose name he took. Stanley was probably the greatest explorer in modern times to have been born in Wales. He died just 100 years ago in 1904.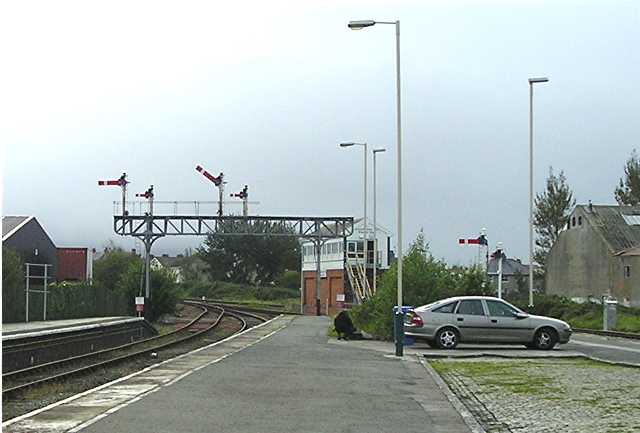 Signalled for departure at 15:23 from platform 2
The new service also calls at Fflint - the first regular through service from there to London for many years.
It is interesting to recall that in the summer of 1939, in the great days of steam, 'The Welshman' express left London Euston at 11-15 am and ran non-stop 205 miles to Prestatyn reached at 3-04 pm and finally arrived at Llandudno at 4-02 pm. Its return journey was not until 11-35 am next morning and after an extra stop at Chester arrived in London at 4-20 pm. In 1939 4¾ hours each way by LMS steam with 5 intermediate stops compared with today's remarkable 3¼ hours by Virgin Super Voyager with 7 intermediate stops.


Major Changes - December 2008

Following the completion of improvements tp the main line between London and Crewe, the 2008/9 winter timetable contains a much improved service from London to Chester (from late January 2009, this will be hourly with a through journey time of 2 hours and 2 minutes from London to Chester) and with five trains daily continuing to Llandudno Junction and Holyhead. Regrettably the through service from London to Llandudno has lasted only four years and ran for the last time on

Friday, December 12th 2008

.


---
Meanwhile

Arriva Trains Wales hourly
service between Llandudno and Manchester Piccadilly
(A very important service - 11
air-conditioned
trains
each way
every weekday and each taking about 2 hours 10 minutes with 10 intermediate stops)
arrived and departed without undue ceremony from platform 3, its regular platform: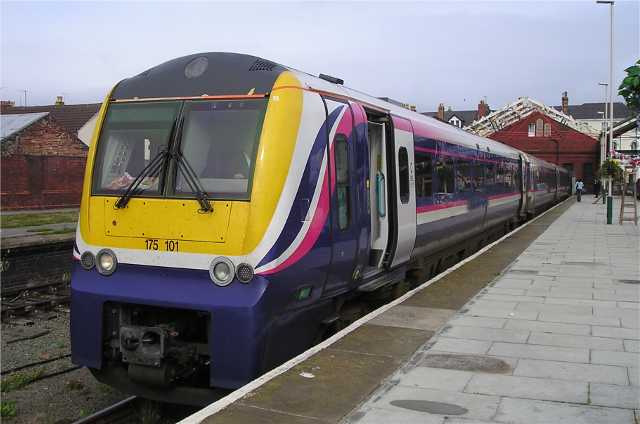 Also in 1939, the fastest weekday train from Manchester to
Llandudno (the famous 'Club Train') left Exchange station at 4-30 pm returning from Llandudno next morning at 7-48 am. It took 2 hours 9 minutes in each direction with 6 stops - but the other
three
through trains each day were much slower. The Llandudno train service, despite public opinion, is now twice as good as it ever was. For information about the Historic Club Train as well as the excellent Llandudno to Manchester services today, please click my Llandudno - Manchester trains

page.

Please Visit - Llandudno Queen of the North Wales Resorts

Compilation and photographs © September 27th 2004 by Noel Walley


Email: Webmaster
Updated December 2008