The Welsh Highland Railway - Rheilffordd Eryri
The first half - Caernarfon to Rhyd Ddu

The Royal Reopening 2003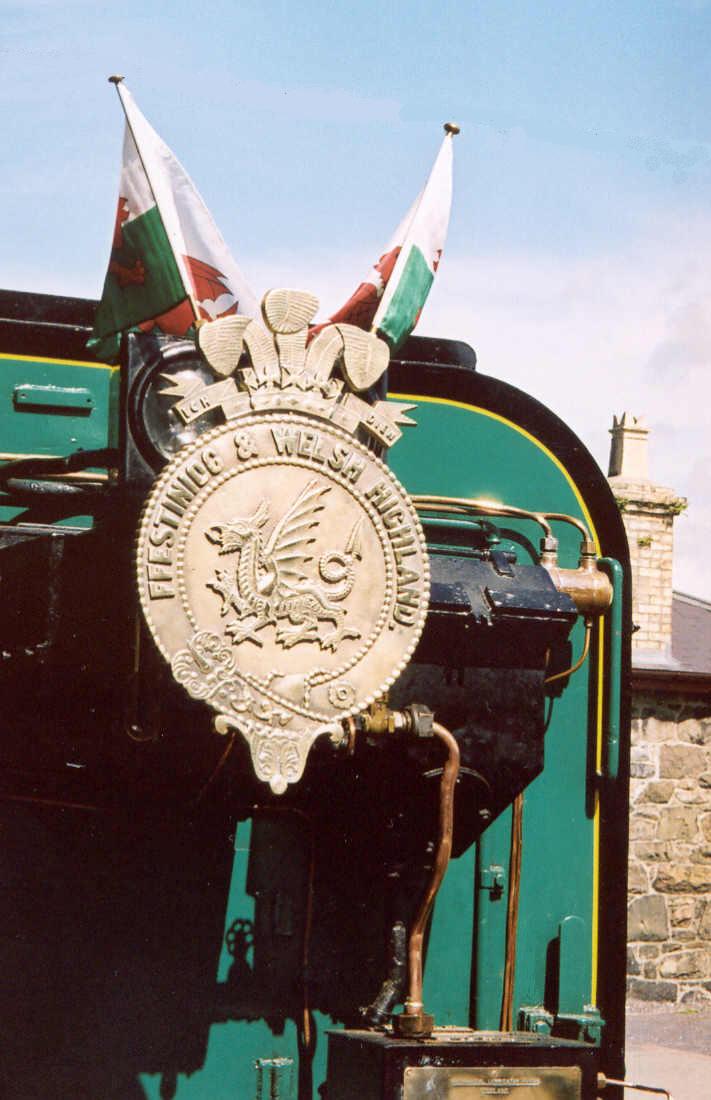 The world famous Ffestiniog and Welsh Highland Railways are currently celebrating the reopening of the final section of the first half of the Welsh Highland line from Caernarfon to Porthmadog (25 miles) where it will join the Ffestiniog line that runs from Porthmadog to Blaenau Ffestiniog (14 miles). So far the Welsh Highland has re-opened in three stages. From Caernarfon to Dinas in 1997 (2½ miles), Dinas to Waunfawr in 2000 (3½ miles) and now Waunfawr to Rhyd Ddu (6 miles). The original line was known as the North Wales Narrow Gauge Railways and was first opened to Rhyd Ddu (then called South Snowdon) in 1881. The 13 mile section from Rhyd Ddu to Beddgelert, Pont Croesor and Porthmadog first opened for passengers in 1923 when the whole line was incorporated as the Welsh Highland Railway. A significant start to the rebuilding of this lengthy section through the Snowdonia National Park has already been made and the rebuilding will be completed in 2009.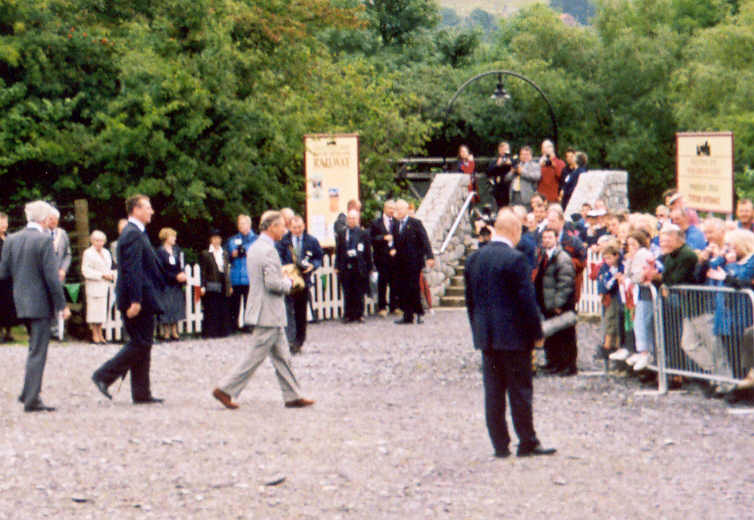 The first train to Rhyd Ddu, with His Royal Highness, The Prince of Wales (seen above on his way to the platform) travelling on the engine, ran on July 30th 2003. The Royal Train, driven at this point by Prince Charles, is seen here en route to Rhyd Ddu on an overcast day with slight drizzle.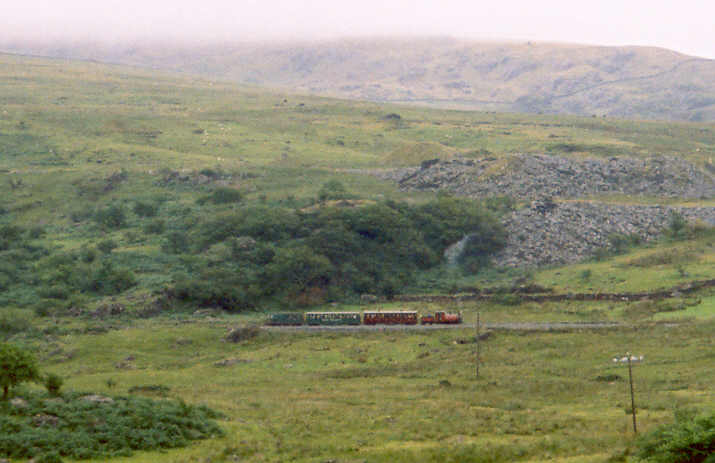 The engine goes by the name of 'Prince'. It was built in 1863 (parts of it are original, many others replaced over the years) and was then named in honour of the then Prince of Wales, who later became King Edward VII. The three coaches and the engine were chosen as the lightest available for this special day which had been arranged many months in advance. Prince is generally believed to be the oldest railway engine in regular use on passenger trains anywhere. Prince is one of four identical engines (three of them still survive) built in London in 1863/64 by George England and Company. They were the world's first successful narrow gauge locomotives.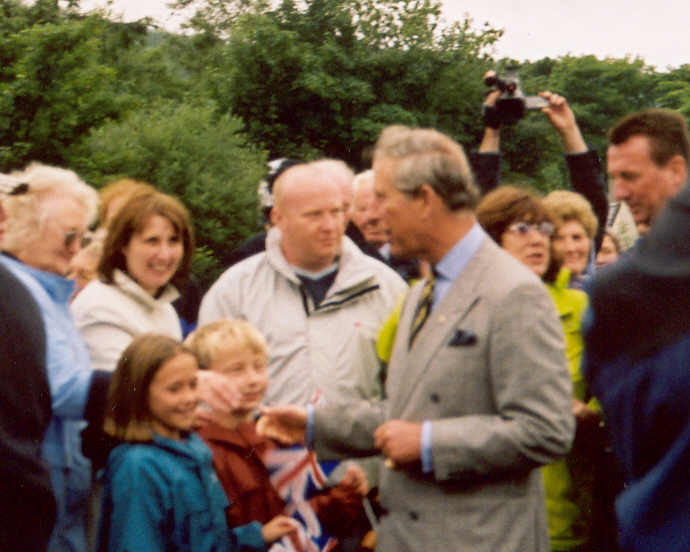 Above, HRH Prince Charles mingling with the crowds at Rhyd Ddu.

The total reconstruction of the six miles from Waunfawr to Rhyd Ddu took three years and it was a rush by volunteers to complete just in time for the Official visit by HRH Prince Charles on July 30th. Two further frantic weeks of trackwork consolidation by gangs of volunteer trackmen were needed before the Government Inspector would authorize the carriage of fare paying passengers!
Guests of honour on the first public train on August 18th 2003 were two gentlemen from Beddgelert. Mr Richard Williams had travelled on the first ever through train from Rhyd Ddu to Portmadoc eighty years ago in 1923. That 1923 journey was in a little three coach train hauled by Prince (the same engine that Prince Charles drove). His friend, Mr John Pritchard, regularly travelled as a schoolboy on the WHR in the mid 1920's.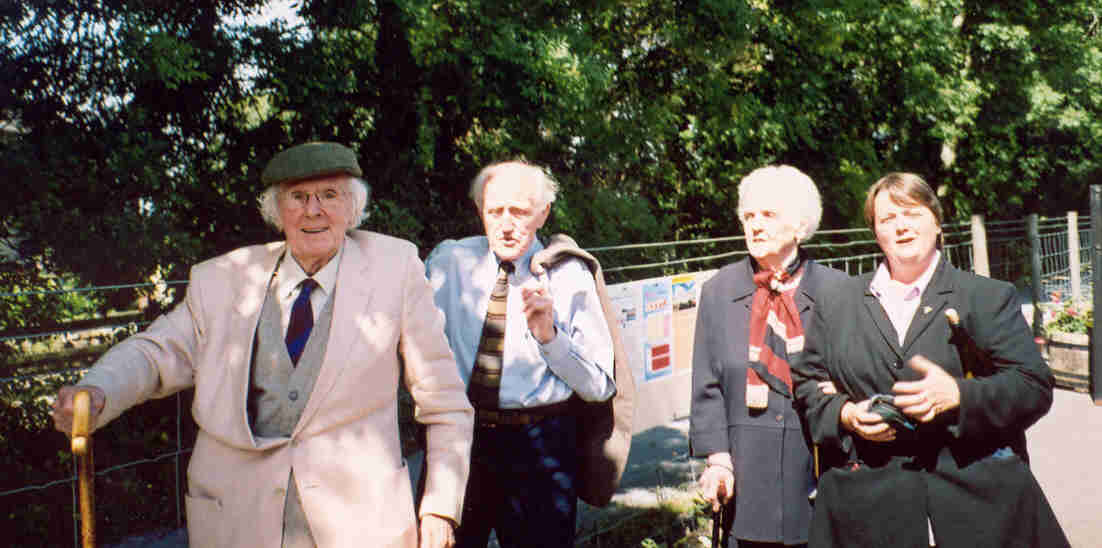 Mr Williams, aged 93, made the 24 mile round trip from Dinas to Rhyd Ddu and back with Mr & Mrs Pritchard and a WHR courier. They travelled in the Welsh Highland's latest first class carriage, the 20 seat Pullman Car 'Bodysgallen' sponsored by the luxury leisure group that now run Bodysgallen Hall near Llandudno as a five star country house hotel.
In conversation they were full of praise and enthusiasm for the reopened railway - rebuilt and reopened after 65 years of closure and they are seen above after leaving the train at Dinas prior to being driven off to lunch.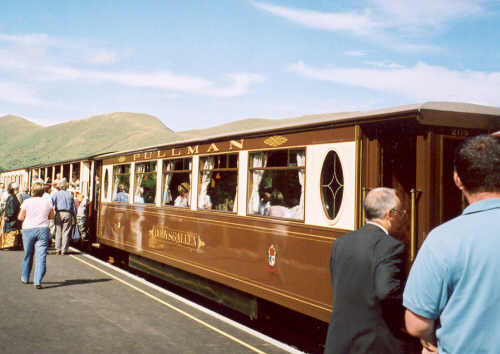 The 'Bodysgallen' Pullman Car at Rhyd Ddu after the second public run on August 18th.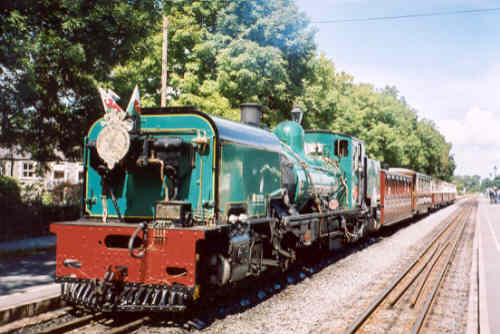 Beyer Garratt No. NG138 is an articulated locomotive, specifically designed for use on mountainous lines with sharp curves and steep gradients. It was restored for use on the Welsh Highland Railway with sponsorship from Edison Mission Energy and grant aid from the Millennium Commission and is named
Mileniwm/Millennium
. Seen above at Dinas on August 18th 2004 on the second public train to Rhyd Ddu. This engine was one of seven built in 1958 for use in South Africa. They were the final batch of steam engines built at Gorton in Manchester at Peacock's, the world famous British locomotive works of Beyer, Peacock & Company.
Click for More Welsh Highland Photographs

Golden Bolt Ceremony on completion of line to Porthmadog
Compilation and all photographs © Noel Walley 2002/2003
last updated March 2009
Email: Webmaster