[Llandudno Home] [Balmoral Sailing] [Bodnant Garden] [Caernarfon Page 2] [Conwy] [Deganwy] [Llandrillo] [Nant Peris]
[Pen-y-Pass] [Sychnant]
[Conwy Valley]
[

North Wales
]
[Welsh Highland Railway]
VISIT CAERNARFON

Part 1 - The Walled Town of King Edward I
Welcome to Caernarfon, The Royal Town of Wales.
It was here, in 1969, that Prince Charles was first hailed Prince of Wales.


One of the greatest 20th century wonders of the world is the Internet.
Throughout Europe, if not throughout Britain, the Internet Café is ubiquitous.
Here we offer you the bilingual Internet Café - Y Caffi Rhyngrwyd
(pacé Dylan Thomas).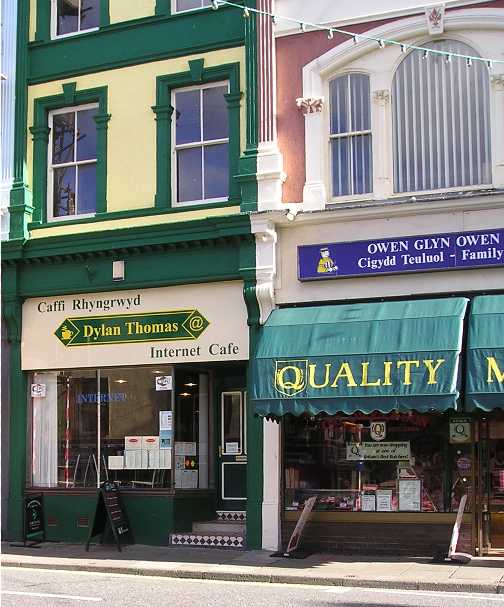 Central to the life of Caernarfon is Castle Square below, dominated by Caernarfon Castle on one side and with the three remaining sides flanked mostly by Georgian buildings. The large open square is the scene of a weekly market when it is thronged with stalls and shoppers. Near the castle end of the square is a bronze statue of Sir Hugh Owen, noted philanthropist and tireless worker for the establishment of primary, secondary, college and university education in Wales.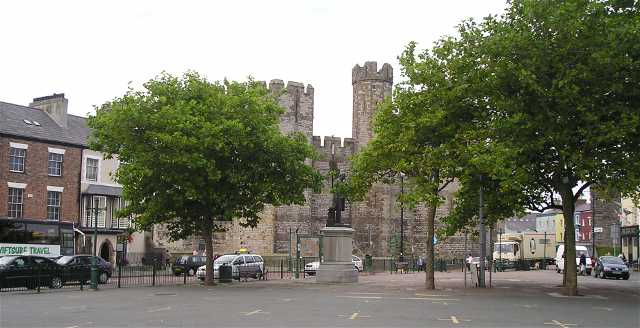 | | |
| --- | --- |
| Nearby in the corner of the square is this fine statue of David Lloyd George, MP for Caernarvonshire and Prime Minister during the 1914-18 war. It was unveiled in 1921 by Billy Hughes, Prime Minister of Australia and from 1915 a member of Lloyd George's War Cabinet. | |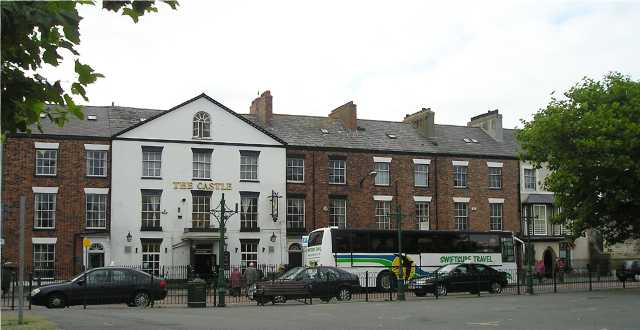 The Castle Hotel dominates one side of the square and is a popular hotel for coach parties.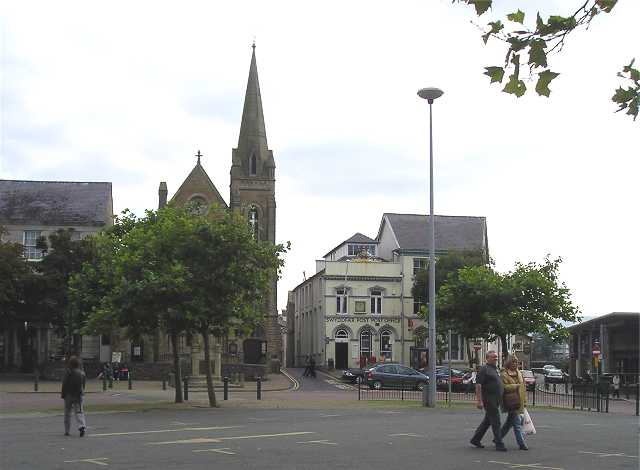 Church and Post Office occupy the eastern side.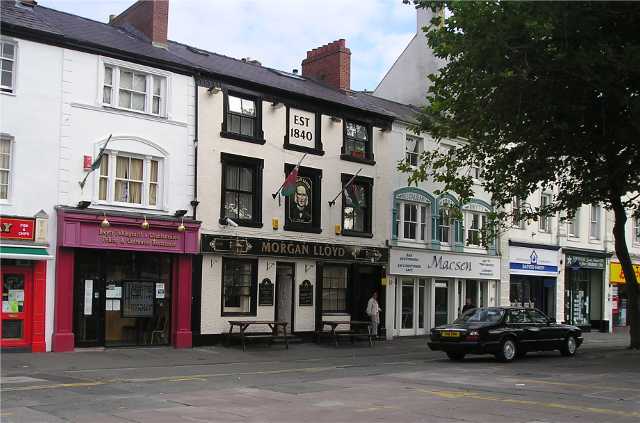 On the north side properties dating from Victoian times.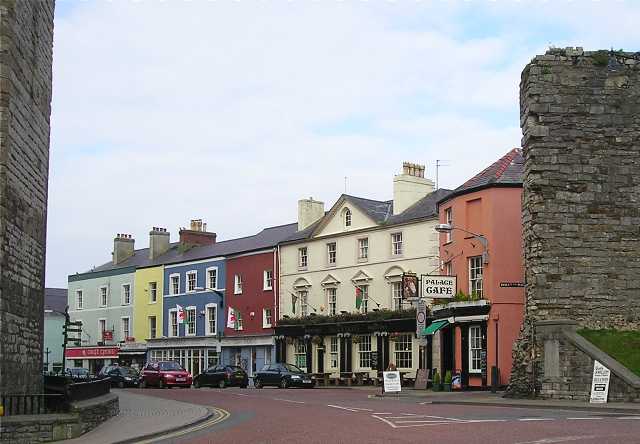 The road follows the line of the castle walls passing The Palace Vaults Hotel and more Georgian properties until it comes to the majestic Caernarfonshire County Hall, which is the town and county court house.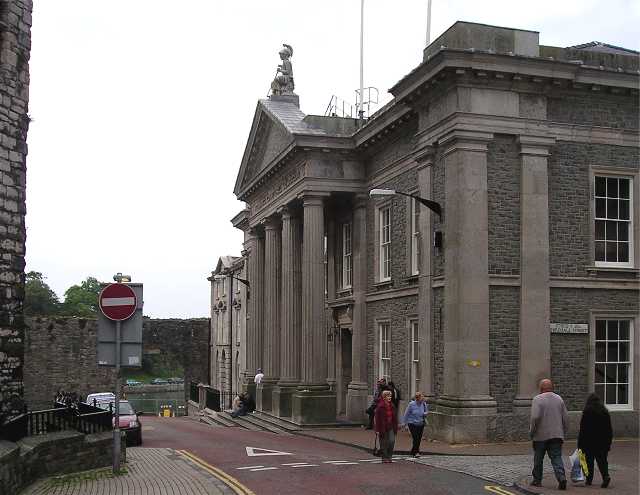 Through the archway in the town wall leads to the waterfront and another Georgian Hotel - The Anglesey.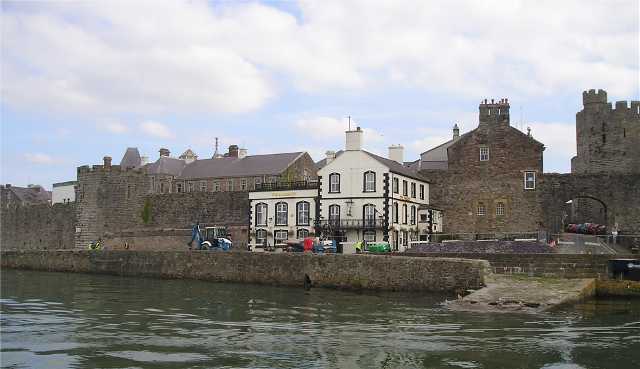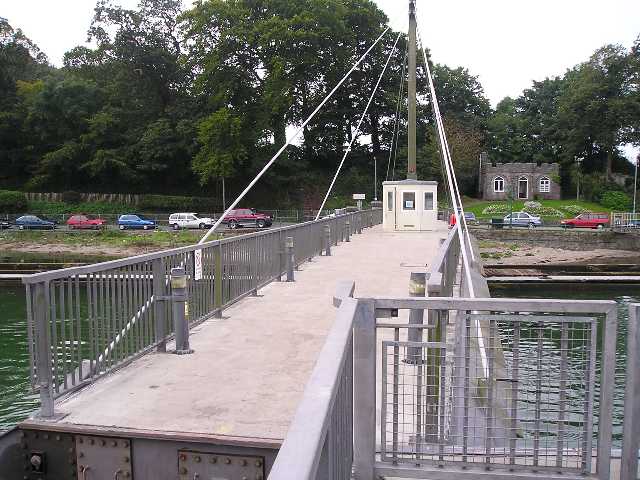 Crossing the river by the pedestrian swing bridge brings us to this fine view of Caernarfon Castle.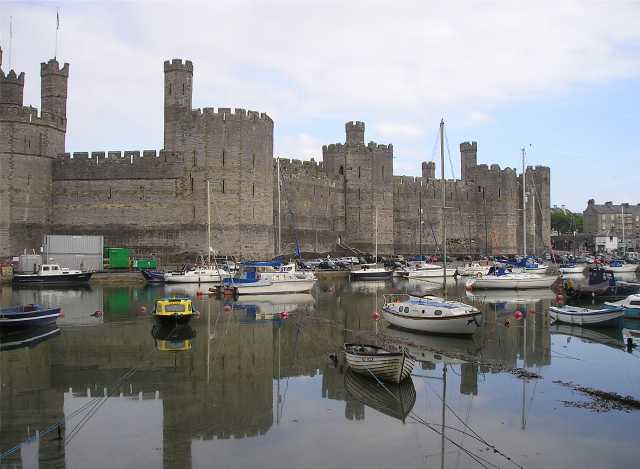 and also a fine view of the Slate Wharf and its Customs House and the rear of the Castle Hotel.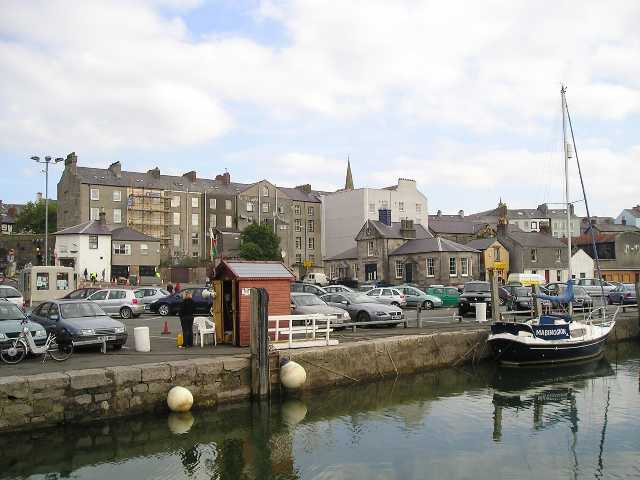 Returning across the bridge and up into the town we see that there are many other interesting buildings.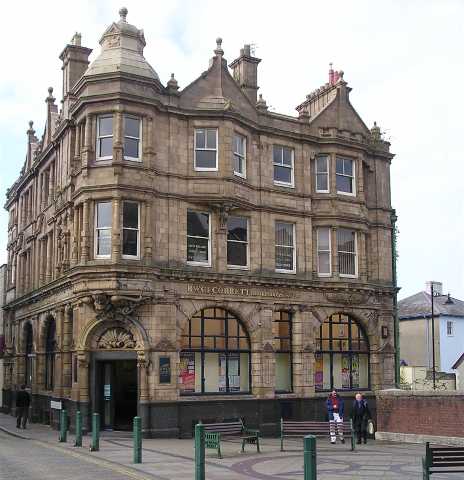 and ancient gateways in the town walls: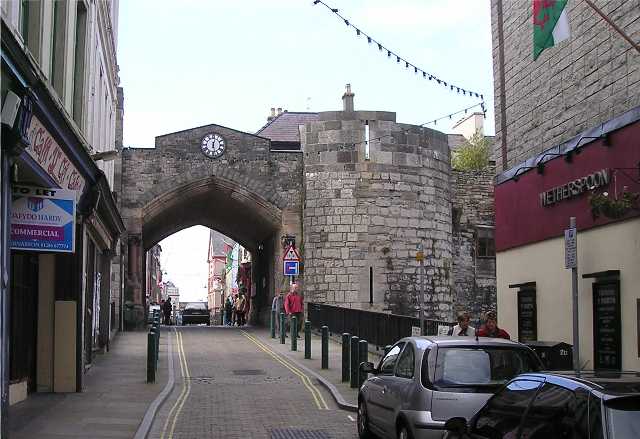 While you are here in Caernarfon, may we suggest that, like Prince Charles,
you take a trip from Caernarfon to Rhyd Ddu on the Welsh Highkland Railway.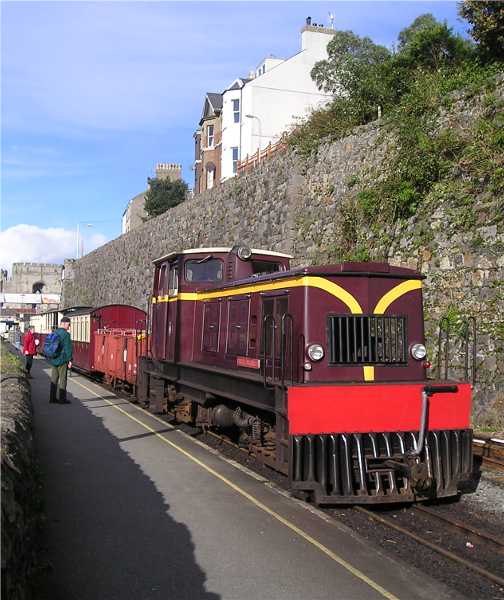 The world famous
Welsh Highland Railway
opened by HRH The Prince of Wales in 2003 operates southwards from Caernarfon to Dinas, Waunfawr and Rhyd Ddu at the southern foot of Snowdon. It offers an exceptionally fine journey through outstanding mountain scenery as it approaches the foot of Wales's highest mountain. The Station in Caernarfon stands in Saint Helen's Road, the ancient Roman Road, hard against the retaining wall below Segontium Terrace that takes its name from the Roman City that once stood here. Unlike this train with a South African built diesel engine, most trains are hauled by one of three locomotives from the last batch of steam engines built in Manchester.
PART 2 OF THIS VISIT - SAIL ON THE 'QUEEN OF THE SEA'

Photographs © 2004/5 by Noel Walley


Email: Webmaster
Visit Llandudno Queen of the North Wales Resorts