It is an ancient railway tradition when making the final connection to complete a new railway line, that golden spikes or golden bolts are used and great celebrations are held. Following in the footsteps of those pioneers, who built railways across great nation states, the Ffestiniog and Welsh Highland teams connected the two railways at the
Harbour Station, Porthmadog on Saturday the 28th of February in a ceremony commencing at 2.00pm.
The Cross Town Link Line approaching the Britannia Bridge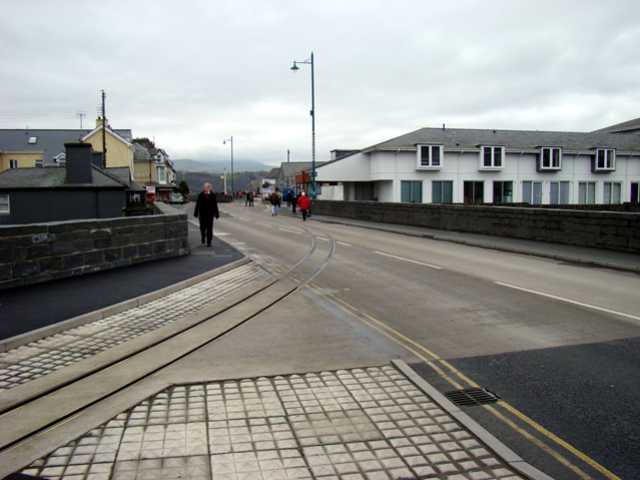 Crossing the Britannia Bridge

This golden-bolt ceremony marks the culmination of ten years tracklaying effort (phases 2, 3 & 4) by over five hundred volunteers, supported by funding from private donations, the Millennium Commission, the Welsh European Funding Office and the Welsh Highland Railway Society.






Paul Lewin, General Manager of the Ffestiniog Railway


carrying the Golden Bolts to the Junction.






One Bolt for the Black Hand Gang and the second for




The Rest of the World Gang.





The Golden Bolts at the Junction shown with
the Silver Trowel used in 1833 for the
ceremonial laying of the first stone sleeper.



The Golden Bolts
(made from Aluminium/Bronze alloy)
in situ at the junction.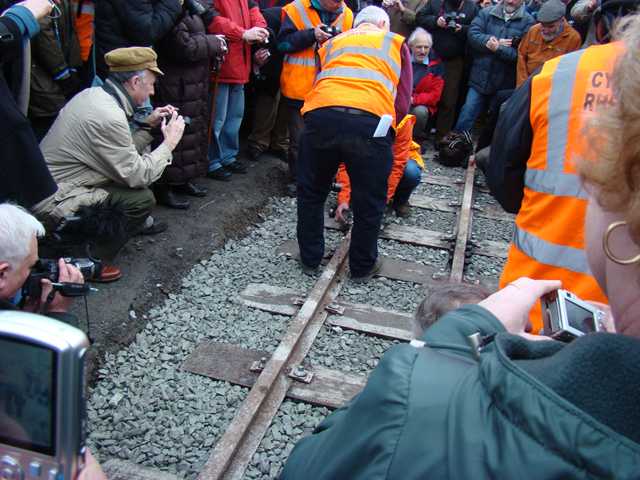 Fixing the Bolts - Dafydd Thomas (Chairman Black Hand Gang) and Paul Bradshaw (Chairman Rest of the World)


The final golden bolts were installed by the chairmen of the two teams in the presence of representatives from these volunteer teams, which have completed the lion's share of the 24 miles of track laying work.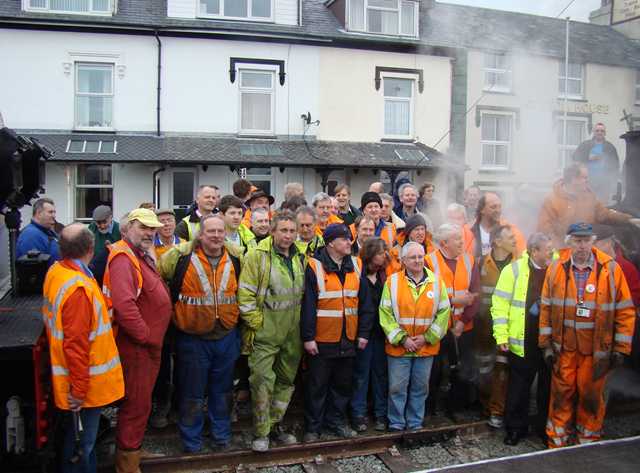 Volunteer Track Gang Members
The Welsh Highland Railway track-laying teams work on alternate weekends with one team (The Black Hand Gang) made up of predominantly Welsh speaking local volunteers, and the other team (The Rest of the World Gang) comprising volunteers living throughout the UK and beyond.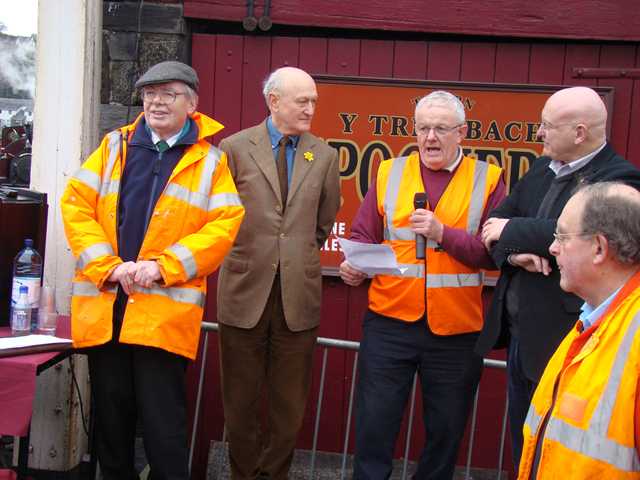 Dafydd Thomas, Chairman Black Hand Gang and a local Councillor, made an impressive speech first in Welsh and then in English. He was intently
listened to by John Prideaux, Chairman Ffestiniog Railway Company and Hywel Williams, MP for Caernarfon who both made excellent speeches.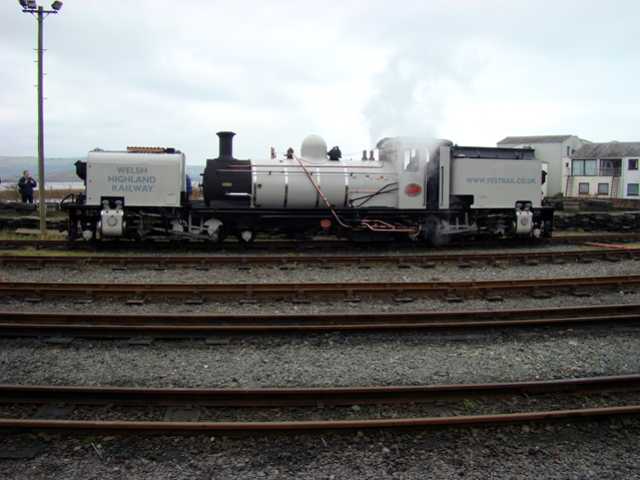 Number 87 waiting to be driven onto the WHR and below cautiously doing so!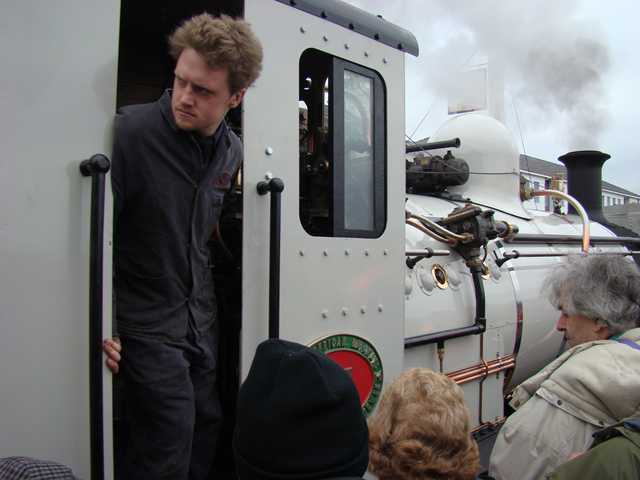 Once the connection had been made the Welsh Highland Railway's latest locomotive, No.87, - newly restored at the Ffestiniog Railway Boston Lodge works - made the first movement on to the new section of line and was positioned with original Ffestiniog Railway locomotives, built in the same works more than 100 years ago.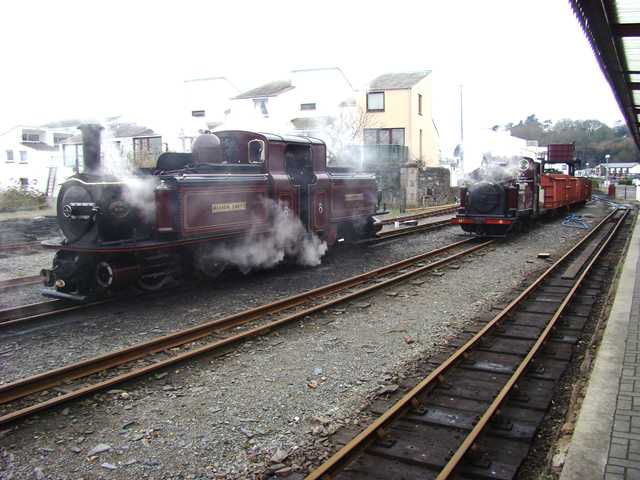 FR engines waiting their turn.


A large body of supporters and visitors assembled to witness and record this historic event!
The Welsh Highland Railway is owned and operated by the Ffestiniog Railway and public services are scheduled to commence from Caernarfon and Rhyd Ddu to Beddgelert on the 8th of April. The service will extend through the Aberglaslyn Pass to Hen Hafod on the 21st of May and through to Porthmadog after the 2009 peak summer service.

__________


Mr. Mike Hart, Chairman of Welsh Highland Construction Ltd, the subsidiary company of the Ffestiniog Railway tasked with building the new line said:
"This is a very proud moment for the many people that have worked so hard to make this dream a reality. Our volunteers and staff have worked in all weathers and against seemingly overwhelming odds at times to reach this landmark. We are delighted to make this connection with the world's oldest independent railway and we are looking forward to running public services in the spring."