EXCURSIONS FROM LLANDUDNO

A page dedicated to the tourist use of Public Transport

Compiled by Noel Walley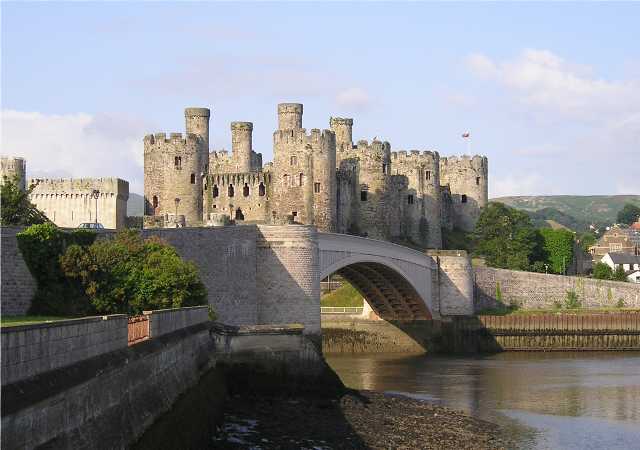 A day in Conwy is highly recommended
ALPINE MOTOR COACH TOURS


This local company operates luxury excursions with the latest touring coaches to all the principal tourist attractions in North Wales and they have booking offices by the entrance to the pier and in Mostyn Street, near North Western Gardens. They also operate the vintage motor coach trips via the Marine Drive round the Great Orme and the City Sightseeing open top bus tours serving Llandudno, Deganwy & Conwy. Commentaries are provided on all these services.


RAILWAY SERVICES


The ancient walled city of Chester, full of history, a Cathedral and excellent shops is about an hour away with a through train every hour on the North Wales Coast Line from Llandudno Station (see MAP and Fflint to Chester and onwards to Manchester. There are also through train services from Llandudno Junction to ) via Rhyl, Prestatyn, Holyhead, Crewe, Wrexham, Shrewsbury, Birmingham, Hereford, Cardiff and London. Short excursions via Holyhead to Dublin are also practicable.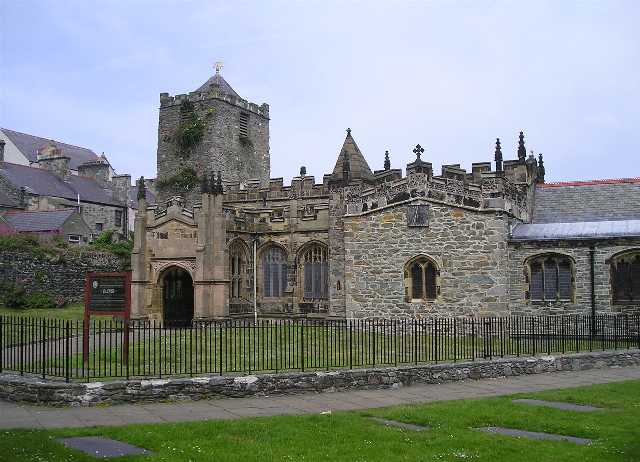 Church of Saint Cybi inside the Roman fort at Holyhead (Caergybi)

The Conwy Valley Railway runs from Llandudno southwards by way of the glacial valleys of the Conwy and Lledr rivers, through ancient Llanrwst, Betws y Coed, Pontypant, Dolwyddelan and Roman Bridge to the famous slate mining town of Blaenau Ffestiniog.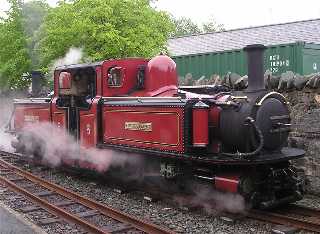 A train leaves Llandudno every weekday morning at 10:14 and arrives in Blaenau Ffestiniog at 11:33. The 13:14 from Llandudno arrives at 14:33.
Convenient return trains from Blaenau Ffestiniog at 14:52, 17:37 and 20:04 arrive back in Llandudno at 16:01, 18:46 and 21:12. Do check the train times before you travel.
The celebrated Llechwedd Slate Cavern at Blaenau is a popular place to visit.

Also very popular is the classic journey on the world famous, preserved, steam operated, narrow gauge Ffestiniog Railway (Rheilffordd Ffestiniog) with its unique Fairlie double engines. The Ffestiniog Railway train, which connects with the 10:14 from Llandudno leaves Blaenau Ffestiniog at 11:45 for Tan y Bwlch and Porthmadog and there is ample time to make the return trip. Ffestiniog trains operate daily from Easter to the end of October and on certain days during the winter - see the FR timetable.

In Llandudno RIDE THE TRAM to the Summit of the Great Orme (Y Gogarth).

PUBLIC BUS SERVICES


North Wales is provided with excellent public bus services, including the following very frequent weekday services: From Llandudno via Rhos-on-Sea, Colwyn Bay and Abergele to Rhyl (Ariva 12 - every 10 minutes - but every half hour on Sundays); Llandudno to Penmaenmawr, Llanfairfechan and Bangor (with its ancient Cathedral of Saint Deiniol) (Arriva 5, X5 & X9 - four per hour). Llandudno to Port Dinorwic (Felinheli), Caernarfon (Arriva 5, X5 - three per hour). Llandudno to Llangefni on Anglesey (Arriva X9)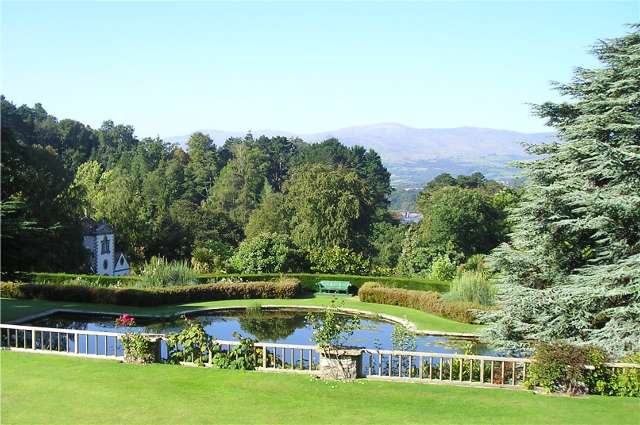 Bodnant Garden (National Trust) in the Conwy Valley

Llandudno to Conwy (eight per hour) famous for Conwy Castle and the Sychnant Pass; Llandudno to Trefriw, Trefriw Woollen Mill and Llanrwst (two every hour); Llandudno to Bodnant Garden (hourly); and Llandudno to Betws y Coed (hourly). Llandudno direct to Pen y Pass (the easy gateway to Snowdonia) in the summer only at 9:45 (see below). Llandudno direct to Corwen and Llangollen at 10:05 with three return buses. Express Motors also operate a service (X1) via the Conwy and Lledr Valleys to Glan Conwy, Llanrwst, Betws-y-Coed, Dolwyddelan, Dolwyddelan Castle and Blaenau Ffestiniog (65 minutes from Llandudno) on weekdays from Llandudno at 9:15 10:15 12:31 13:31 15:11 16:15 and 17:31.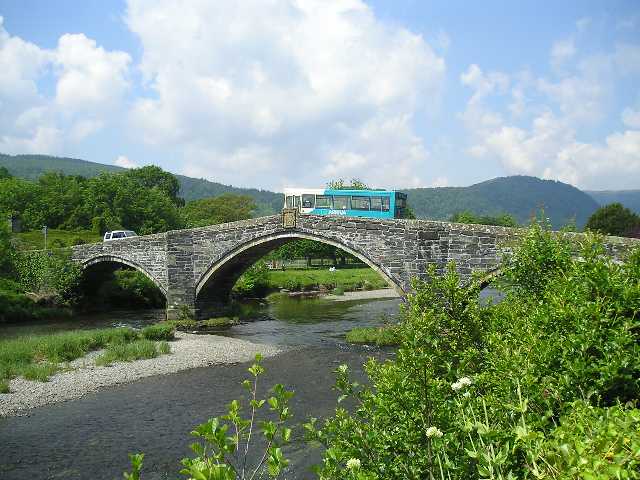 The notable triple arch bridge built by Inigo Jones over the River Conwy at Llanrwst

Cheap all-day rover tickets (there are several different types, currently at about £5:50 per day) are sold on all the bus services. The Arriva 'all day' ticket is valid on all Arriva bus services but not other operator's services. The 'all day' Gwynedd Red Rover ticket @ £5.50 is valid on buses throughout North West Wales (including the Sherpa services), but not east of the Conwy Valley, regardless of operator - but do check out the details before you buy.

In Llandudno most buses leave from Gloddaeth Street (see MAP) and also pick up at Marks and Spencers and at North Western Gardens. Ask at the Tourist Information Office in Llandudno Library for a bus and train timetable book. There is often an Arriva Bus Inspector on duty during the summer at the Gloddaeth Street (Palladium) bus stop. He will also supply timetables.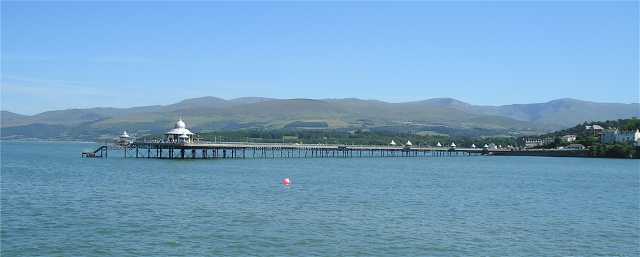 The elegant pier on the Menai Strait at Bangor


The Caernarfon bus services
connect (just a short walk, MAP) with the recently revived Welsh Highland Railway (Rheilffordd Eryri) running from Caernarfon to Waunfawr (break your journey for a good pub lunch at the Snowdonia Parc Hotel) and also travel the wonderful scenic section (opened by HRH The Prince of Wales in 2003) onwards from Waunfawr to Rhyd Ddu. Views between Rhyd Ddu and Waunfawr are particularly fine CLICK LINK and they are best seen from the train. Trains operate for most of the year – please check the WHR timetable. Restoration now nearing completion will see the famous Welsh Highland Railway running through from Caernarfon to Beddgelert and Porthmadog in 2009.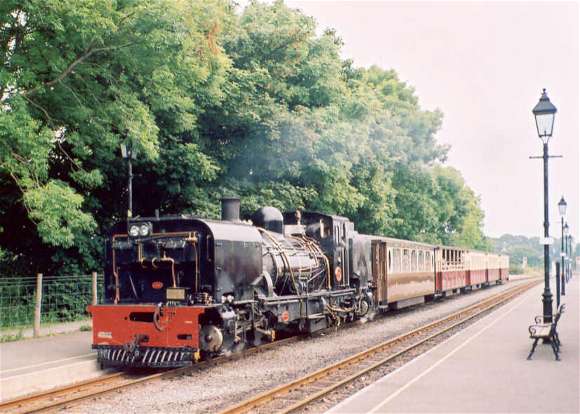 No: 143 - The last steam locomotive built in Manchester


The magnificent articulated steam locomotive shown above at Dinas on route to Waunfawr from the Caernarfon Saint Helen's Road Station, below Segontium Terrace at Caernarfon, is Beyer Garratt No. 143. It is one of four such engines on the Welsh Highland Railway and was
built in 1958 and
weighs over sixty tons. No. 143 is the last steam engine to have been built at Gorton in

Manchester by Beyer Peacock & Company Ltd,
the world famous locomotive builder
. The Welsh Highland Railway also operate K1 - the World's first Beyer Garratt also built in Manchester and in steam in 2007 for the first time since 1929. Following a massive restoration programme, the Welsh Highland train services will be extended from Rhyd Ddu to Beddgelert at Easter 2009 and from Beddgelert southwards through the Aberglaslyn Pass to Hen Hafod in late May. The final section to join the Ffestiniog Railway at Porthmadog Harbour Station will reopen during the Autumn of 2009.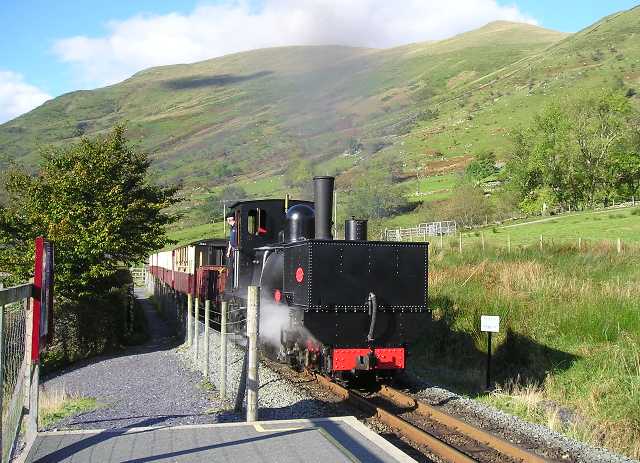 K1 - The unique compound Garratt - the world's first - built 1909
now in regular service on the Welsh Highland Railway.

The 'Sherpa Network' bus services
, operate throughout the year on most of the Snowdonia (Eryri) mountain passes (Area Map) and serve Llanrwst, Betws y Coed, Capel Curig, Llyn Ogwen, Tryfan, Idwal, Bethesda, Pen y Pass, Llanberis, Beddgelert, Waunfawr, Snowdon Ranger, Rhyd Ddu and Porthmadog – but especially Pen y Gwryd. Here is the ancient and famous hotel, built on the site of a Roman Marching Camp, much frequented by climbers of international acclaim, and offering a very good pub lunch. Here are to be found the signatures of the first ever successful climbers of Everest, in June 1953 – Sir John Hunt (leader), Sir Edmund Hilary and Sherpa Tensing – not in any conventional and dusty visitors book – rather, with others, written on the ceiling of the climber's bar for all to look up to!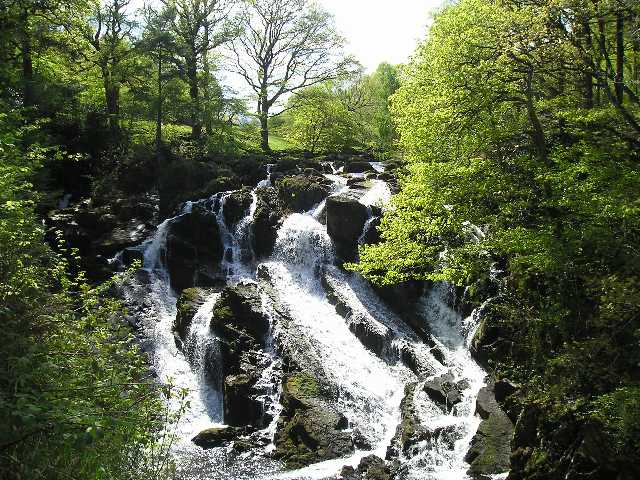 The Swallow Falls

Between Betws y Coed and Capel Curig are the Swallow Falls (Rhaeadr Ewynnol) pictured above. With the Sherpa bus service every half hour for most of the day, there is easy opportunity to stop off for half an hour to view the falls or take refreshment at the Swallow Falls Hotel on the route to and from Pen y Pass.

TO PEN Y PASS
Regular buses from Llandudno (weekdays throughout the year) connect at Llanrwst or Betws y Coed with 'Sherpa' buses to Capel Curig, Pen y Gwryd and Pen y Pass. This service is supplemented in high summer by a very convenient through bus service from Llandudno to Pen y Gwryd, Pen y Pass and back. The 9:00 bus from Llandudno, in high summer, arrives Pen y Pass at about 10:20 and there is a good return service.

FROM PEN Y PASS
From Pen y Pass (with its popular café) the walker has a choice of several famous mountain routes including two routes to the summit of Snowdon (Yr Wyddfa). Take the traditional PYG track to the summit or take the Miners track via Llyn Teyrn, Llyn Llydaw and Glaslyn (an easy walk as far as the lakes, and the only way to see these hidden Snowdonian lakes).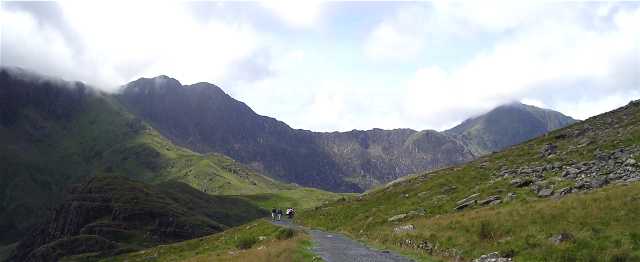 The Snowdon Horseshoe from the Miners' Track
Or take a quiet and leisurely walk down the Llanberis Pass via the Cromlech boulders to Nant Peris (only three miles, then perhaps a ploughman's lunch at the Vaynol Arms next to the ancient church of Saint Peris) or walk on along the shores of Llyn Peris to Llanberis. Walking down hill from Pen y Pass is quite the best way to see this magnificent valley as view after view opens before you. From Pen y Pass with the steep slopes of Snowdon (Yr Wyddfa) on the left, the Glyders on the right and Afon Nant Peris at the side, its mostly a gentle down hill walk to Nant Peris and Llanberis with time to pause and marvel at the grandeur of Snowdonia (Eryri) – yet you are never far from a bus stop.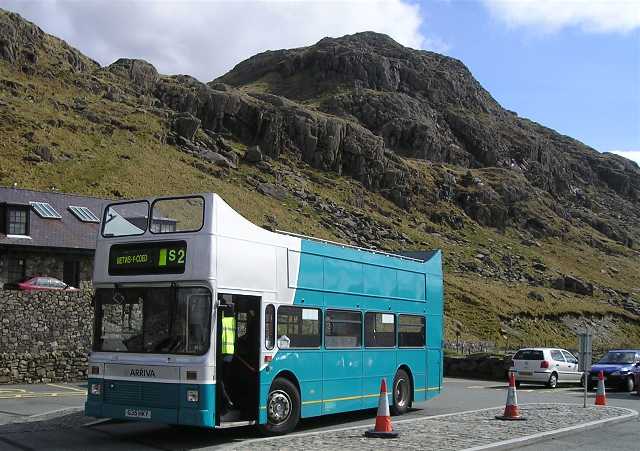 Click this link for more places to visit Around Pen-y-Pass.

Or take the bus from Pen y Pass at 10:45 11:45 12:45 13:45 14:45 15:50 16:45 or 17:45 (even in winter - more frequent in high summer), these take about 10 or 15 minutes to descend the Pass to Nant Peris (Park & Ride) and Llanberis (four miles). The Snowdon Mountain Railway runs a frequent summer train service from Llanberis to the Summit of Snowdon. Other local attractions at Llanberis include the Padarn Country Park, ancient Dolbadarn Castle, the Llanberis Lake Railway, the Welsh Slate Museum, and the 'Electric Mountain'. The latter offers a visit to the world famous hydro-electric (pumped storage) underground power station, now operated by the First Hydro Subsidiary of Edison Mission Energy.

There are excellent return bus services. The through bus to Llandudno leaves Pen y Pass at 16:45 arriving in Llandudno at 18:00. Or return from Llanberis to Llandudno via Caernarfon or Bangor.

Very Important. The above bus and train times are given as examples only. Please confirm actual times carefully before starting your journey. Free timetables are available from the Local Tourist Offices.
Traveline Cymru (phone 0871 200 22 33 ) provides information on bus, coach & train services throughout Wales & the U.K.

More Places to Visit in and from Llandudno

Photographs © 2004-2008 and compilation by Noel Walley


Updated February 2009


Email: Webmaster
.