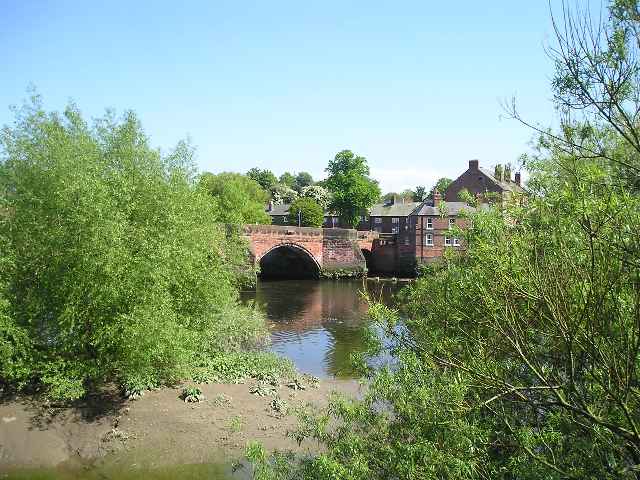 The Dee Bridge dates from the 14th Century and is of seven spans, the seventh span seen here was originally a draw bridge. The bridge was widened in 1826.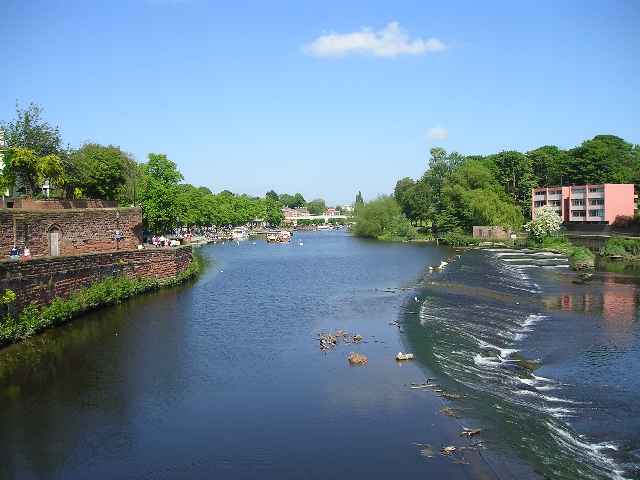 To the east of the bridge is the weir, increasing the depth of water upstream and originally serving first a mill and later a small hydro-electric power station. It also enables the river to be extensively used for both recreational and competitive boating. See my excursion '
The River at Chester
'.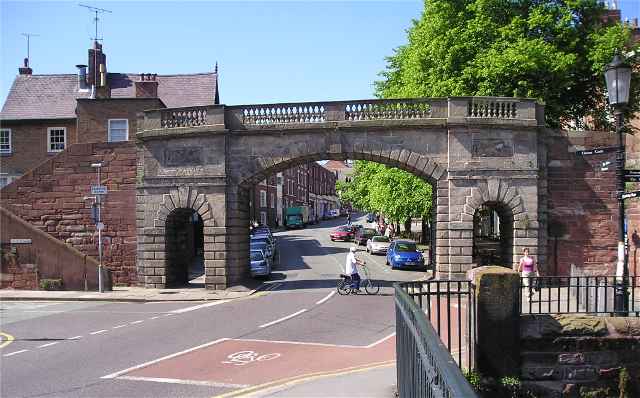 This is Bridge Gate at the end of the very narrow Dee Bridge on which traffic is controlled by lights. Beyond is Lower Bridge Street leading to Bridge Street and the Cross. The original medieval gates were replaced by bridges about 200 years ago and this allowed an almost uninterrupted walkway all round the city walls and also the absence of gates allowed free passage for road traffic at all times.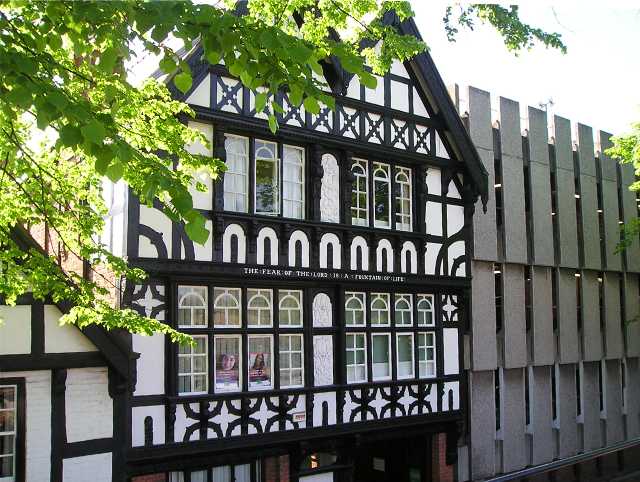 Where old meets new. Seen here from the walls are a mid-Victorian black & white "The Fear of the Lord is the Fountain of Life" and a multi-storey car park. In the opposite direction from the same length of wall are the Roman Gardens created on the site of the Chester clay pipe factory where clay tobacco smoking pipes were made for about 200 years. These gardens house Roman stonework gathered from many places in the city.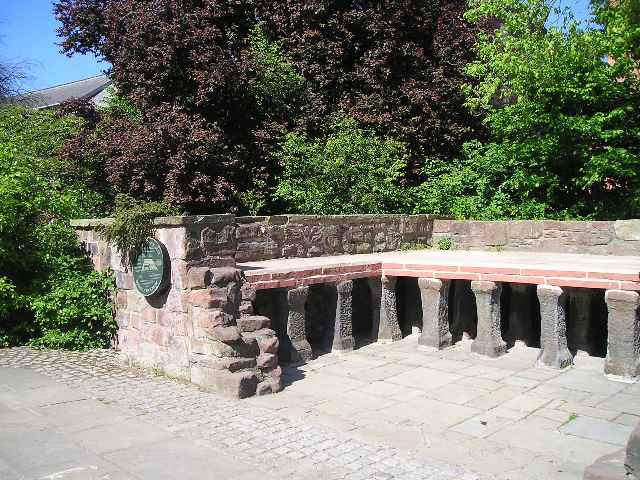 Above in the Roman Garden is this reconstructed section of a high status Roman hypocaust.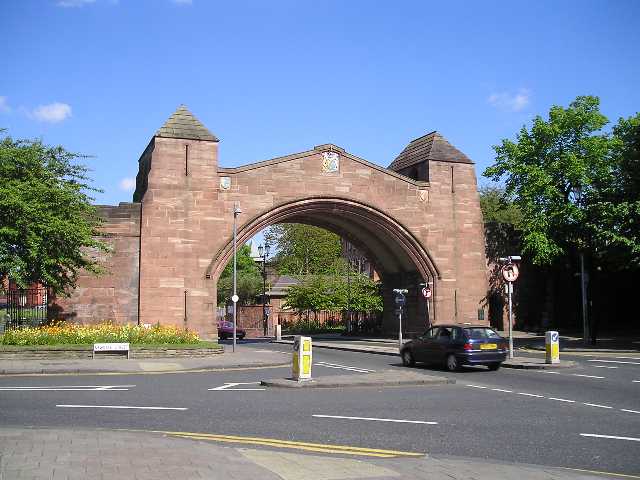 Close by is the New Gate built in 1938 over the dual carriageway city centre avoiding road.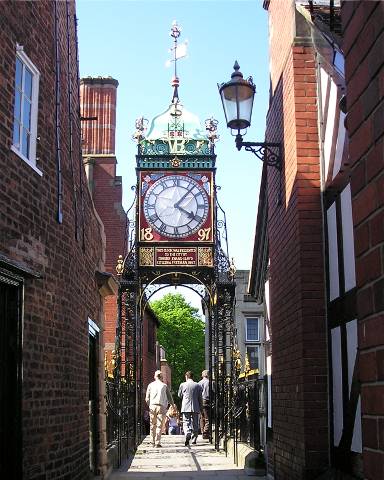 Soon we have come full circle and are back at the starting point. It took me 2¼ hours but a determined walker could do it in well under the hour. The Eastgate clock was erected to celebrate Queen Victoria's Diamond Jubilee.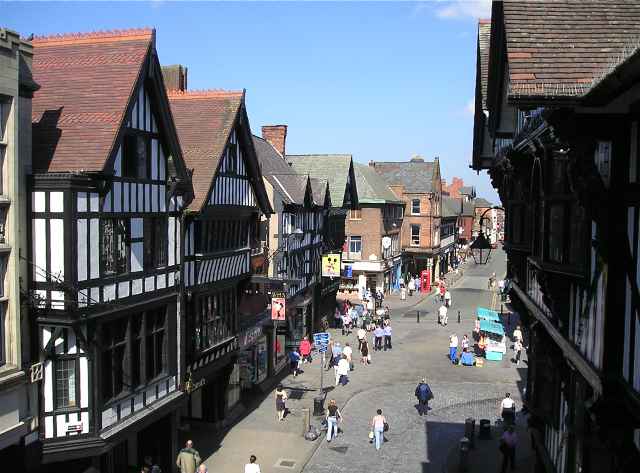 Views from the clock.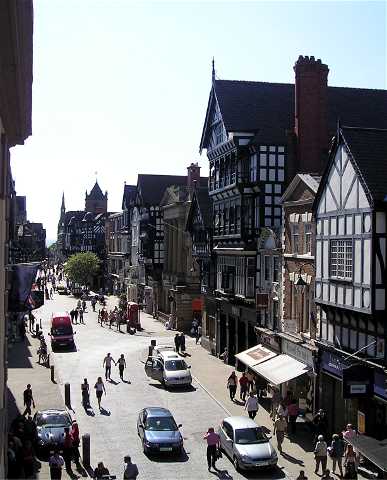 From Eastgate go forth into the heart of the city. Explore Chester's unique 'Rows'. Visit Chester's excellent shops. Spend time in quiet reflection in Chester Cathedral and its cloisters.
BACK TO PART 1
Part 3 - The River at Chester
Other Links:
Visit - Llandudno Town Trail
Visit - Llandudno Extravaganza
Visit - Llandudno Great Orme Tramway
Visit - Caernarfon
Visit - Bodnant
Visit to Chester compiled by Noel Walley. Last updated December 2008
Photographs © 2004 by Noel Walley
Email: Webmaster