[Llandudno HOME] [Deganwy Quay] [Sychnant] [Bodnant] [Great Orme] [Caernarfon] [Tramway]
[Excursions] [Links]
Through the Conwy & Lledr Valleys
to Blaenau Ffestiniog & Porthmadog
The Ffestiniog Railway

The best way south from Blaenau to Porthmadog is by train, a steam train on the
narrow gauge Ffestiniog Railway built in 1836 to carry slate from the Ffestiniog slate mines
to the safe harbour at Porthmadog for export
all over the world
by sailing ships.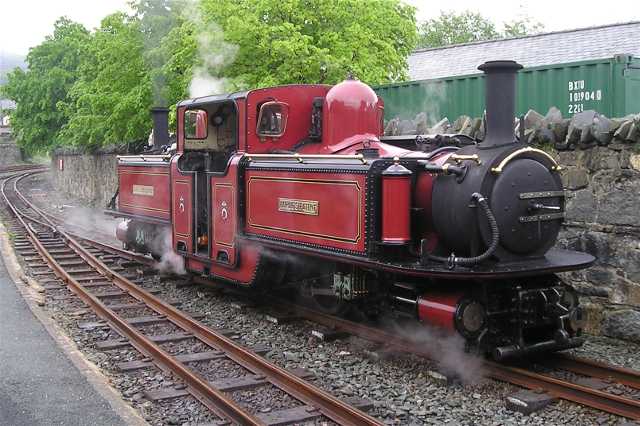 The Ffestiniog Railway is the only railway in the world still operating these remarkable
double-ended "Fairlie" patent steam engines. This one, named "David Lloyd George",
seen here
at Blaenau Ffestiniog, was built new in 1991 by the FR in its own Boston Lodge workshops.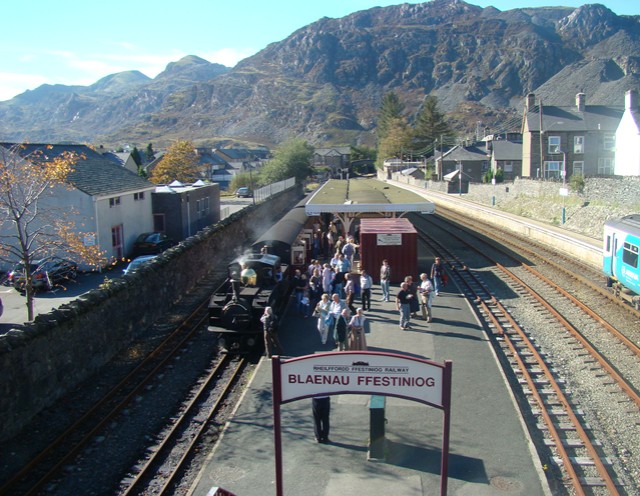 Just arrived on a train from Porthmadog this is the Earl of Merioneth built new in 1979
(photograph © Elwyn Jones 2007)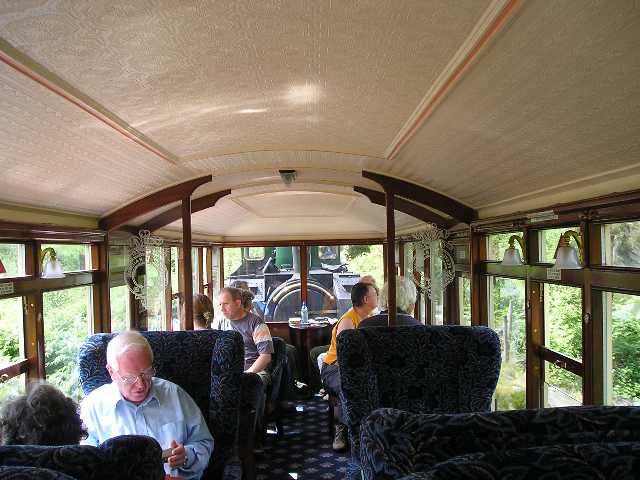 Travel in luxury with buffet service in one of these superb
first class observation cars.....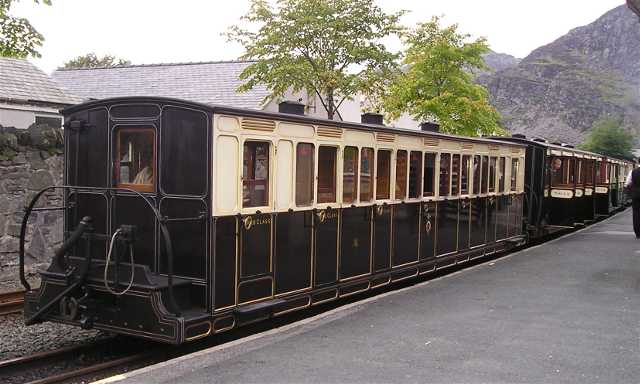 ..... or enjoy the experience of travel in this famous carriage,
the first ever bogie passenger carriage built for service in the British Isles
and now carefully restored in the FR heritage carriage workshops.

Southwards from Blaenau, in between the houses that were built after the railway,
the little narrow gauge train winds its way to Tanygrisiau.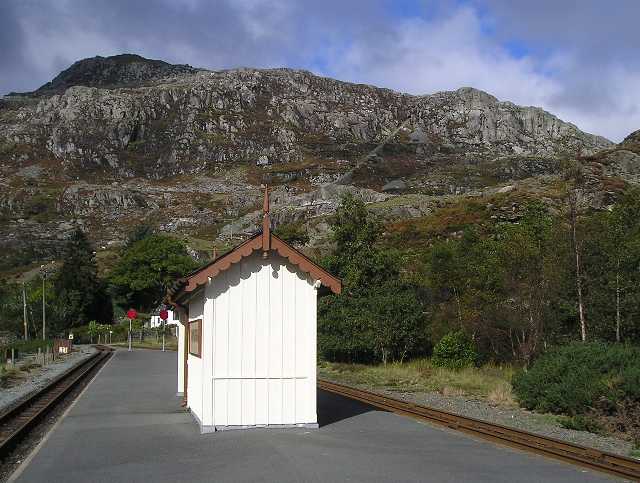 As soon as the southbound train passes
Tanygrisiau
station, watch out for this waterfall on the right: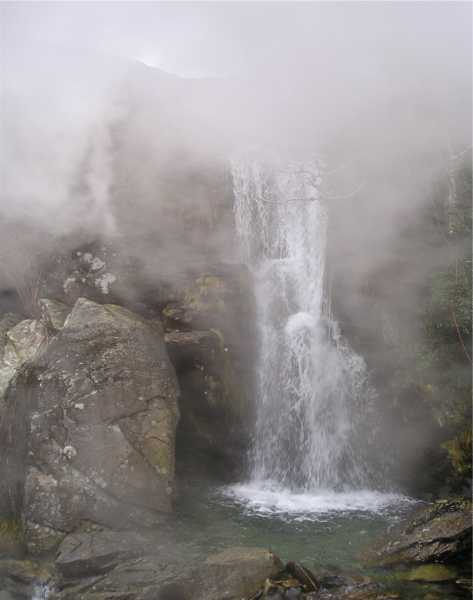 The Cwmorthin waterfall at Tanygrisiau partly obscured by locomotive steam.....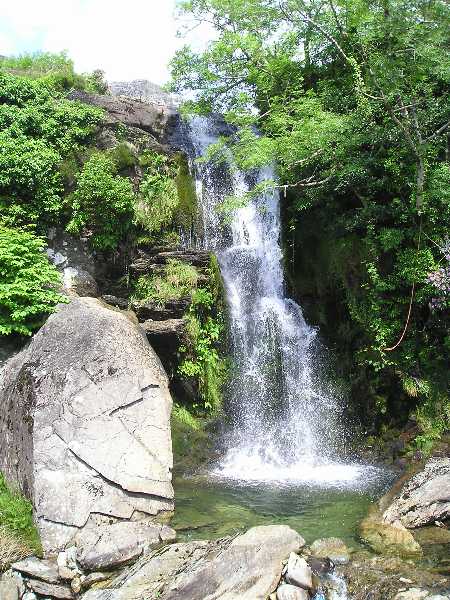 .... or on a different occasion photographed in clear air from a moving train.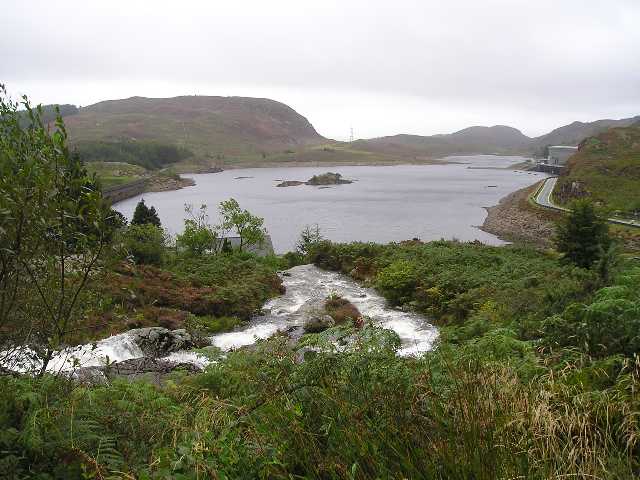 The waterfall is fed by this fast moving stream from the Cwmorthin reservoir above.......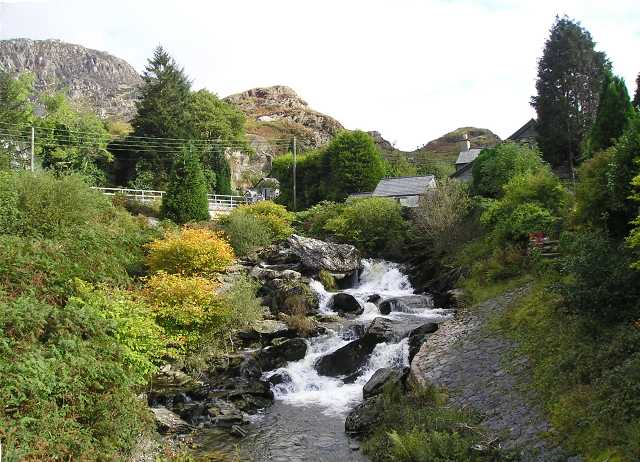 ..... and flows onwards afterwards into the Tanygrisiau Reservoir (Llyn Ystradau)
with its world famous prototype hydro-electric pumped-storage power station.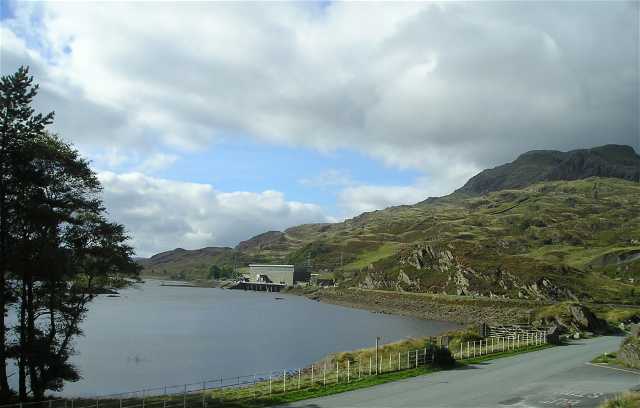 Thus helping to generate renewable electric power.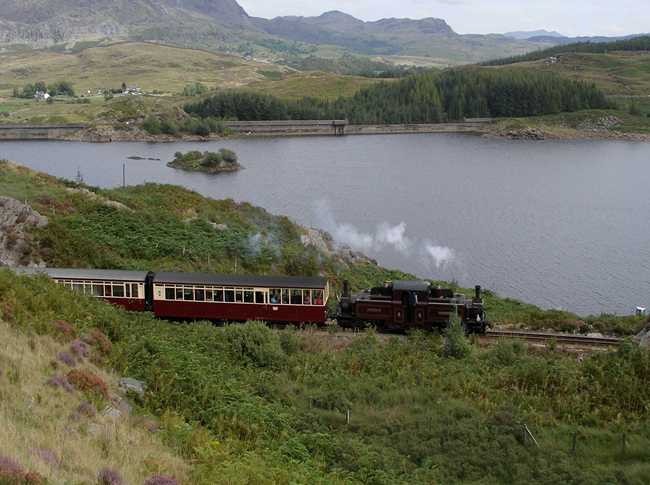 The Porthmadog bound train passing Llyn Ystradau

(photograph © Elwyn Jones 2007)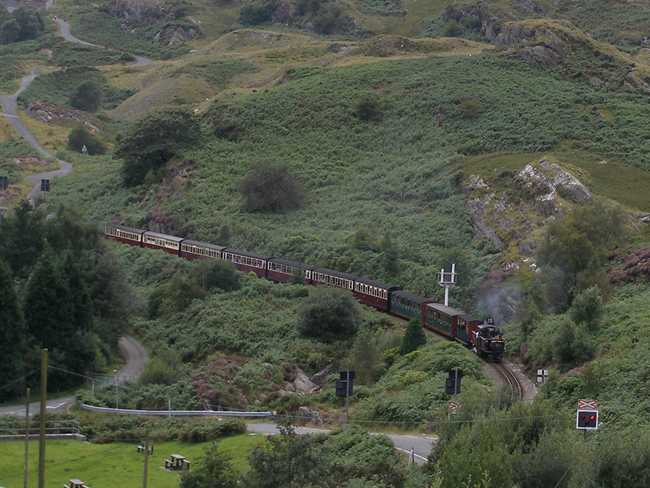 The Blaenau bound train approaching Tanygrisiau

(photograph © Elwyn Jones 2007)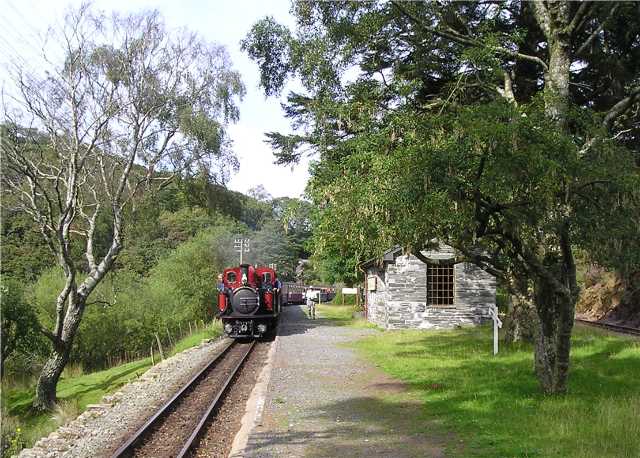 The quiet station at Dduallt, high in the Moelwyn mountains and without road access.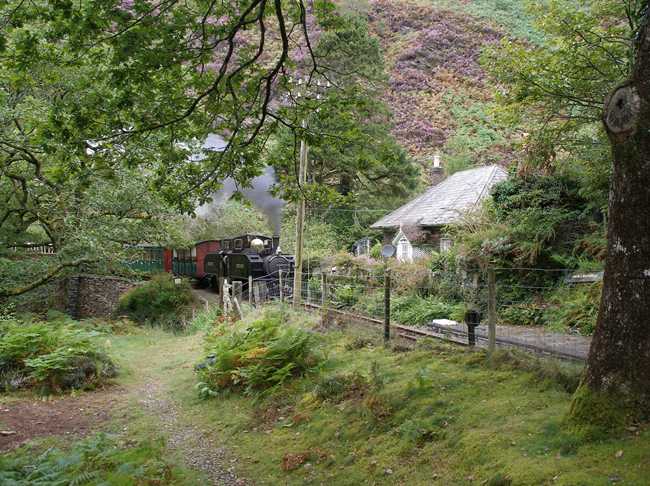 Blaenau bound train passing Coed-y-bleiddiau Cottage between Tan-y-bwlch and Dduallt. This cottage is reached on foot by a steep path and also has no road access. It was built for a railway official but was let as a holiday cottage in the 1920's and 1930's. Holiday tenants and visitors included the spy Kim Philby and war-time traitor William Joyce (Lord Haw-Haw).

(photograph © Elwyn Jones 2007)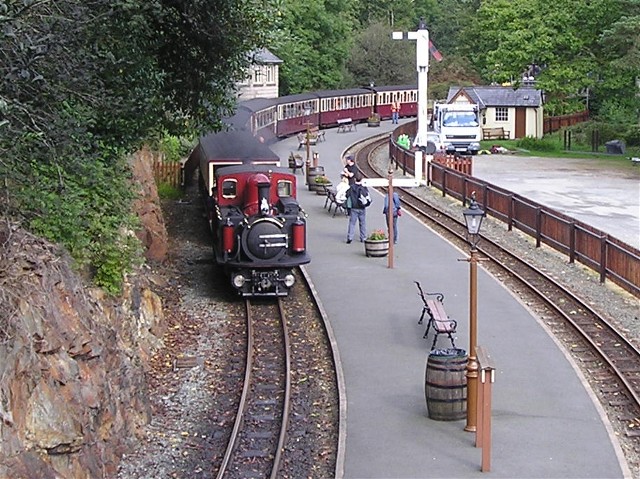 The halfway passing station at Tan-y-bwlch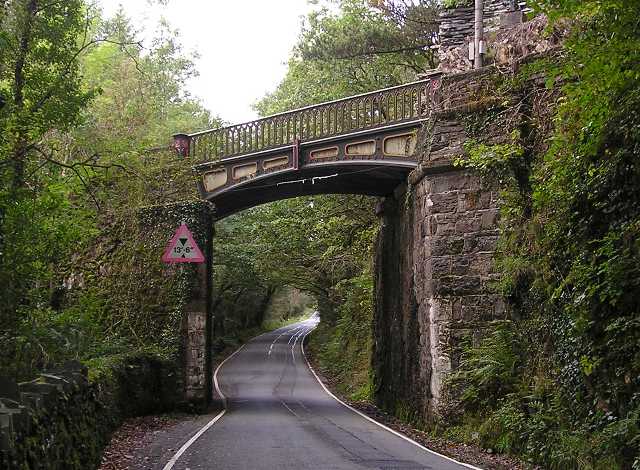 This fine cast iron girder bridge was made in 1853 in the Ffestiniog Railway's own workshops.
It replaces a wooden bridge of 1835 and spans the
B4410
minor road here at Tan-y-Bwlch station.
The road was built in 1802 by the Aberglaslyn & Maentwrog Turnpike Commissioners
and parallels the old Roman road from North Wales to South Wales. It is to this day
part of the shortest and fastest road route from Caernarfon to Cardiff.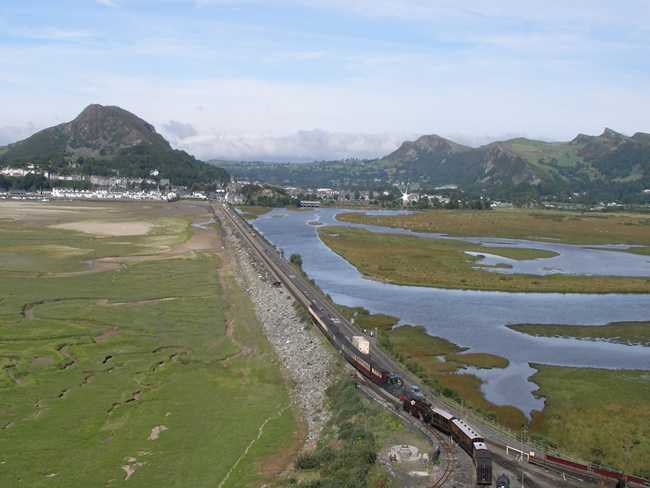 The Cob, the great embankment across the Glaslyn estuary, the Traeth Mawr, built in 1811 by William Madocks and linking Merionethshire with Caernarvonshire, which gave rise to the creation of the town and seaport of Porthmadog.

(photograph © Elwyn Jones 2007)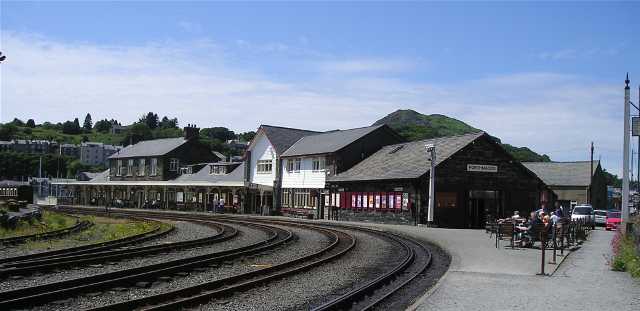 The Ffestiniog Railway Harbour Station at Porthmadog.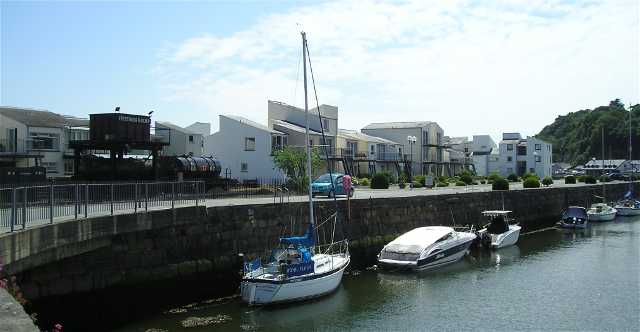 Porthmadog harbour with its famous holiday appartments built on the disused slate wharfs.



Golden Bolt Ceremony on completion of the Welsh Highland Railway

All Photographs © 2004/7 Noel Walley. Updated June 2008.


Email: Webmaster
Conwy & North Wales