[Llandudno Home] [Town Trail] [Llandudno Extravaganza] [Attractions] [Excursions]

THE GREAT ORME AERIAL CABLE CARS


Except where stated, photographs taken October 20th 2007 © Noel Walley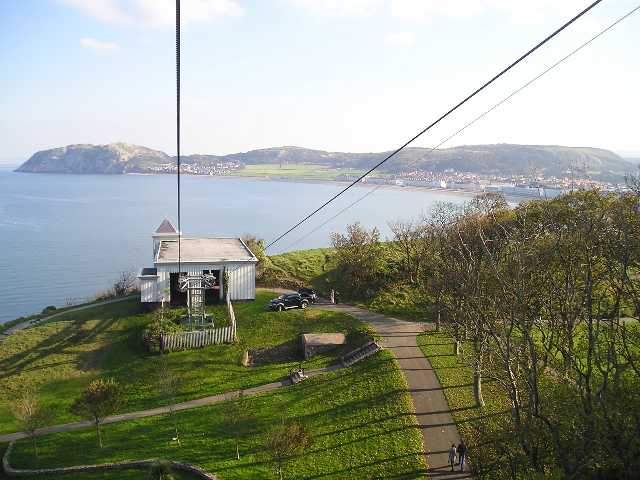 The Cable Car from the Happy Valley to the
Great Orme Summit is, at over one mile each way, the longest Aerial Cabin Lift in the United Kingdom. It was built in 1969 and fully overhauled in 2006.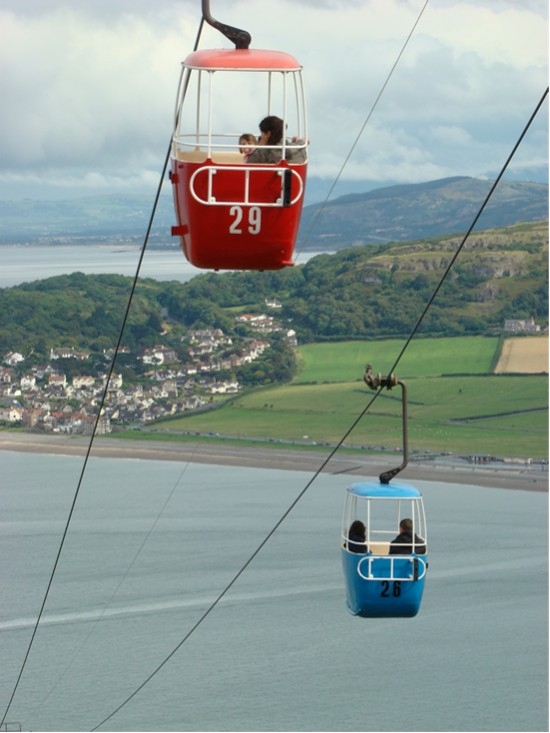 Little Orme/Craigside - Photo © Elwyn Jones August 18th 2008
The four seater cars are carried on an endless cable over two miles long and which weighs over 17 tons. The lower cable car station (telephone 01492 876413) is on the lower slopes above the Happy Valley and the entrance is reached by the paths round either side of the building. The following photos were all taken from the same car on a single upwards journey.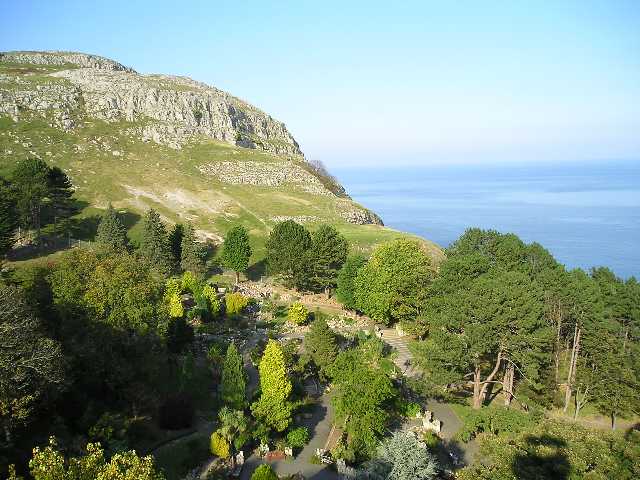 These are just some of the many magnificent views that can only be seen in this way as the cabins glide almost silently through the air. Here soon after the start we look down on the delightful Happy Valley gardens and across the valley at the crags and cliffs of the Great Orme overlooking the sea.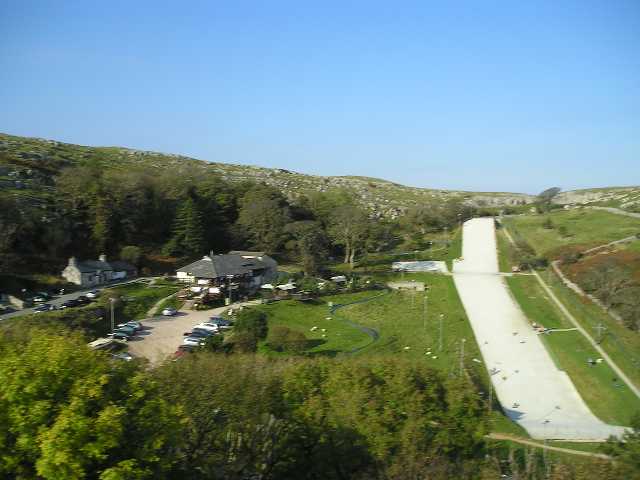 The Llandudno Ski & Snowboard Centre with its alpine chalet bar and restaurant is open all year and floodlit on winter evenings features a 200 metre main slope, a training slope and a 750 metre toboggan run. The slopes are surfaced with the latest 'Perma Snow' surface. Lessons for beginners and active ski and snowboard clubs.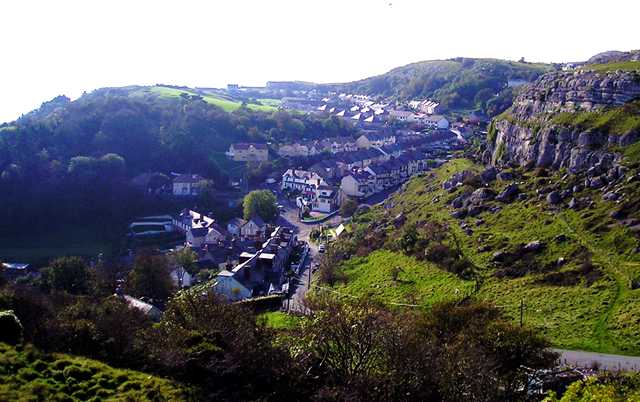 Looking to the left (against the afternoon light) as we climb - The Tyn-y-Coed copper mine village.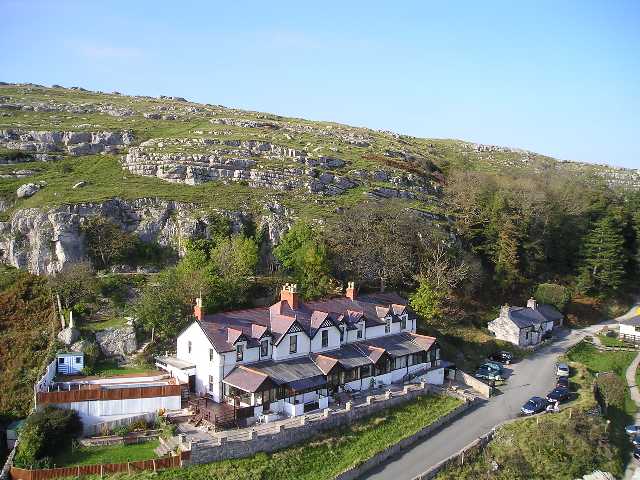 Wyddfyd Road on the left of the ski slope and to the right of Tyn-y-Coed village.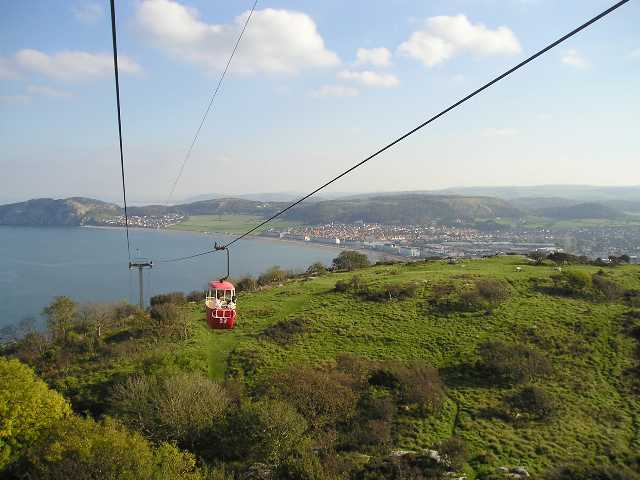 Looking back, Llandudno Bay
-
The cable is supported at intervals by steel pylons
and the greatest distance between two pylons is approximately 325 yards.
The car proceeds, quietly, smoothly, sedately ever upwards, on its way to the summit.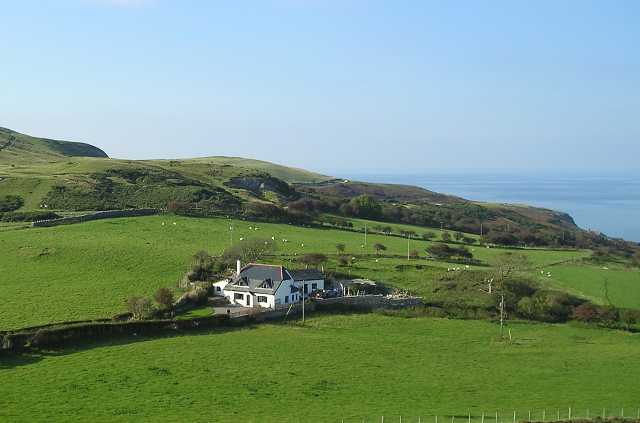 Penmynydd Uchaf - one of the Great Orme Farms.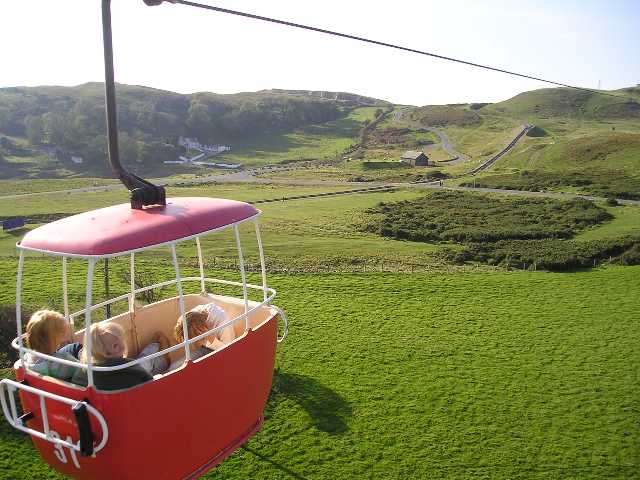 Crossing the 'halfway' plateau on its way to the summit. In the distance upper left is Pyllau Farm.
Looking back, the Halfway Tram Station on the
Great Orme Tramway
and the views beyond of Maes-y-facrell and St Bueno's Road
all add to the many memories of this journey.
In the distance the modern town and resort of Llandudno.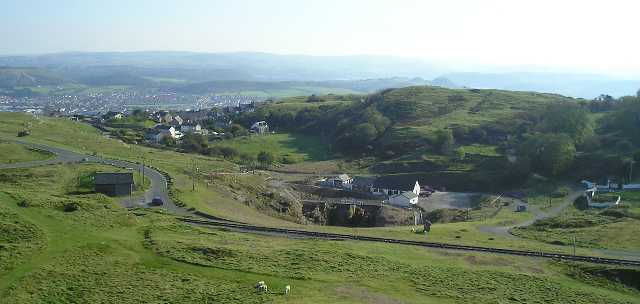 Visit the
Bronze Age Copper Mine
explore its 3,500 year old underground passages -
the largest bronze age copper mine in Europe and the oldest open to the public in the world.
View the great opencast heart, the oldest part, mined out over 4,000 years ago.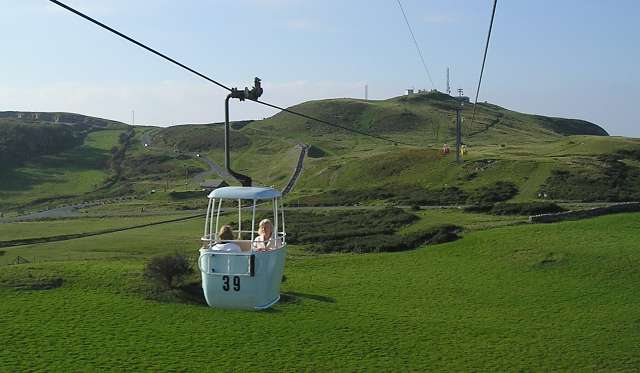 In sight of the Summit Terminus. The above photos were all taken during a single afternoon ride
and there are many more stunning views to see from the cars.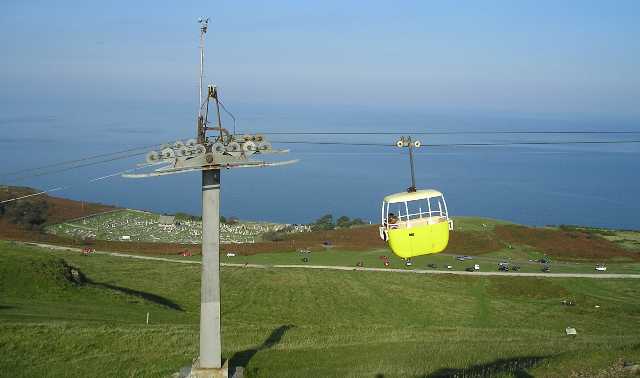 One of the many views from the summit - Saint Tudno's churchyard in a sheltered hollow.
At the summit there is much to see that can only be appreciated on foot.
Here at the summit and its visitor centre one can soak up the history,
both ancient and modern, that the Great Orme provides.


More photographs of the Great Orme are on the Town Trail pages, especially the following:

8. Pier Entrance 9. Happy Valley 12. Haulfre Gardens 13. The West Shore