The Phoenician colony of
Sexi,
established in antiquity, c.8th century BC,
had by 49 BC become the very Roman
Firmium Julium Sexi,
which with the collapse of the Western Roman Empire in 476 AD fell to the plundering and wrecking hordes of Germanic Visigoths who did little positive by which to be remembered. Civilisation returned on August 15th 755 when Omeya Abd al-Rahman I, the founder of the Emirate of Cordoba, arrived at Almuñécar from Damascus to establish an Arab kingdom. The cross on 'Peñon del Santo' the rock at the harbour entrance marks the defeat of the Arabs, their surrender at Almuñécar, and the return of Christianity in 1489 followed by a century of co-existence.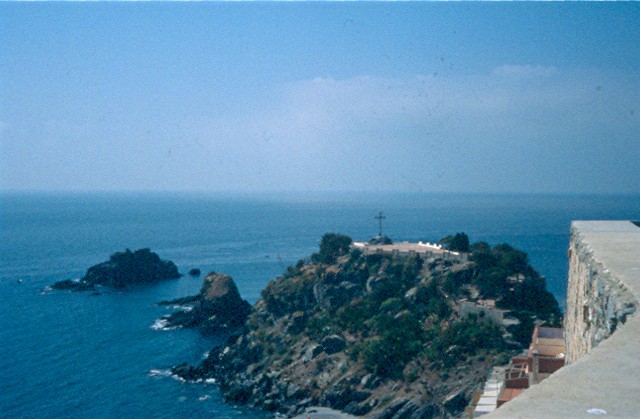 BUT The statue at the base of that rock 'Peñon del Santo' is that of Omeya Abd al-Rahman I, the Arab conqueror himself. The Arab Moslem period is indeed recognised in Andalusia ( and especially in Almuñécar as an important part of local heritage. This was borne out only last year when a ship carrying illegal immigrants from North Africa floundered on the rocks with loss of life and the survivors were rescued and brought to Almuñécar. The authorities wanted them handed over to be sent back to Africa. Local opinion and petition in Almuñécar was against it and in the end the survivors were allowed to stay. Almuñécar, like Grenada and Andalusia are Arab names but still in general use.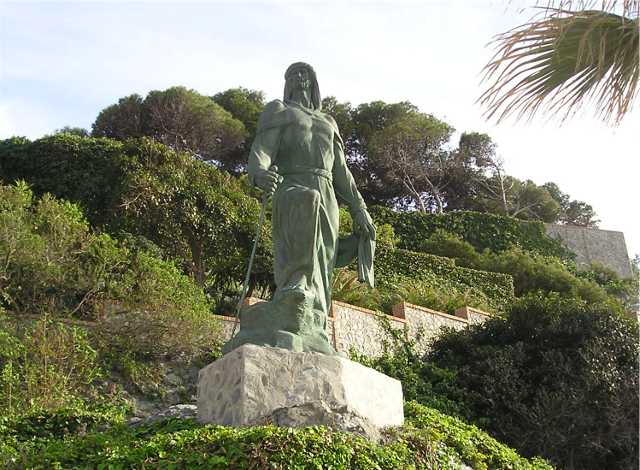 Below, nearby, a charming beach cafe sports an elaborate mural of an Alhambran scene, one of many modern architectural allusions to Andelusia's rich Morisco past: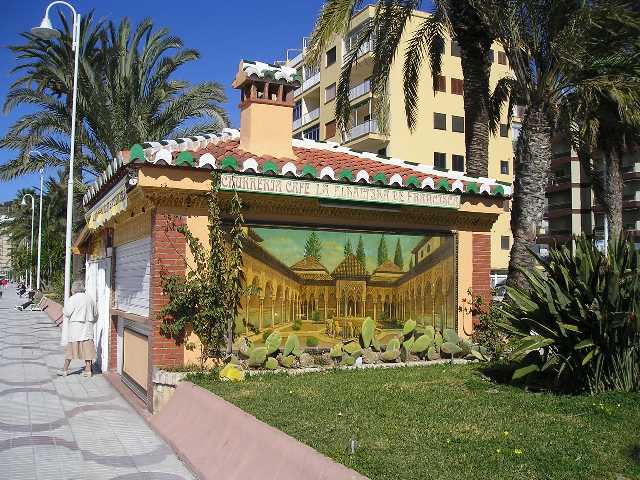 In the old town the street layout and the buildings have Moorish origins.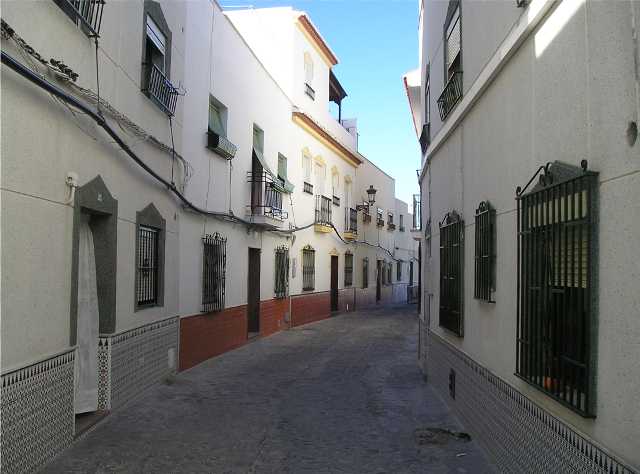 The iron grills on the ground floor windows are absolutely necessary if you wish to insure your domestic property anywhere in Spain.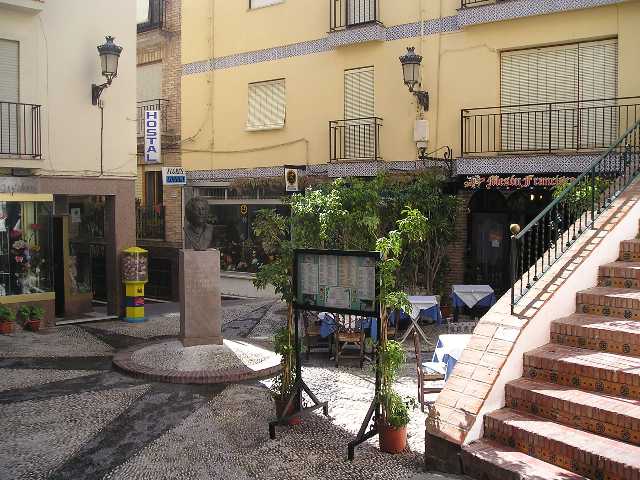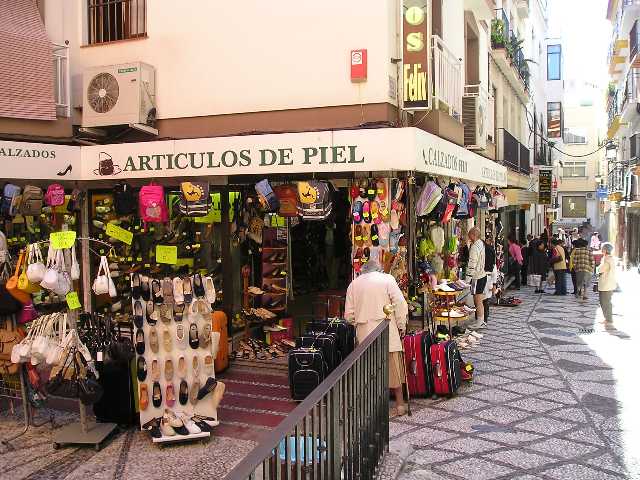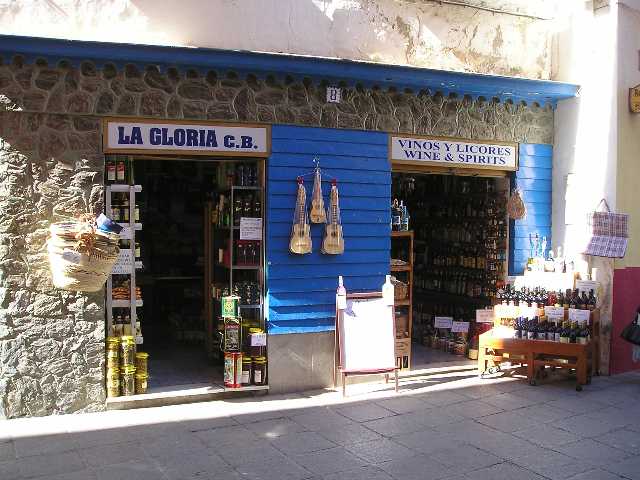 Almuñécar is also Christianised (or perhaps paganised - its the Goddess of fertility herself) as in this water fountain on the Calle Real (King Street) dated to 1559 and with the royal cypher above but at that time using the existing Roman water supply from Las Angosturas, first installed 1500 years earlier: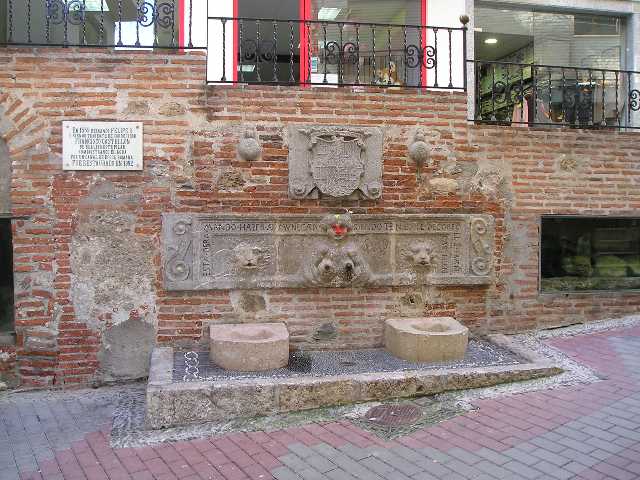 The fountain - but not the water supply - was restored in 1994!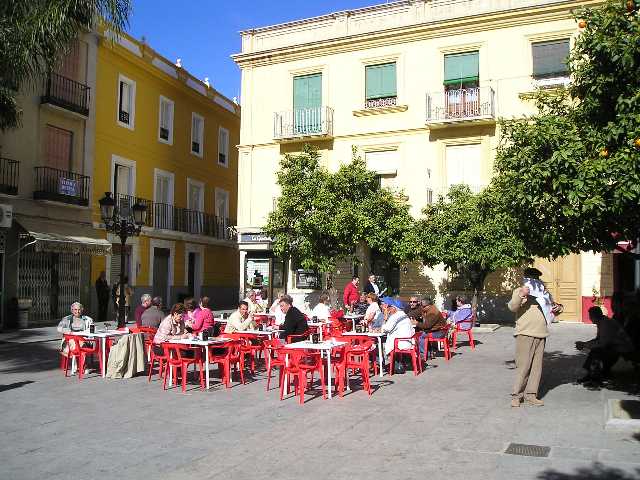 The main square has Seville Orange trees (first introduced by Christians) in front of the town hall.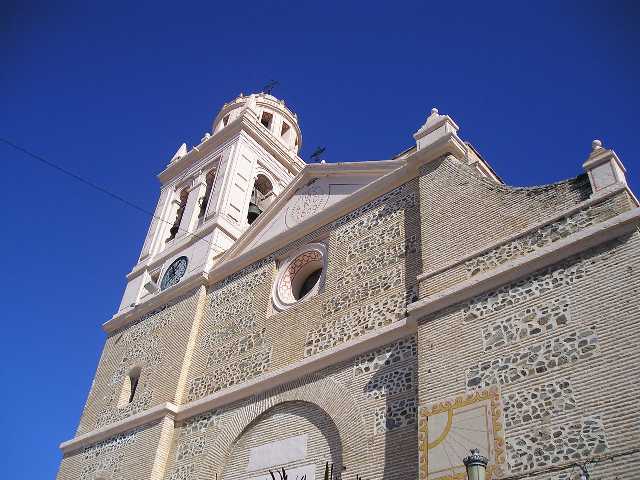 Just above the square is the Church of the Incarnation, its foundation stone laid in 1557.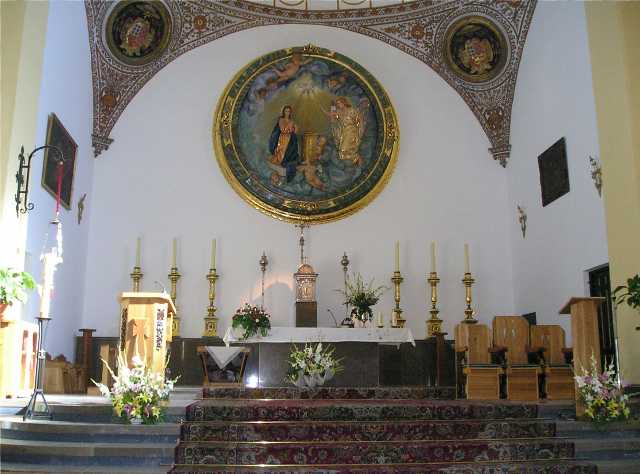 Completed in 1600, the first Baroque church in Grenada Province. It has been beautifully modernsed in the light of the second Vatican Congress.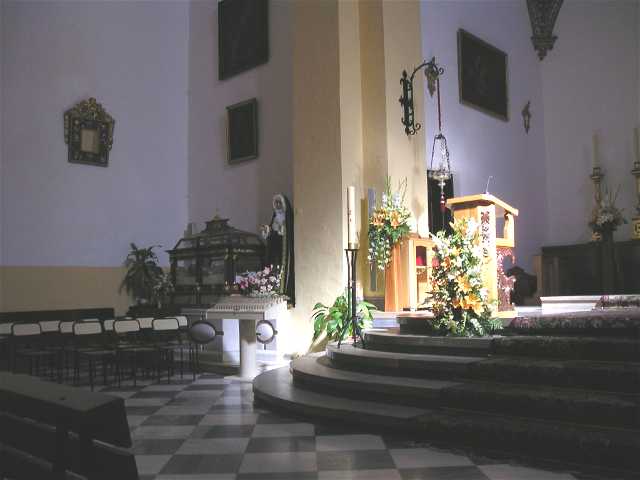 Below, one of the better early murals that have been retained and restored: