Rock Climbers find the
cliffs and crags of the Little Orme a great challenge and
Angel Bay by the Little Orme is a favourite training site for Coast Guard Rescue Teams.
The Little Orme, known in Welsh as
Rhiwledyn
, is home to a Site of Special Scientific Interest
and about 12 acres forms the
Rhiwledyn Nature Reserve
, which is managed by the North Wales Wildlife Trust.
Historically, the Little Orme was the larger part of the township of Rhiwledyn, which comprised a number of farms and smallholdings dating from about the time of Edward I who gave Rhiwledyn to the Bishop of Bangor. Gradually the land ownership was acquired and consolidated into larger but fewer farms by the Mostyn family. There is archaeological evidence for both neolithic and Roman presence on the Little Orme but not to any great extent.
The Little Orme is in the Church in Wales
Parish of Llanrhos
, and formerly it had its own medieval free chapel of Blessed Mary of Penrhyn, last used in 1930 and now in ruins near to Penrhyn Old Hall (which is now a licensed restaurant). It was one of the Pughs of Penrhyn Old Hall that took refuge for over nine months in 1586 with his domestic chaplain, Father William Davies and others in comparative safety in one of the caves on the seaward side of the Little Orme during the Elizabethan persecution of the Queen's Catholic Subjects and during this refuge they printed in Welsh the first book ever printed in Wales -
'Y Drych Gristianogawl' – 'The Christian Mirror'. See
Llandudno Catholic History
for the full story.

Originally a small farming community, Penrhyn Bay and Penrhynside came to rely heavily on employment in the limestone quarry, which operated extensively from the mid 1800s until quarrying ceased in 1936. However, Penrhyn Bay expanded rapidly in the 20th Century to become a desirable suburb of Llandudno, with large developments taking place in the 1930s, 1950s and 1960s. Most recently, in the 1990s with further large development of family homes on agricultural land to the south of the township.
Take the road from Llandudno promenade over the shoulder of the Little Orme and one descends steeply to Penrhyn Bay with Penrhyn Old Hall at the bottom on the right and the main residential development of Penrhyn Bay with St. David's Church on the left as the road continues to Rhos-on-Sea and Colwyn Bay with further recent developments to the right.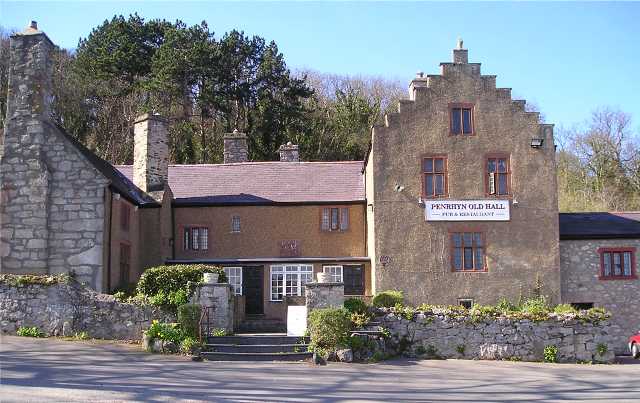 Two views of Penrhyn Old Hall - now a restaurant