WEST SHORE BOATING POOL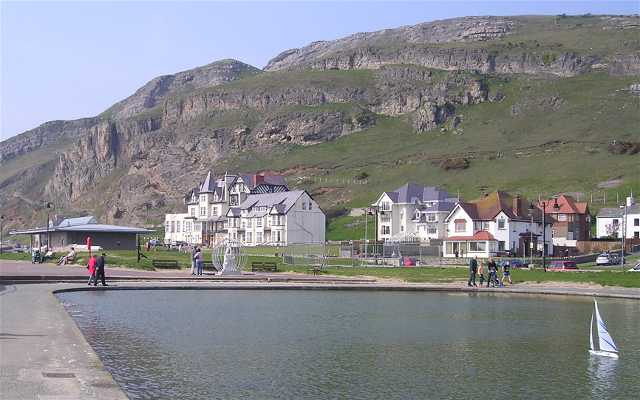 This is Llandudno's quiet west shore with the Pen Morfa Hotel that closed down at the end of the 2006 season and is being rebuilt as residential accommodation. Pen Morfa was built in 1862 as a holiday home by Dean Liddell, the father of Alice Liddell, of 'Alice in Wonderland' fame. At the head of the boating pool is a delicate stone statue of the white rabbit unveiled in 1933 by the Rt. Hon. David Lloyd George O.M., the former Prime Minister and MP for Caernarvon.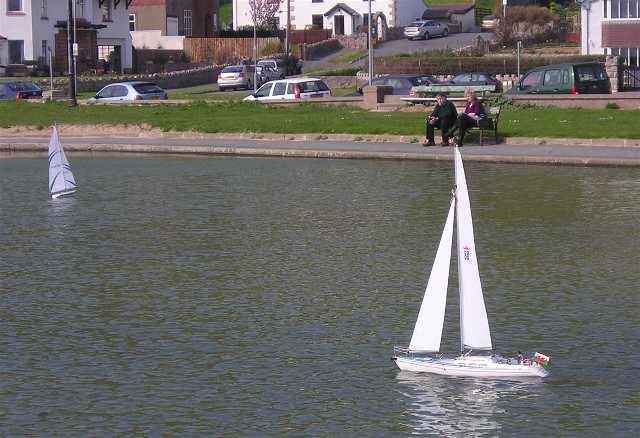 The pool was built in 1896 for regattas with model sailing yachts.
On Sunday afternoon, April 24th 2005, there were several excellent model vessels.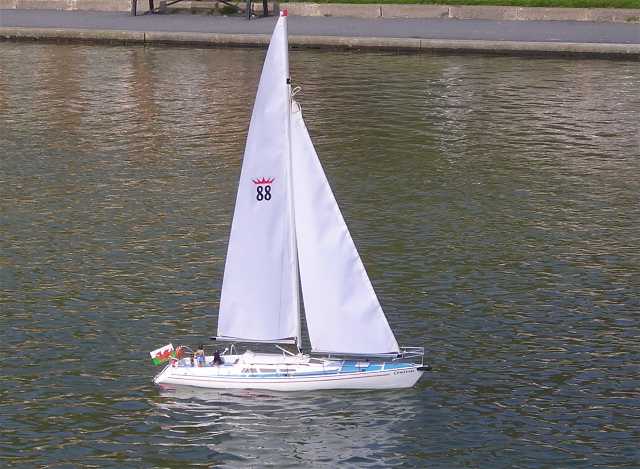 When I was a lad one trimmed the sails and just hoped it didn't get becalmed!
Today they are radio controlled and probably fitted with an auxiliary engine!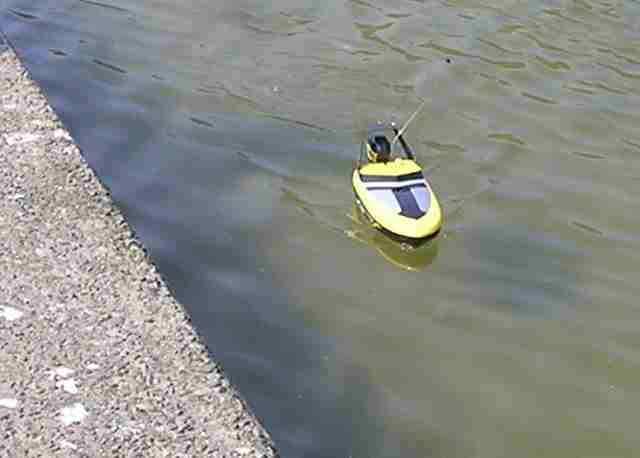 This power boat was moving nicely but the lad in charge was keeping close to land.
The star attraction was the naval presence with two fine ships.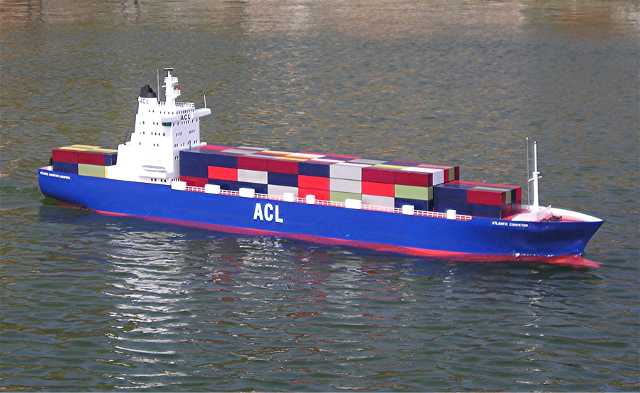 From the Merchant Navy, a superb 1 in 72 scale model of the Atlantic Conveyor, she was one of the ships requisitioned for the Falklands Campaign and was sunk on May 28th 1982 off the Falklands coast near San Carlos with the loss of 12 men but also 22 helicopters and 3,000 tons of aircraft spares. The model is 10ft 3ins long and weighs 310 lbs. It is powered by a 12 volt motor using four car batteries and will run for 24 hours with a speed of three knots.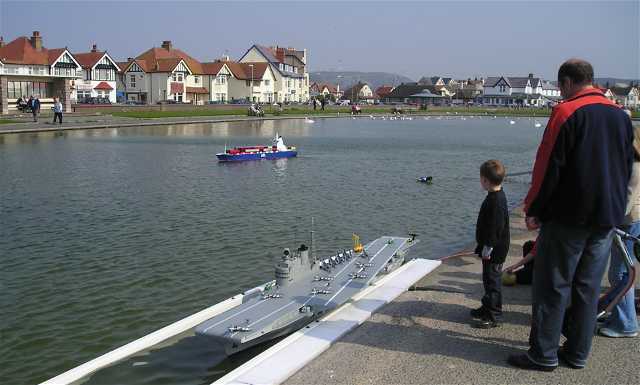 From the Royal Navy came HMS Victorious built 1937 and commissioned 1941. It was completely rebuilt in 1957 but destroyed by fire during a refit in 1968. This fine model is 12ft long and built to a scale of 1 in 75 it weighs 396 lbs. It is powered by two 12 volt motors through four propellers and using four car batteries. It will run for 16 hours with a speed of three knots.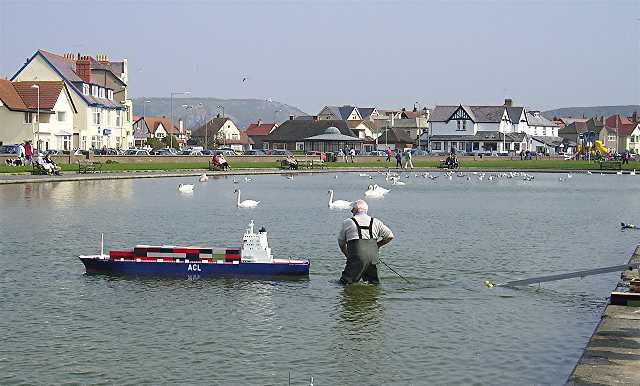 Roy Grainger of Deganwy, the owner and builder of both these fine models
doesn't mind getting his feet wet as he prepares to haul his vessel out of the water,
as the swans prepare to guard their teritory.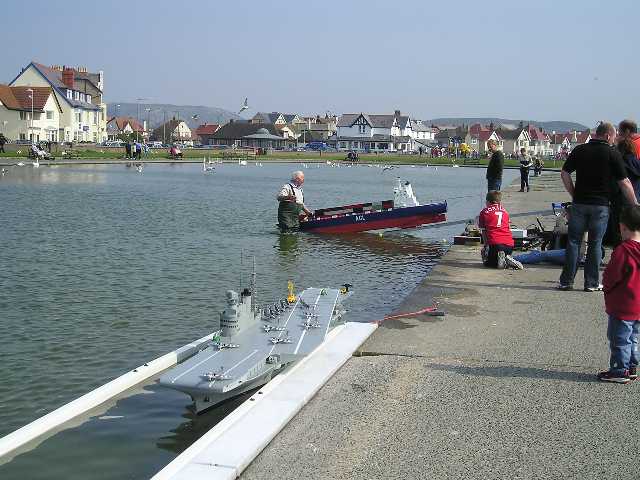 The owner hauls his ships out of the water on carrying trolleys
up an inclined slipway on to a car trailer using an electric winch.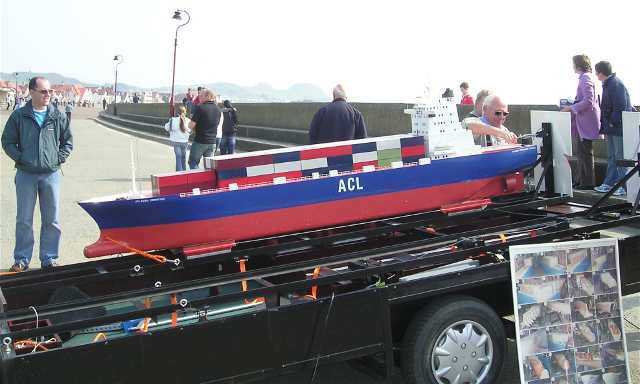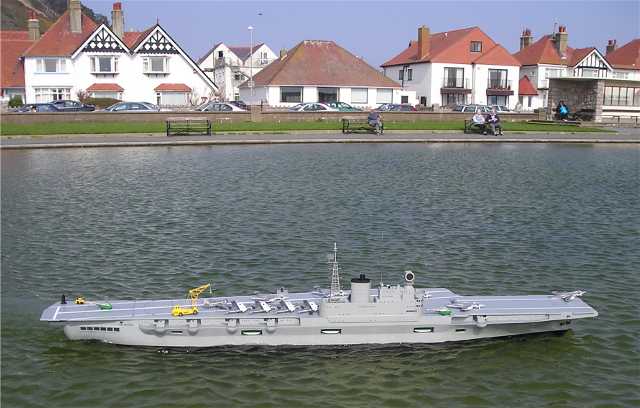 HMS Victorious sailing in to position at the slipway to receive the same treatment.
Above photographs by Noel Walley on April 24th 2005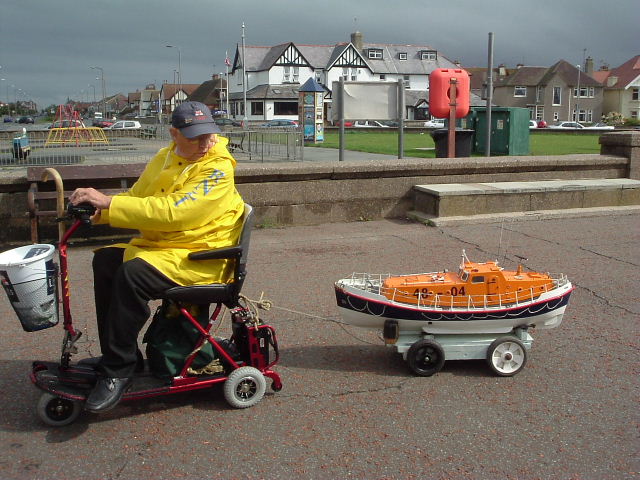 A fine model of an RNLI lifeboat being towed to the launching site by David Mottram its builder.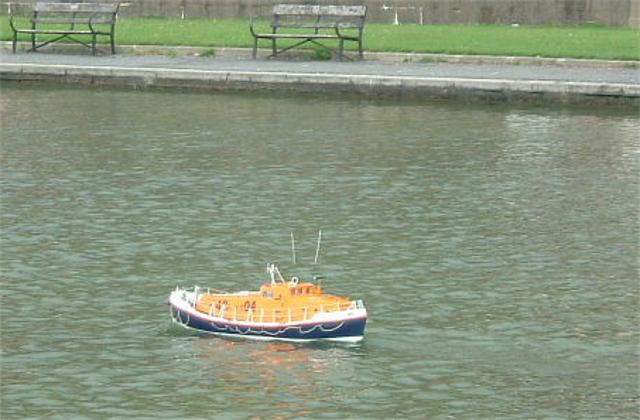 The Model Lifeboat sailing on the Boating Pool on September 10th 2005
Lifeboat Photographs by Lyn Brown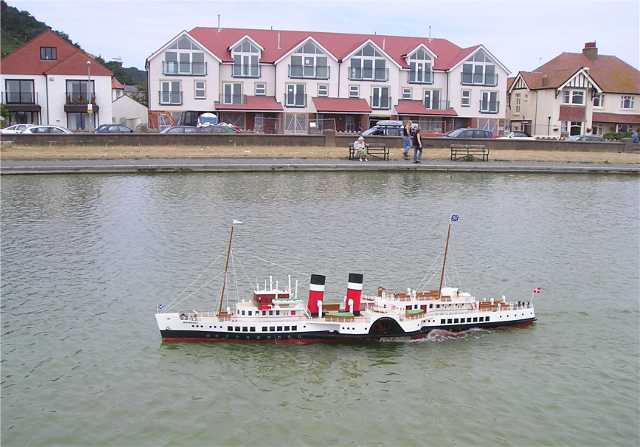 Roy Grainger's latest model is of the P.S. "Waverley", the last deap-sea paddle steamer still in service. She was launched in October 1946 from A & J Inglis's shipyard on the Clyde at Glasgow for the Caladonian Steam Packet Co., which used her for day cruises on the Scottish coast. She has a gross tonnage of 693 tons, a length of 248ft, beam of 57ft 6ins over the paddle boxes. She is fitted with a 2,100 HP triple expansion steam engine by Rankine and Blackmore. This fine hand built model is 12 ft long and powered by three 12 volt car batteries and two 12 volt motors, with radio control. The model weighs 410 lbs.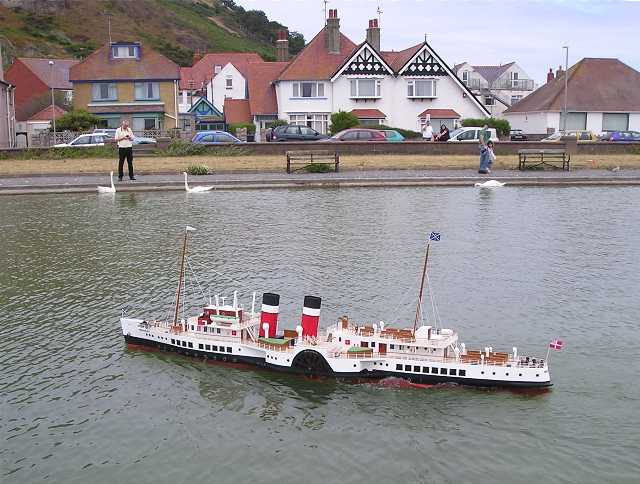 Photographed by Noel Walley at the West Shore on August 5th 2006.
Email: Webmaster
HOME - Llandudno Queen of the North Wales Resorts