On the Summit of the Great Orme are two distinct groups of buildings dedicated to the needs of visitors, even if the day is a trifle damp or a little windy. On the slightly higher ground is the Summit Complex, bars, restaurants, cafes, amusements and gift shops together with the Aerial Cable Car Station. Clustered alongside the Upper Tramway Terminus is the Great Orme Visitor Centre.

The Summit Complex building was originally 'The Telegraph Inn' from where messages were relayed between Holyhead and Liverpool advising of the imminent arrival of sailing ships laden with valuable cargo. Later, much re-built as 'The Summit Hotel', it served as the 19th hole for the Great Orme Golf Club that closed in 1939. The site of the golf course is now a sheep farm. During the second world war the hotel reverted to a signalling purpose and became the RAF Great Orme Radar Station.
People have been using the summit of the Great Orme for the purpose of sending and receiving messages consistently and continuously for the last two hundred years, so one shouldn't be surprised that two radio masts dominate the summit. One of them transmits Classic FM. On the right in the photograph above is a square white building that houses (visible through the windows) the giant wheel around which the cable passes, the cable that holds the two cable cars in their counterbalanced positions, and fulfils a pivotal role in the safe operation of the Great Orme Tramway system.

Attempts to revive the Great Orme Golf Club after the war failed and the restored Hotel was purchased by the middle-weight boxer, Randolph Turpin. Since when, despite Turpin's bankruptcy and suicide, the hotel has continued to be associated in various ways with his name (e.g. Randy's Bar) and there is considerable cult publicity. But it is now also called 'The Summit Complex'.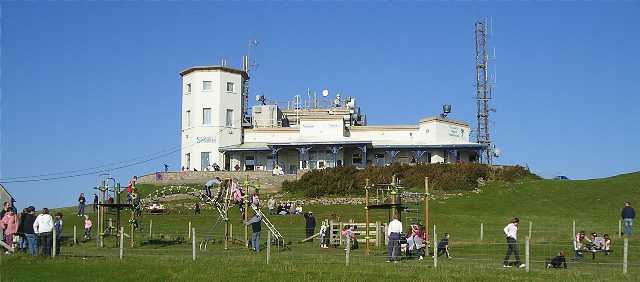 Children are well catered for - this robust play area is popular at all seasons.