Financial difficulties in the 1930's resulted in the tramway being sold in 1935 to a new company Great Orme Railway Limited. The tramway remained in private hands until 1949 when Llandudno Urban District Council bought it under its powers to compulsorily purchase the undertaking at seven yearly intervals. In 1974 Aberconwy Borough Council took over the line until 1996 when ownership passed to Conwy County Council.

Prior to the introduction of radio control in the 1990's, the trolley poles were used to maintain a telegraph link with the control unit at the halfway winding house, which was powered by steam until conversion to electrical operation in the 1950's. The winding house contains two sets of cable winding gear. The upper section
needs a seven-eighths inch diameter cable and is run by a 75hp English Electric motor.
The lower section uses a 1¼ inch cable and a 125 hp electric motor.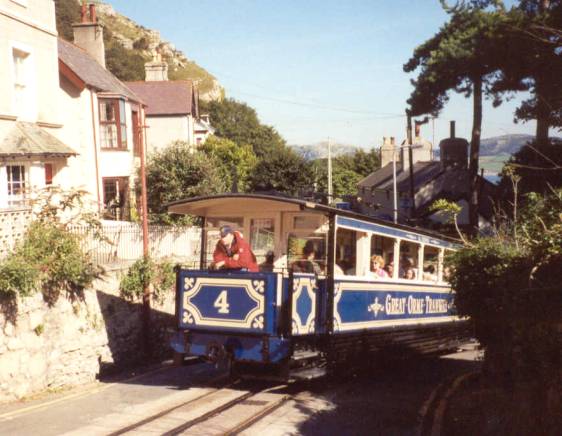 Car No. 4 climbing the narrow and very steep Old Road.


As part of a major restoration and modernisation programme

Doppelmayr Tramways of Switzerland in conjunction with Briton Engineering installed in 2001 a remote control and remote supervision system incorporating a trackside

inductive loop. Current reconstruction work is costing more than £4,000,000. This includes the recent construction of a new winding house and new halfway station building (see the next page), the installation in 2001 of the modern control gear, and complete lower section track renewal
planned and undertaken during the winters of 2002-3, 2003-4
& 2004/5.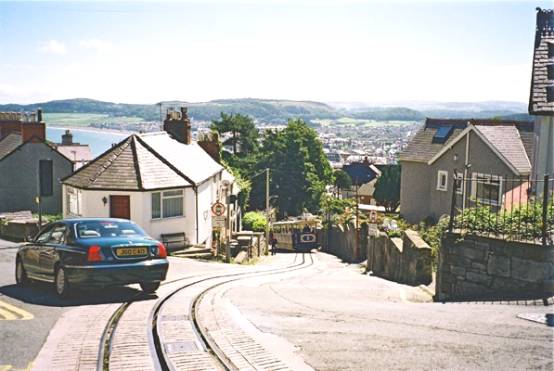 Last updated June 2009 - Photographs © 2002 by
Noel Walley