THE GREAT ORME TRAMWAY
MORE PHOTOGRAPHS
Taken in August 2002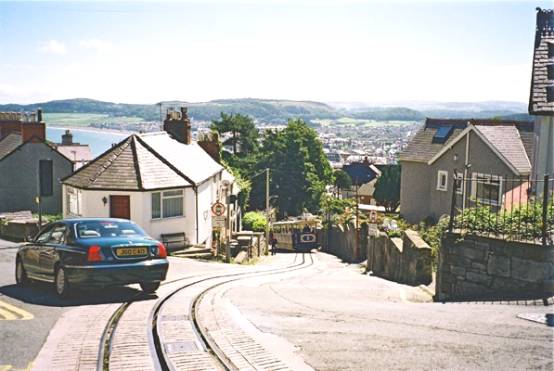 Car No. 5 ascending the bottom half of the first section, the very narrow Old Road (closed to through traffic but used by road vehicles for access to properties) and approaching the five-way junction at Black Gate on Ty Gwyn Road. The public bus service to Tyn y Coed and St. Tudno's crosses the line at this point. The cut line in the concrete down the outer sides of the tramway rails is the buried induction control cable installed in 2001.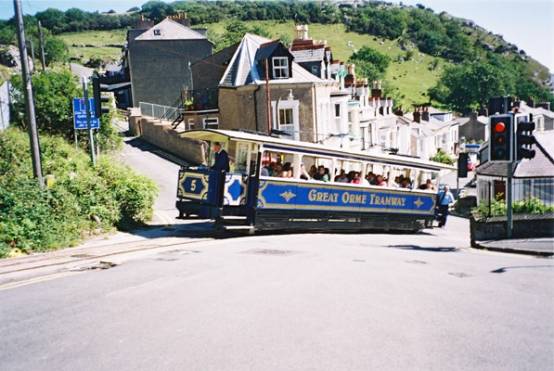 Car No. 5 leaving Old Road and crossing Ty Gwyn Road
at the Black Gate junction with Wyddfyd Road and Llwynon Road.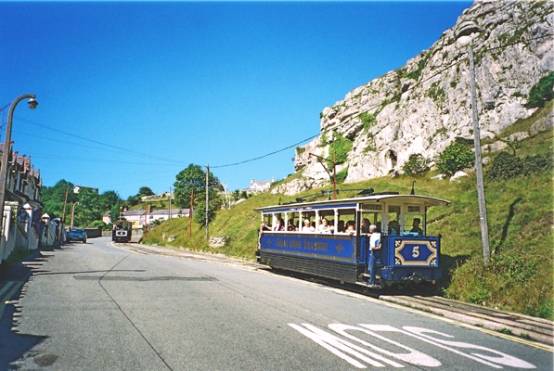 Minutes later, Car No. 5 and descending Car No. 4 approaching the passing loop.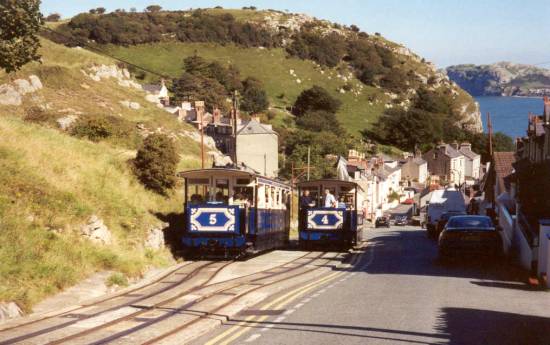 On a later occasion, descending Car No. 5 seen passing Car No. 4.
On the lower section, the tramway uses gauntletted tracks above the passing loop.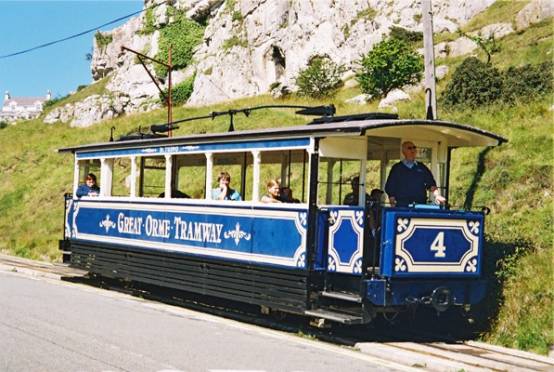 Car No. 4 – 'Saint Tudno' descending Ty Gwyn Road.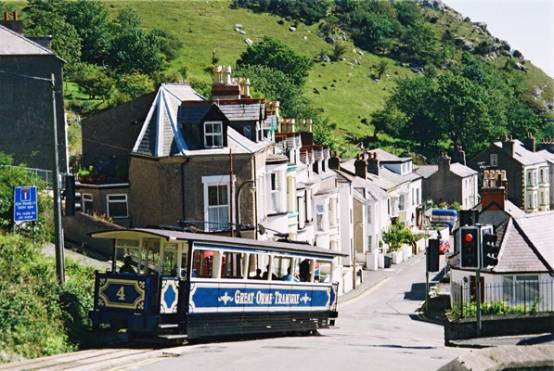 Moments later, crossing Ty Gwyn Road into Old Road.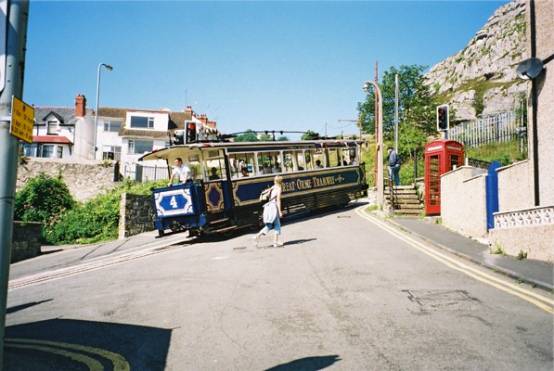 Crossing the same junction on a later occasion.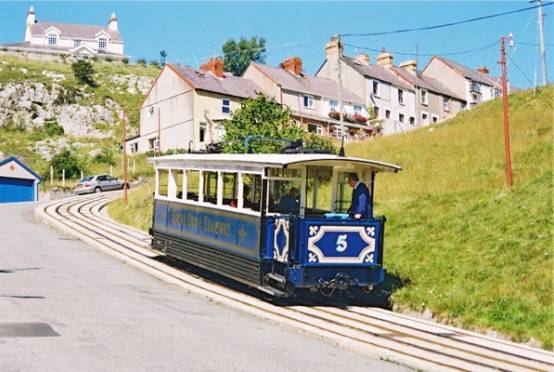 Ascending car approaching the junction with Tyn y Coed Road.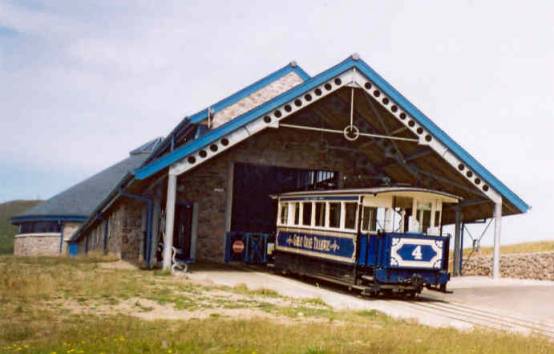 Waiting for Passengers at Halfway Station.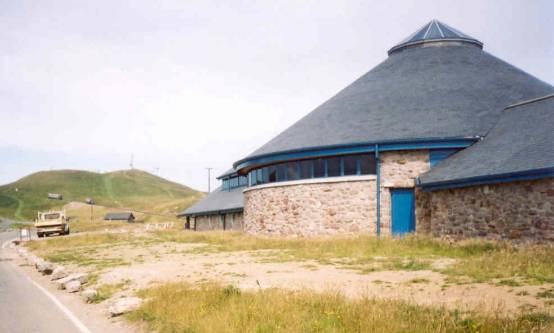 The Circular Winding House, where passengers pass the control room
and the upper and lower section winding drums
as they walk under cover between the upper and lower sections.
In the distance two trams can be seen near the passing loop on the upper section.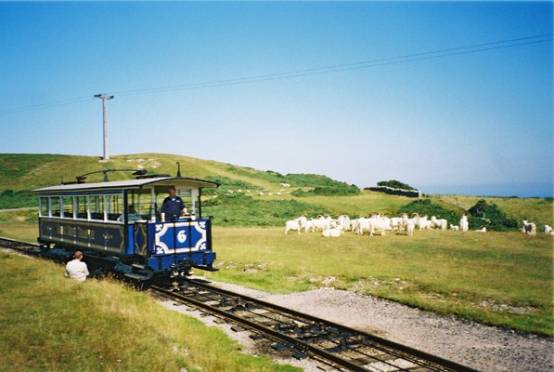 Car No. 6 'Saint Trillo' arriving at Halfway Station.
The upper section uses conventional railway track and exposed cables.
The Great Orme goats are enjoying the morning sun.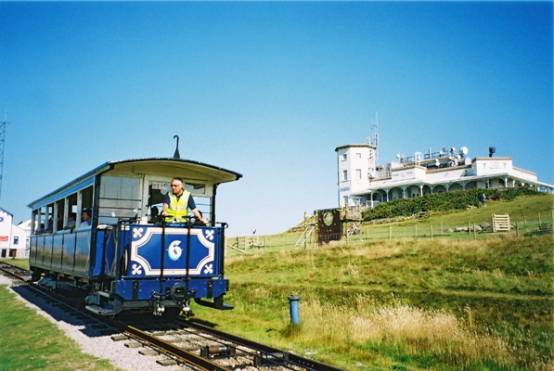 Approaching the Upper Terminus with the Summit Complex on the right.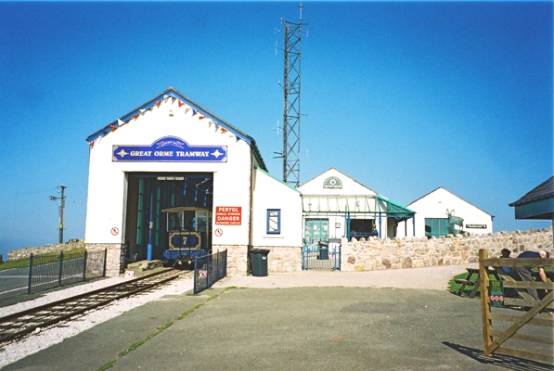 The Upper Terminus and the Great Orme Visitor Centre.