[HOME] [TownTrail] [SaintTudno] [GreatOrme] [Extravaganza] [Tramway] [TramPictures] [TramHistory] [Excursions] [LlandudnoLinks]


THE Llandudno

GREAT ORME TRAMWAY
Selected tramway links
This is Britain's only remaining cable operated street tramway and one of only three surviving in the world. Operation of the Great Orme tramway differs from the famous and unique San Francisco system in that, like the Lisbon lines, it is a street funicular, where the cars are stopped and started by stopping and starting the cable. The tramway has been carefully and systematically renewed between 2000 and 2005. This page provides links to many other sites offering views and insights into this remarkable survival.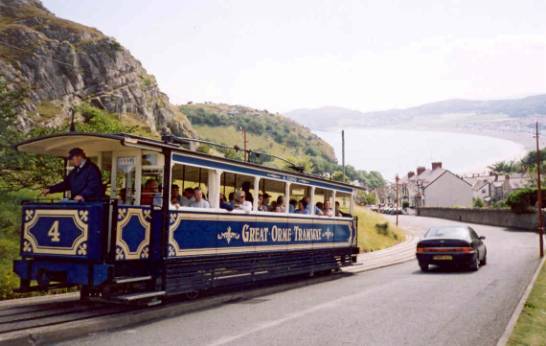 Car No. 4, 'St. Tudno', built new in 1902,
ascending the interlaced tracks above the passing loop in Ty Gwyn Road
on the approach to the Halfway Station.

Hows Album
Tramshots
and
Tramway 2002
The

Llandudno and Colwyn Bay Tramway Society

perpetuates the memory of the former inter-urban line, which, built in 1907 from Llandudno West Shore, followed (along Gloddaeth Avenue) the south facing side of the Great Orme, crossed Llandudno Bay (via Mostyn Street, Mostyn Broadway, Mostin Avenue and Bodafon Fields and surmounted the shoulder of the Little Orme before following the coast to Rhos on Sea and Colwyn Bay. Following coastal erosion, the Llandudno and Colwyn Bay Electric Railway closed to all traffic in 1956. This site has excellent coverate of the 2007 replica tramcar and the centenary celebrations. Excellent archive photographs of the line and its trams are at Dewi Williams's

L&CBER Site.

The

North Wales Coast Railway

The site for information on local rail transport for both travellers and enthusiasts. Manchester - Llandudno, Crewe or Cardiff to Chester and Holyhead, Llandudno to Blaenau Ffestiniog.