NORTH STAFFORDSHIRE

RAILWAY PASSENGER SERVICES
A SUPPLEMENTARY STUDY
JANUARY 2004
by
Noel R. Walley
This paper is presented as a supplement to the following study:
"North Staffordshire Railway Passenger Services Before, During and After Nationalisation"
© 2004 Noel R. Walley
BACKGROUND
In his earlier study the writer sought to demonstrate by means of the analysis of public timetables dating from 1910, 1947, 1961, 1976, 1996 and 1999 that North Staffordshire was at the end of the twentieth century better served by public passenger train services than at any previous time in the history of the North Staffordshire Railway and its successors.
Two major railway accidents, the first near Southall on the Western Line out of London Paddington in September 1997 and the second near Hatfield on the North Eastern Line out of London Kings Cross in October 2000, resulted in massive media coverage that quite unjustifiably did much to dent public confidence in the safety of Britain's Railways.
Very serious doubts about the accountability of Railtrack plc followed and the ensuing inquiries, which forced Railtrack plc into liquidation with huge debts, brought about the effectual re-nationalisation of the railway infrastructure (track and signalling) but not the train operating companies. The new company, Network Rail, limited by guarantee is a non-profit organisation. It quickly became obvious that the work of modernisation of the West Coast Main Line from London Euston to Birmingham, Manchester and the Glasgow, which had been entrusted to Railtrack plc was seriously behind schedule and over budget and was incapable of completion in a reasonable timescale without major works involving total possession of entire routes for significant periods. This would inevitably involve serious disruption of public services. 
Major works in 2002/03 brought massive disruption especially in North Staffordshire and resulted in the complete closure of all lines through Stoke-on-Trent for almost a year. All trains from Manchester to London or Birmingham travelled via Crewe and Stafford. Derby line trains terminated at Blythe Bridge. At the height of this period, the lines into and out of London Euston were also completely closed for almost the whole of the month of August 2003. It goes without saying that these closures caused major disruption and inconvenience to the travelling public and especially in North Staffordshire where passengers were bussed to Stafford, Crewe, Wilmslow or Blythe Bridge as appropriate.
The writer had occasion at that time to travel from Llandudno in North Wales to Woldingham in Surrey and back one week later.  The journey would normally have been by train from Llandudno Junction to Euston across London to Victoria then Victoria to Woldingham.  Alternatively, and very probably, he would have used the Connex South-Central service from Watford Junction to East Croydon and thus avoided the cross-London journey.   In August 2003, the best route available was Llandudno Junction to Crewe, Crewe to Leicester, Leicester to Luton, Luton via Thameslink to East Croydon and East Croydon to Woldingham.  For the return the writer travelled Woldingham to Clapham Junction, Clapham Junction to Reading, Reading to Crewe and Crewe to Llandudno Junction.  All journeys were made by existing regular services and neither route would have been possible in steam days.
The railway through Stoke-on-Trent re-opened in the Autumn of 2003 and a new timetable was published effective from January 4th 2004.  The North Staffordshire service recorded in this timetable is summarised in Table K and is incorporated in the following comparisons:
<![if !vml]>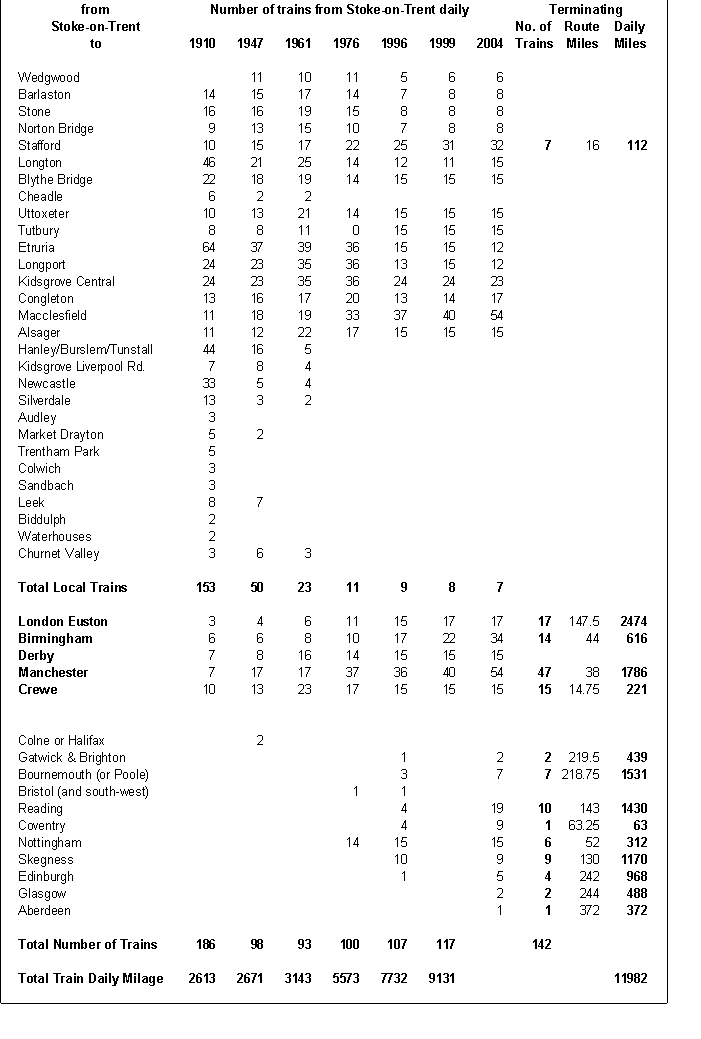 <![endif]>
The study of the January 2004 timetable revealed a significant increase of the number of trains leaving Stoke-on-Trent daily (Mondays to Fridays) from 117 in 1999 to a massive 142 in 2004 and the an even larger increase in train mileage from 9131 in 1999 to 11982 in 2004. These increases continue the trend identifiable throughout the 20th Century and especially from the mid 1970's. 
The principal increases in 2004 come, however, from the concentration of the Manchester to Reading and Bournemouth services on to the route through Stoke (seven of which come from Scotland) and there is of course no certainty that some of these trains will not return to the route via Crewe and Wilmslow after the completion of the update work on that route. The increase is, however, further attributable to the introduction of new Voyager diesel electric trains specifically designed for service on this and similar cross-country routes. These have a lower seating capacity than the HST sets that they replaced with the aim of providing a more frequent through service.  Ironically this puts many extra trains on an already very crowded railway and especially between Manchester, Stoke, Stafford and Birmingham. 
The local service through Stoke-on-Trent continues to decline and there is doubt concerning the long-term future for Etruria and Longport stations. [P.S. Etruria railway station was finally closed for passengers on Friday September 30th 2005].
A significant change is the loss of through running from Derby and Stoke-on-Trent via Crewe to Manchester Airport.
A further notable feature of the timetable is that there is now one train to London every morning (and a corresponding return service in the evening) that calls at Macclesfield but not at Stoke-on-Trent!
Noel Walley,
April 2004
By the same author: Llandudno - Queen of North Wales Resorts
Edited December 2005