NORTH STAFFORDSHIRE RAILWAY
PASSENGER SERVICES
1910 - 1999
A Detailed Study by
Noel R. Walley
© 2000 & 2003 Noel R. Walley
First Published – January 2000
Published on the Internet – May 2003
NORTH STAFFORDSHIRE RAILWAY
PASSENGER SERVICES STUDY
TABLE OF CONTENTS
Links are given below to each of the chapters in the main body of the study.
The North Staffordshire Railway. 5
The L.M.S. Passenger Service. 7
British Railways Nationalised. 9
The Stafford & Birmingham Line. 23
The Uttoxeter & Derby Line. 27
The Macclesfield & Manchester Line. 29
The Local Services and Closed Lines. 35
Through Services and Connections. 41
Comparison – Services from London to other Cities. 48
Passenger Trains and Facilities. 50
Privatisation, New Services and Developments. 51
LINKS TO THE SUMMARY TIMETABLES
In addition to many embedded tables an appendix contains fifteen major tables
Links are provided in the relevant chapters to individual summary timetables
 Click Link to go to the index of these fifteen summary timetables.
Each successive railway timetable is extensively consulted for just a few months and is then thrown away. Yet, over a period of time, such documents can provide a valuable insight into the way in which the railway passenger services have developed to meet competition from other modes of transport, to accommodate changes in travelling patterns, and to satisfy public expectations. 
Railway timetables have held a particular fascination for me over many years, and I have derived very great pleasure in their study. This paper is the result of an idea that it could be fruitful to examine, and compare in some detail, the changes (as recorded in published timetables) that have occurred over the years to the public passenger service in North Staffordshire. Stoke-on-Trent was the headquarters and principal station of the North Staffordshire Railway Company throughout that company's 75 years of independent existence and the station has continued to serve that city and its surrounding area through successive eras to the present day. It is the public passenger service from Stoke-on-Trent, particularly during the years of nationalisation, which is the subject of this paper.
In the course of this study it became clear that, although many branch lines and lightly used stations had been closed, the remaining passenger lines of the former North Staffordshire Railway Company, as a consequence of the (much maligned) management of British Railways between 1948 and 1996, had enjoyed a substantially better service in 1996 than at any previous time. This was very noticeable when the services were considered in the wider context of the InterCity and Regional Railways nationwide passenger networks as well as in the purely local context of North Staffordshire.
As the study progressed it became obvious that the railway service had continued to change and develop following privatisation, and that this paper would be incomplete without mention of the first years of newly privatised operations in order to show continuity with the old operations as well as indicating the ways in which the post-nationalisation services appear to be developing.
I am most grateful for the considerable help received from friends during the preparation of this study and my special thanks are due to Mr. Rodney Hampson, Dr. Brian Turton, and Dr Dudley Fowkes for their most valuable help and advice.
Noel Walley
May 2003.   
History will show the second half of the twentieth century to have been for the railways of Great Britain a time of great innovation and change and that the first half century was by comparison, for the most part, a period of stagnation if not decline.
Many, especially those who share the writer's lifelong enthusiasm for railways and for the steam engine, will no doubt demur and offer spirited arguments stressing the great power and speed achieved by the steam locomotive in the 1920s, and 30s, the many improvements in all areas of railway equipment and operation, great advances in suburban railway electrification and some very important experiments with diesel traction.
All this is true, but, concerning the railway system as a whole and with few exceptions, its passenger traffic flows; its passenger services in terms of speed, frequency, convenience, and co‑ordination; the relationships between railways and other transport operators; and railway working practices generally were all those that had developed in the nineteenth century.
The reason for this relative stagnation and even decline is not difficult to see. Firstly, two world wars when the railways were under Government control, over worked, carrying enormous loads and yet allowed only minimal maintenance. Secondly, between the two wars, a major world wide economic slump, and a forced amalgamation of many independent railway companies both large and small to form four big companies with the aim of keeping all lines open through economies of scale and cross subsidisation.
By contrast, the half-century since the Second World War has been a period of peace, political stability, and great economic development both at home and abroad. It has also been a period of rapid development of road and air transport. The competition faced by railways from road transport, passenger and freight, public and private, has been unremitting throughout.
Railway freight traffic has been particularly badly hit. But, throughout this period, unlike at any previous time, the railways have received very generous operating subsidies for the extensive passenger service network, together with reasonably adequate publicly financed capital investment.
Railway nationalisation became effective on January 1st, 1948 following legislation in 1947 and it is under nationalisation that great changes have taken place in the sphere of railway passenger and freight services throughout Great Britain.
This paper is concerned only with railway passenger service developments and primarily with the service provided to North Staffordshire, a region in the heart of England centred on the city of Stoke-on-Trent. North Staffordshire is an economic rather than a political entity and is noted for heavy industry, coal mining, quarrying and especially for the manufacture of pottery (earthenware and fine china). So dominant is that industry locally that the area is popularly called 'The Potteries'.
Prior to the forced amalgamations of 1923, the area was served by the North Staffordshire Railway Company with its headquarters in Stoke-on-Trent. It is the public passenger service from Stoke-on-Trent on lines formerly served by that company which is the subject of this study in which extensive reference has been made to five published timetables.
These are the N.S.R. timetable for April 1910 as published in Bradshaw's Guide;<![if !supportFootnotes]>[1]<![endif]> the last L.M.S.<![if !supportFootnotes]>[2]<![endif]> and also G.W.R.<![if !supportFootnotes]>[3]<![endif]> timetables prior to nationalisation, published in October 1947; Bradshaw's B.R. timetable for May 1961;<![if !supportFootnotes]>[4]<![endif]> The Great Britain timetable of 1976<![if !supportFootnotes]>[5]<![endif]> and The Great Britain Passenger Railway Timetable of 29th September 1996 as published by Railtrack plc in the year of transition to privatisation.
Reference has also been made to several other published works and notably that excellent work The North Staffordshire Railway by Rex Christiansen & R. Miller to whom the writer is grateful for much background history.
The North Staffordshire Railway
The North Staffordshire Railway Company was incorporated by Act of Parliament in April, 1845 with a share capital of £2,350,000 in £20 shares to build and operate a railway from the Manchester & Birmingham Railway at Macclesfield via North Rode, Congleton and Harecastle into the Potteries 'giving the most ample accommodation to the towns of Tunstall, Burslem, Newcastle-under-Lyme, Hanley, Stoke, Fenton, Longton and Stone',<![if !supportFootnotes]>[6]<![endif]> to join the Grand Junction Railway at Colwich. The primary intention being to provide the area with railway services to Manchester and London.
The company established its main office and boardroom at its principal station in Stoke-on-Trent. It is ideally situated on this main line (part of the shortest route between Manchester and London) and near the junction with its line to Derby.
These station buildings were completed in 1848 to the design of H.A. Hunt of London in a style referred to as 'robust Jacobean manor-house'.<![if !supportFootnotes]>[7]<![endif]> Together with the North Stafford Hotel and the officers' houses, they occupy Winton Square, in what Sir Nikolaus Pevsner has described as 'the finest piece of Victorian axial planning in the county'.<![if !supportFootnotes]>[8]<![endif]> They were a masterpiece in their time and quite remarkably they have survived (among the earliest principal station buildings so to do), very well maintained, little changed, and still largely fulfilling their original purposes. They provide a facility of which the city can be justly proud.
Click to see photographs of Stoke-on-Trent Station and Winton Square.
The company was also authorised to build lines from Stone to Norton Bridge on the London & North Western Railway near Stafford; from Stoke-on-Trent via Cresswell, Uttoxeter and Tutbury to Burton-on-Trent; from Tutbury to Willington Junction on the Midland Railway near Derby; from Harecastle to Crewe; from Stoke-on-Trent to Newcastle; from Harecastle to Sandbach and from North Rode via Leek and the Churnet Valley to Rocester and Uttoxeter.
Later branches included lines from Stoke-on-Trent to Congleton via Biddulph; Stoke-on-Trent to Leek; Newcastle to Silverdale, Keele and Market Drayton (junction with the Great Western Railway); Alsager to Audley, Lycett and Keele, and Rocester to Ashbourne. The famous Loop Line from Etruria via Hanley, Cobridge, Burslem, Tunstall, Pitts Hill, Newchapel & Goldenhill to Kidsgrove Liverpool Rd. and a junction with the Manchester line was the last of the N.S.R.'s major undertakings.
A small local company with N.S.R. backing built at great cost over a period of twelve years a short branch from Cresswell to Cheadle. This line, only four miles long, included a very difficult tunnel. The line was completed in 1900, but the tunnel gave so much trouble that, in 1933, the L.M.S. constructed a deviation without a tunnel.
A Joint Committee was formed with the Great Central Railway to construct the Macclesfield, Bollington & Marple Railway which gave the N.S.R. access to an alternative routes to East Coast ports for its freight traffic and for passenger trains to Manchester (circuitous route) and to the fashionable spa resort of Buxton.
Twentieth century construction included a branch from Leek to Caldon Low via Waterhouses from where the nominally independent narrow gauge Leek and Manifold Light Railway was constructed through the Hamps and Manifold river valleys to Hulme End near Hartington. Finally in 1910, a very short line was built from Stoke-on-Trent to Trentham Park. The latter was authorised as part of an alternative line to Newcastle but construction work beyond Trentham was quickly abandoned owing to rising costs.
In 1867, an independent local company built the Stafford and Uttoxeter Railway, later incorporated into the Great Northern Railway which had built a line from Nottingham and Derby via Mickleover to Egginton Junction with running powers over the N.S.R. to both Uttoxeter and Burton.
From the start a significant proportion of North Staffordshire Railway route mileage lay in the neighbouring counties of Cheshire and Derbyshire and, with through running rights, passenger trains ran to Manchester, Stafford, Birmingham, Crewe and Derby and later to Buxton, Nottingham and Llandudno.
The L.N.W.R. also exercised running rights over the North Staffordshire Railway, particularly for its express services between London and Manchester. These Manchester to London Euston restaurant car expresses were unique in being hauled by N.S.R. tank engines from Manchester to Stoke-on-Trent where the L.N.W.R. express engines took over for the run via Stone, Sandon, Colwich, and the main line to London Euston. The N.S.R. received a payment for every through passenger on these trains and employed a small army of ticket inspectors to examine every ticket during the Stoke-on-Trent stop.
Other through running rights included L.N.W.R. rights between Ashbourne and Burton which were used by through coaches from Buxton to Euston and G.W.R. rights between Market Drayton and Stoke-on-Trent which were used solely by a single daily goods train in each direction.
The North Staffordshire Railway Company (affectionately known as 'The Knotty' from the 'Staffordshire Knot', the county of Stafford's heraldic device, which it proudly displayed as its own) was always a local company with local directors and management in close touch with the North Staffordshire community.
The Company prospered throughout its seventy-five years of independent ownership and operation, paid its shareholders good dividends (latterly a notable 5%), and successfully resisted repeated take-over bids by the London and North Western Railway Company. Amalgamation, when it came, did it no favours. The company was incorporated in 1923 by Act of Parliament along with two of its larger neighbours into the London, Midland and Scottish Railway Company.
As part of the L.M.S. Group, the fortunes of 'The Knotty' began to suffer and not only in its loss of identity and the closure of its well equipped locomotive and carriage works. Decline occurred in both passenger and freight services and was inevitable given the commercial and industrial slump and increased competition from road haulage companies and bus operators.
The new owners soon closed some of the more circuitous rural passenger services. The Biddulph line was the first to close to passengers in 1927, followed by the Sandbach line in 1930, by the Audley line in 1931 and by the Waterhouses line in 1935. Service on the Trentham Park branch was limited to excursions, and the narrow gauge Leek and Manifold Light Railway, which closed to all traffic during 1934, was quickly turned into a public footpath.
Together with the Great Central Railway, the Great Northern Railway became part of the London and North Eastern Railway Company in 1923 and the public passenger service on its Uttoxeter and Stafford line, which had never been well patronised, ceased in 1939. However, the Stafford end of the line from the L.M.S. station to Stafford Common continued to be used by the major R.A.F. equipment supply depot at Royal Air Force, Stafford.<![if !supportFootnotes]>[9]<![endif]>
The war gave a boost to freight and passenger traffic but by the time of nationalisation in 1948, all passenger service had ceased on the Trentham Park branch together with the local service between Stone, Sandon and Colwich.
Several new passenger stations were however opened in L.M.S. times including Wedgwood Halt (opened at that company's new factory in Barlaston in 1940 and which remains open to this day), Millway at the Radway Green ordnance factory and Cold Meece (opened in 1941) at the larger Swynnerton ordnance factory. These last two and also the Trentham Park branch (serving the Bank of England Clearing House relocated for the war at Trentham Hall) were, like the Stafford Common line, used only by 'secret' passenger trains which were not listed in the public timetables.
Cold Meece had its own branch line and a four platform station which was said to have handled at its peak in 1943 three million passengers per year, including thousands of the American Air Force personnel at USAF Cold Meece. Regular passenger services to Cold Meece continued to run until June 27th, 1958 but were never shown in the public timetables and few details have ever been published.<![if !supportFootnotes]>[10]<![endif]>
Another 'private' station with an unpublished daily service from Stoke-on-Trent was situated at the Crewe Locomotive Works.
Those who remember it will recall that travel by public service in the immediate post war years was something to be avoided whenever possible. Trains were always crowded and were often composed of non-corridor stock without toilet accommodation even when going considerable distances. Trains were invariably late and for more years than we care to remember every failure or deficiency was blamed on the war and the need to make good the defects of five years of neglect.
The war had been over two years when nationalisation came about but that neglect far from being repaired was still continuing and took a very long time to eliminate: still longer fully to make good the deferred maintenance.
Nationalisation became effective on January 1st 1948 but changes under nationalisation were slow to take effect. Morale was low, not least amongst the managerial staff at almost all levels. Attempts were quickly made to establish a corporate awareness with logos and liveries. However, the political decision to split four efficient companies (to which dedicated staff had been loyal through many difficult years) into six regions (largely to give Scotland its own) was an expensive mistake. Especially so, as the four companies had already developed management techniques, operating standards, modern locomotive fleets and all types of rolling stock to designs which best suited their individual requirements. Splitting the whole into six operating entities was a costly enterprise that diverted scarce resources from the real task of repairing the ravages of war.
Several very important functions – most notably research, design, and development – were, however, quite properly centralised and in time produced the breakthroughs needed to take the railways through to the next century. Much effort went into improved steam locomotive design and the production of some twelve new designs of steam locomotives large and small. The designers were all experienced locomotive engineers and draughtsmen trained by the four railway companies. Under the able leadership of Mr RA Riddles, a Crewe locomotive engineer whose railway service started with the L.N.W.R in 1909, they produced some of the most efficient steam locomotives ever built.
The new designs, not all of which were justified by commercial considerations, gave a significant boost to railway morale even though in many cases the new locomotives, which were desperately needed and were built in quite considerable numbers, worked less than a dozen years before they were replaced by diesel and electric locomotives.
Unfortunately, though seen even in the late 1940s to be the major way forward, much careful development work was needed before diesel and electric locomotives and diesel multiple unit trains (all designed to fit the restricted British loading gauge) became sufficiently reliable for widespread introduction.
Much excellent development work was also done on carriage and wagon design, permanent way construction and maintenance, train braking and signalling, and on most other aspects of railway engineering. But there was an enormous backlog of deferred maintenance and continuing material shortages so that overall recovery was slow.
However, progress was made, notably under the 1955 Modernisation Plan introduced during the chairmanship of General Sir Brian Robertson.
The 1955 plan was essentially technical. It was concerned mainly with improved signalling and equipment, the electrification of the West Coast main line and the widespread replacement of the steam locomotive fleet with diesel and electric locomotives plus multiple unit electric and diesel trains, together with the general modernisation of the system.
There was also a genuine attempt to generate extra traffic by the provision of more frequent local passenger services, which to a large extent was made possible by the widespread introduction of diesel multiple unit trains. The management also responded to the needs of the business community with better provision of early morning and evening business services to and from London, despite the operational difficulties associated with railway electrification. The May 1961 timetable provides a valuable guide to the passenger service as it had developed during this very significant time.
By 1960 it was widely recognised that much more was needed to tackle the root problems of the industry and its declining traffic, which caused Prime Minister Harold Macmillan to say:
First the industry must be of a size and pattern suited to modern conditions and prospects.
In particular, the railway system must be remodelled to meet current needs, and the modernisation plan adapted to this new shape.<![if !supportFootnotes]>[11]<![endif]>
Thus it was that Dr. Richard Beeching was appointed Chairman of British Railways in 1961 with very clear terms of reference, and within two years the Board published his report The Reshaping of British Railways, which was remarkable in many ways and not least for its shortness. The report was just 60 pages long but with 88 pages of appendices (tables of unidentified traffic studies etc. and long lists of lines, stations, passenger and freight services recommended for closure or for some unspecified 'modification of services') together with a supplementary volume of very inadequate maps on which very few stations were named. In his book Out of Steam Robert Adley MP commented thus:
For a task of such importance, not just for the Railways but for the nation, one can be excused perhaps for being surprised at the document's brevity. In a mere 60 pages is analysed the existing state and future prospects of the passenger, freight and parcels services of the railways, and from that analysis were drawn conclusions, the implementation of which has had and still does have a fundamental effect on public transport in Britain.<![if !supportFootnotes]>[12]<![endif]>
Mr Adley expresses succinctly what many who have read it feel, the report, together with its appendices and maps, contains nothing positive and specific to justify the wholesale and individual closures which followed.
In some ways the Beeching report and Dr. Beeching's very short chairmanship (less than four years ending in May 1965) were valuable in that they encouraged the railways to improve efficiency and to concentrate their resources where they could most effectively generate income. Also, and this may seem surprising given all that has been said about him, it is recognised that during his period in office there was a significant improvement in morale (attributable to Beeching's personality and management techniques) amongst railwaymen at all levels and especially in the upper managerial levels and that despite some resentment at the influx of experts from outside the industry.
Much damage was done, however, because changes of a fundamental and irreversible nature were made to the railway network and the railway infrastructure for relatively small short-term financial considerations. Many of the closures made under Beeching, especially of lines which at that time appeared to be lightly used duplications of other routes, are now regretted not least because valuable linear rights of way have been lost through the subsequent piecemeal disposal of railway land.
Dr. Beeching's effect on 'The Knotty' passenger service was felt in the final closure in 1964/65 of the loop line, the withdrawal of the few remaining Stoke-on-Trent to Newcastle and Silverdale passenger services, the withdrawal of the Churnet Valley workmen's services and the closure in 1970 of the Macclesfield, Bollington & Marple joint line.
These were, however, merely the last few of the post-nationalisation closures in North Staffordshire. Most of the passenger service closures in North Staffordshire had already taken place between 1947 and 1963, long before Dr Beeching's appointment. Local stations between Burton-on-Trent and Tutbury closed in 1949 and the service closed completely in 1960. Services from Ashbourne to Rocester ceased in 1954, Silverdale to Market Drayton in 1956, Stoke-on-Trent to Leek in 1956 and Cresswell to Cheadle in 1963. Passenger services on the Churnet Valley line from North Rode to Uttoxeter ceased in 1960 (except for limited workmen's services south of Leek).
After Beeching, the railways were allowed to get on with their business of being a transport provider and the subsidy, a necessary feature of public passenger transport world-wide in the twentieth century, was better managed following the publication in 1967 of yet another report 'British Railways Network for Development'.
British Railways prospered under a succession of able managers not least Sir Peter Parker the chairman from 1976 to 1983 who recognised the social importance of the railway network and the obligations arising therefrom. He did much to ensure continued public financing of those railway services that were deemed to be socially necessary.
On the positive side, the 1955 modernisation plan had ensured that very important technical and engineering developments took place, notably the introduction of reliable diesel locomotives and multiple unit diesel railcars and the rapid elimination by the mid-sixties of steam locomotives.
Main line electrification, improved trackwork and extensive modernisation of signalling systems also contributed greatly to railway performance and efficiency. Later, the gradual introduction of modern air-conditioned passenger coaches, with improved suspension and equipped with compressed air brakes in place of the traditional but less effective vacuum brakes, permitted operation at speeds up to and in excess of one hundred miles an hour.
Finally, there came the design and introduction of the HST 125, an extremely reliable unit train with two power units (one at each end). These trains, with predictable, controllable and very powerful disc braking could in consequence be operated at speeds faster than the signalling system was designed to permit. They were the great breakthrough of the B.R. era, and they have become the mainstay of the non-electrified part of the InterCity network and are routinely operated at speeds up to 125 m.p.h. on suitable track in all parts of the country.
This modernisation and development took place gradually over a period of twenty-five or so years by which time the division into six regions had slowly given way to a national approach following the introduction and development of the 'InterCity' concept. 'InterCity', a British Rail innovation of the 1970s was more than just a name; it was a new concept for the operation and marketing of express passenger services between major towns and cities. As such it has been much imitated abroad and is now world famous.
With the introduction of the InterCity network, the six regional timetables gave way to the National Timetable, and henceforth the railways would be seen as traffic routes between places, rather than as geographical areas.
The cumulative effect of these developments on the North Staffordshire passenger services is shown in the Great Britain Passenger Timetable for 1976/1977. Although the number of passenger trains leaving Stoke-on-Trent each day in 1976 is almost the same as in 1947, those trains are on average going twice as far and also providing a much faster and more frequent service on the key routes to London, Birmingham and Manchester.
Stoke-on-Trent was an early beneficiary of modernisation because it lay on the shortest route between Manchester and London and was therefore included in the West Coast main line electrification scheme of the 1960s.
Many other cities were less fortunate and had to wait much longer to experience real improvements. Developments continued during the 1980s and 1990s. Most notable being the East Coast main line (always a well engineered high-speed railway which still holds the world speed record for steam haulage of 126 mph) which was electrified with new trains capable of maximum speeds of 140 m.p.h.
Much less spectacular but of great importance is the imaginative development of frequent cross-country services. The management of 'Regional Railways' eventually tired of being the loss making poor relation of 'InterCity', and of having to put up with expensive to maintain and operate 'hand-me-down' life‑expired and inconvenient locomotive hauled trains.
They chose to revolutionise the service on many secondary main lines by the introduction of purpose built air-conditioned diesel units operating frequent express services on long distance routes that formerly had few through trains.
During this period there were also a number of interesting new engineering works including several which are relevant to Stoke-on-Trent services. Notable is the Windsor link between Manchester Piccadilly via Oxford Road and Deansgate to Salford, which has facilitated many connections, and the through running of trains between stations north and south of Manchester.
The Hazel Grove chord linking Stockport with the Sheffield line, and also the diversion of the trans-pennine service from Manchester Victoria to Manchester Piccadilly, have also provided Stoke-on-Trent with shorter and faster routes to many destinations in the North-East. Meanwhile, the new Metro service from Piccadilly to Victoria has solved the problem of changing stations at Manchester.
The new station long overdue for the new town of Milton Keynes was by 1996 linked to Stoke-on-Trent with seven trains per day<![if !supportFootnotes]>[13]<![endif]>. Likewise, the opening of the fine new station at Manchester Airport has brought extra trains to Manchester Piccadilly providing still more connecting services.
Finally, the opening of the Channel Tunnel has made possible excellent connections from Stoke-on-Trent to Paris and Brussels with journey times of less than seven hours to the two capitals but without the through services, which had always been promised. However the long-term prospects for further development of continental links are good.
In preparation for privatisation, the British Rail passenger service operations were organised into 25 operating companies which are responsible for running the passenger train service (using leased rolling stock) but not for the track and signals which is the responsibility of a separate company called Railtrack plc. Franchise contracts for the operating companies were prepared, offered and accepted in stages throughout 1996 with about two-thirds of the passenger routes under private operation by the end of that year. The last of the operating companies to be privatised was ScotRail Railways Ltd, which was acquired by the National Express Group at on March 30th/31st 1997.
The Great Britain Passenger Railway Timetable 29th September 1996 - 31st May 1997 is therefore an appropriate guide to the passenger services at the end of the half-century of nationalisation and when used in conjunction with the earlier timetables provides a measure of changes and developments under nationalisation. This timetable is also publicly available on Computer CD-ROM in the form of the Railways of Great Britain RailPlanner<![if !supportFootnotes]>[14]<![endif]> and this computer tool has greatly facilitated the preparation of this paper. In addition to the usual timetable functions the RailPlanner shows distances between all stations throughout the country and quickly compiles lists of all trains between any two stations with details of changes and intermediate stops.
 The other timetables to which extensive reference has been made are, as previously noted, the L.M.S. and G.W.R. timetables for 6th October 1947 onwards, which detail the public passenger train service operating at the date of nationalisation and the Great Britain passenger timetable of May 1976. The latter effectively marks the transition from geographically based regional services to route based InterCity services as a preparation for the even more imaginative timetables of the 1980's and 1990's.
Reference has also been made to Bradshaw's April 1910 Railway Guide for the insight it provides into the passenger services during the hey-day of North Staffordshire Railway Company operation. This was at the time of the Federation proposals for the 'six towns' of Tunstall, Burslem, Hanley, Stoke-on-Trent, Fenton and Longton, which resulted in the formation of the County Borough and later City of Stoke-on-Trent. These North Staffordshire Railway timetables of 1910 are relevant to a better understanding of the construction of the L.M.S. 1947 timetables and passenger services. Likewise, reference has been made to other timetables where this seemed relevant, notably to the timetables of 1st May 1961 which were published shortly before Dr. Richard Beeching's appointment as chairman of the British Railways Board. This timetable reflects in part the success of the 1955 Modernisation Plan and also the disruption to the London services caused by the West Coast main line electrification work.
In order to minimise the effect of weekend fluctuations; consideration has principally been given to those services that operated daily from Monday to Friday. There is also a separate and very brief discussion of the Sunday services. Saturday services in North Staffordshire have always been generally similar to the Monday to Friday services. Early timetables used the twelve-hour 'am/pm' clock, but the 24-hour clock is now standard and is used throughout this paper.
This study was started and substantially completed during the currency of the 1996/97 timetable, which was the timetable in operation at the time of privatisation. Later timetables have, however, been examined, particularly those for the summer of 1998,<![if !supportFootnotes]>[15]<![endif]> and the winter of 1999/2000 in order to form an impression of the progress made by the private operators. Generally, these services from Stoke-on-Trent were very similar to the 1996/97 train service, but with ten additional trains daily. In addition, there have been several interesting developments since privatisation (including new airport services) and these are discussed by note in the main text.
Tables (comprising timetable summaries and notes compiled from the specified published timetables from the years 1910, 1947, 1961, 1976 and 1996 [and, in the case of Table G, 1999] as appropriate, and arranged to facilitate comparison between the years) are given in the appendices.
Before proceeding to the specific consideration of the individual services radiating from Stoke-on-Trent, some general observations and comparisons would seem appropriate. It is most noticeable that despite the intervention of two world wars and absorption into the L.M.S., the 1947 train service on the five main lines and most of the surviving secondary lines in North Staffordshire was remarkably similar to the N.S.R. service of 1910. This is true whether one considers speed, frequency, timing or destination. It is true of express services and of stopping trains and for connections as well as for through services. Indeed, in the matter of speed, the 1947 services are slightly slower than the 1910 services. In fact, almost the only significant changes are the massive decline of the loop-line services and the abandonment of many branch line services.
The overall impression given is that the 1947 timetable was indeed the 1910 timetable, which had grown old just as the railway system itself had grown old. Old and gnarled, slower and generally run down, lacking any sort of coherent plan, just occasional patches and some minor surgery.
Not that North Staffordshire was an exception, this relative stagnation occurred throughout the country. Only on the Southern Railway – largely through electrification – were there many significant changes during that time. Ten more run-down years were to follow, under nationalisation, before major improvements came.
Two traffic trends are, however, discernible in all the timetables, when compared to those previously produced, even in the case of the 1947 timetable. The first is an increase in the number of express and longer distance services (often with an earlier first train of the day) and the second is a decline in local and stopping services.
The 1961 timetable reflects the great improvements that came with the implementation of the 1955 Modernisation Plan resulting in the introduction of diesel railcars for the local passenger services. On the Crewe – Stoke-on-Trent – Derby line this is particularly noticeable with the most frequent through service that line had ever had. Likewise, the service on the Manchester – Stoke-on-Trent – Stafford – Birmingham line was also greatly improved despite the fact that massive engineering works in connection with the main line electrification scheme were taking place.
By 1976, the timetable was no longer regional but national in its scope and orientation. Significantly, it shows that the post-Beeching railway had found a largely new passenger traffic, which was to be its salvation. InterCity was the brand name and the objective was to get provincial businessmen to London and back in comfort and style during the morning and early evening with five six hours in the capital available for meetings. In this it succeeded magnificently, was copied the world over, and the InterCity approach was gradually expanded to other routes in the form of  'CrossCountry', 'TransPennine', 'Alphaline' and similar initiatives.
The following table illustrates these trends and it will be noticed that although the number of trains daily in 1910 was almost twice the 1947 total, the 1947 train mileage was actually higher than the mileage in 1910. Since 1947, the passenger train mileage has more than tripled.
<![if !vml]>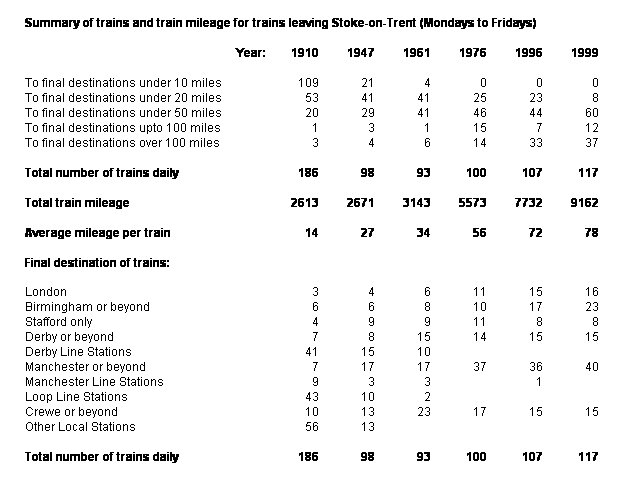 <![endif]>
Examination of timetables also reveals that in 1996 there were approximately 110 stations and halts served daily by one or more through trains from Stoke-on-Trent. 
In 1910 the number so served was in the order of 120. But these included some 80 stations on the North Staffordshire Railway system; not counting the 18 on the Ashbourne, Churnet Valley and Burton-on-Trent branches which stations could be reached from Stoke-on-Trent only by a change of train. By 1996 there were just 14 former North Staffordshire Railway stations still open for passenger traffic.
What North Staffordshire has lost in local services has, however, been fully compensated in through services over a much wider area.  
Summarised below are counts of the number of services to each of the five principal destinations outside Staffordshire to which trains from Stoke-on-Trent have traditionally operated showing the average speeds of all through services as well as the fastest. Local services and trains terminating at Stafford are shown separately.
Connecting services at Stafford, a feature of the services to London and Birmingham particularly in the earlier years are not shown.
<![if !vml]>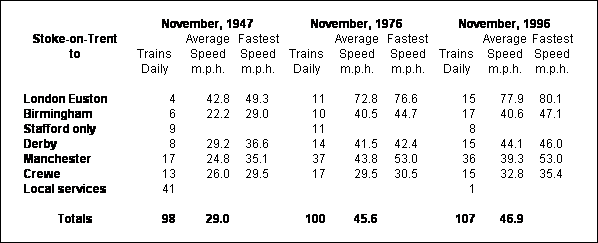 <![endif]>
It will be seen that in every case the number of trains on the line each day has increased, as also has the average train speed and the fastest speed to each major destination.
Under British Rail, from about 1960 onwards, the timetables were redesigned and recast on a regular basis. This was part of the ongoing process by which a thoroughly modern railway sought to respond to trends in passenger traffic and set out to encourage greater use of trains for long distance and cross-country journeys.
In post war Britain, largely because of the motor car, people have become much more mobile. Very many people now travel great distances each year for both business and pleasure.
British Rail made great efforts to increase, wherever possible, its share of this rapidly growing inter‑city traffic in competition with the private car and other modes of transport, and sought to identify and develop new passenger traffic flows. In this it had many remarkable successes which are fully reflected fully reflected in the later timetables.
The Main Line to London
<![if !vml]>

<![endif]>
The full timetables are given in Table A1 of which the above is only a synopsis.
This service speaks for itself, there were four through trains daily in 1947 (of which, only two had dining facilities) compared with eleven in 1976 and fifteen in 1996. This is an impressive improvement in train frequency finely complemented by an equally impressive reduction in journey times from a best of 2 hours 57 minutes in 1947 to a best time of 1 hour 49 minutes (62% faster) in 1996. Putting it another way, the average speed of the 15 Stoke-on-Trent to London trains in 1996 was over 77 m.p.h. compared with a best of 49 m.p.h. and an average of 39 m.p.h. in 1947 (an increase in speed of 96%).
By comparison, in 1996 Wolverhampton's hourly through service to London took a minimum of 2 hours and 6 minutes (13 minutes longer than Stoke-on-Trent times) for a much shorter journey (only 125¾ miles) at an average of only 60 m.p.h.
There were of course some fine runs in steam days and the best pre-war speeds from Stoke-on-Trent to London of 60 m.p.h. with the 13:15 non-stop 'Lancastrian' in the late 1930s<![if !supportFootnotes]>[16]<![endif]> or indeed the 57 m.p.h. with the same mid-day train in L.N.W.R. days were very creditable performances. However, fast runs in steam days were generally limited to just one or two trains daily in each direction. In 1937 just as in 1947 there were two express trains, a semi-fast with several stops and one overnight sleeper. Even earlier, in 1910, there were just two express trains, and one semi-fast, but no overnight train. Interestingly the 1887 timetable also showed three trains per day.
It is also noticeable that the 1996 trains, despite the intermediate stop at Milton Keynes or Watford, were faster than the non-stop expresses of 1976. This is attributable to improved trackwork and greatly improved coaches fitted with advanced braking systems, which permitted maximum speeds of 110 m.p.h. compared with 100 m.p.h. when the line was first electrified.
The Watford stop is important for the coach connections to Heathrow and Luton Airports and Milton Keynes is one of the fastest growing commercial centres outside London. Each of the seven trains which called daily in 1996 at Milton Keynes ran non-stop from Stoke-on-Trent at an average speed of 83 m.p.h. while the average speed to Watford in 1996 was 86 m.p.h. 
There are excellent connections at Milton Keynes for Wolverton, Northampton, Bletchley, Leighton Buzzard, and Hemel Hempstead; and at Watford Junction for St. Albans, Harrow and Wembley. These stops at Milton Keynes and Watford Junction have assumed even greater importance since privatisation with the introduction of the Connex South Central service to Kensington Olympia, Clapham Junction, East Croydon and Gatwick Airport (see Table E).
By 1996, all the sleeping car services between London and the Northern English destinations had been withdrawn. Whereas, in 1947 two overnight trains had been needed on Sunday nights to cope with large numbers of overnight passengers from Manchester & Stoke-on-Trent to London, by 1996, with the first morning train arriving in London before , there was no longer a need for overnight services.
Travel patterns change, today many business people go up to meetings in London on one of the early morning services and return late afternoon or early evening. The first London arrival each morning in 1996 was but by 1998 there was an even earlier arrival at with the last evening return from Euston at .
By contrast, in 1947 the involved a connection at Stafford, which did not reach London until . The first through train called at six stations and didn't arrive until , while the second through train of the day, the three-hour non-stop at ran without a dining car. For the return, the last through train from London to Stoke-on-Trent left Euston in 1947 at just as it had done in 1910.
Stoke-on-Trent certainly benefits today from being on the shortest rail route from Manchester to London. However, there was, in the early and mid sixties, a long period when most Manchester to London trains ran via Crewe or (at the height of the electrification work) via Matlock and Derby; and many journeys from Stoke-on-Trent involved a change at Stafford, Crewe or Derby.
The May, 1961 timetable, for example, contained both through trains and connections (including the overnight service, but without sleeping cars) which operated via Derby in order to reduce the number of trains on the West Coast main line during the preparation work for electrification. During those years the Stoke-on-Trent to London service fluctuated widely and at one stage almost ceased to exist.
The 1961 through trains via Derby to London are a reminder that traditionally a ticket to London is valid by any reasonable route and in North Staffordshire and L.M.S. days these included all the L.N.W.R. routes to London Euston via Crewe, Stafford, Colwich, Birmingham, or Burton.
Also considered reasonable was the route to Paddington via Wellington and the G.W.R. (never advertised!); the Midland Railway route via Derby to St Pancras; and the Great Northern Railway route via Uttoxeter, Nottingham, and Grantham to London Kings Cross.
Ironically, through trains from Manchester to Paddington via Stoke-on-Trent, Birmingham, Leamington, Oxford and Reading have appeared in the timetables regularly throughout the 1980's and 1990's. These services are operated to Paddington principally for the benefit of intermediate stations.
Manchester to London Euston services returned to the Stoke-on-Trent route on completion of the electrification work in 1967, but at first as a two-hourly interval semi-fast service only, and it was by no means certain that they would stay. In October 1968 the British Railways Board was looking for major economies with which to balance the books and the closure of the Stone to Colwich section was very seriously considered.<![if !supportFootnotes]>[17]<![endif]> 
 This 11½ miles of newly electrified and completely relayed double track railway had two very troublesome unmanned half barrier level crossings at Hixon and Aston-by-Stone. There had been a disaster at Hixon just nine months earlier on January 6th, 1968.<![if !supportFootnotes]>[18]<![endif]> Also the line was used only by a few freight trains and by the Manchester to London expresses all of which could easily run via Stafford.
Significant operating economies, made possible because of the greatly increased train capacity on the main-line through Stafford following the switch from steam to electric traction, could have been achieved at the expense of slower Stoke-on-Trent to London passenger journeys, and the loss of a useful alternative (diversionary) route.
News of the reprieve, when it came, two years later, was given, perhaps in recognition of the intense local feeling, by the divisional manager at a luncheon of the North Staffordshire Railway Association, on October 3rd 1970. This was just three weeks after the completion of important safety modifications at the Aston and Hixon unmanned crossings.<![if !supportFootnotes]>[19]<![endif]>
Had the closure taken place, it might very well have resulted in most Manchester to London trains returning to the Crewe route (which would then have been faster) with just a few running via Stoke-on-Trent and Stafford. Ultimately and inevitably, this would have lead to the downgrading of the main line from Manchester through Stoke-on-Trent. Instead, the line was improved for faster running.
The number of through services has varied from year to year. By 1976 there were ten daytime trains and one overnight service but as recently as 1988 this had reduced to eight through trains during the day plus one overnight train<![if !supportFootnotes]>[20]<![endif]>. By 1996, with fifteen Manchester to London trains each day via Stoke-on-Trent compared with just two via Crewe, the future was looking rosy – may it long continue to be so.
Indeed, under privatisation, services increased still further in May 1998 to sixteen trains daily by the addition of an early morning departure at arriving in London at (see Table E). Then in September 1999 an additional evening train at to London via Stafford, Rugby, Milton Keynes, and Watford arriving Euston at . The previous last train (at arriving at ) stills runs.
Good services to London are vital to the prosperity of any British city and the service from Stoke-on-Trent is now truly excellent. It is primarily a Manchester to London service and Stoke-on-Trent should never take it for granted. It beholds all those who have the prosperity and interests of North Staffordshire to heart to continue to do all in their power to protect, promote and above all use this valuable facility which can easily be lost.
Shrewsbury and Telford lost their through service of six trains daily to London just a few years ago. The distance from Telford to London is slightly less than from Stoke-on-Trent to London. But, in 1996, the Telford businessmen, wishing to attend a morning meeting in London, needed to leave home an hour earlier. They had to change trains at either Birmingham or Wolverhampton, and travel for at least an hour longer than his counterpart from Stoke-on-Trent.
The Stafford & Birmingham Line
<![if !vml]>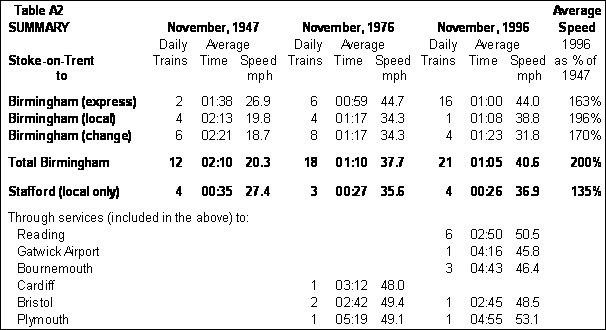 <![endif]>
The improvement in service on this line is even more remarkable. There were 17 through trains to Birmingham and four good connections daily in 1996 compared with six through trains and six connections in 1947. Speeds are not high but the average journey time from Stoke-on-Trent to Birmingham has been halved, which is a truly remarkable achievement for this very busy route where high speeds are not possible since there are only two tracks between Stafford, Birmingham and Coventry for all traffic – passenger and freight.
The full timetables are given in Table A2 of which the above is only a synopsis.
Two intermediate stations have closed between Stoke-on-Trent and Stafford but four remain including Norton Bridge, which latter station was originally scheduled for closure by Dr. Beeching.<![if !supportFootnotes]>[21]<![endif]>  
In 1947 the earliest possible arrival in Birmingham was after a journey of 1 hour 44 minutes on the from Stoke-on-Trent. By 1996 there were five fast trains arriving in Birmingham at , , , and after journeys of about an hour; and an excellent service throughout the day. Similarly, the return service in 1947 was limited to the which took 1 hour 47 minutes and the which was even slower at 2 hours and 7 minutes compared with under 1 hour in 1996.
Significant also is the growth of through services to destinations beyond Birmingham. In 1947 there were none. In 1976 there was one to Plymouth, a second to Taunton, one to Coventry and one to Cardiff making a total of four. By 1988 there were still only four, two to Plymouth, one to London Paddington and one to Bournemouth and Poole.
By 1996 the number had doubled to eight through services including an InterCity express to Cheltenham Spa, Bristol, Taunton, Exeter and Plymouth. The other seven through trains ran to Birmingham International and Coventry. Of these, six provided an excellent service to Leamington Spa, Banbury, Oxford and Reading before continuing to southern destinations. Specifically, one ran to Kensington Olympia, East Croydon, Gatwick Airport, and Brighton; two to London Paddington; and three to Basingstoke, Winchester, Southampton, and Bournemouth.
The strength of a train service is measured not only by the through trains but by the connections provided and in 'Table B' are listed a representative selection of destinations throughout the country which can now be reached mostly with no more than one change of train. It is now possible to get to many places in the south of England without the need to cross London and a selection of such connections is listed in 'Table C' and in 'Table E'. Crossing London is a daunting prospect for some and they are usually happy to take longer over their journey in order to avoid the capital.
The Stafford and Birmingham line offers many connections. There are good connections at Stafford for Rugeley, Lichfield, Tamworth, Nuneaton and Rugby and also with some northbound West Coast expresses. In earlier years, there were also useful connections into the West Coast London services. 
Wolverhampton offers very good connections for Telford Central, Wellington, Welshpool, Newtown, Machynlleth, Aberystwyth, and the Cambrian Coast (currently quicker and with one change less than via Crewe) serving Tywyn, Barmouth, Porthmadog, Criccieth, and Pwllheli.
In 1947, Porthmadog and Pwllheli were reached via the North Wales Coast and the Bangor, Caernarfon and Afon Wen line, another of Dr. Beeching's regrettable closures.
There are many good connections at Birmingham including nine each day for Cambridge (calling also at Melton Mowbray, Oakham and Stamford) which gives a quicker service from Stoke-on-Trent with only a single change compared to the more obvious route via Derby and Nottingham. Rival Oxford (together with Leamington Spa, Banbury and Reading) has six trains daily from Stoke-on-Trent.
In 1947 there were just three connections daily to Cambridge, two changing at Stafford and Bletchley and taking about five hours and an overnight service via Northampton & Bletchley taking seven hours. Likewise, services to Banbury and Oxford ran by the same routes and to similar timings. Services on the Oxford to Bletchley and Bedford to Cambridge lines, and the Bletchley, Buckingham and Banbury line were axed in the wake of the Beeching report and the lines closed, as also was the line from Rugby to Leamington, but alternative and faster routes were later developed.
Worcester, Cheltenham Spa and Gloucester have experienced greatly improved train services in the wake of the 'InterCity' traffic revolution with in most cases twelve or more excellent connections from Stoke-on-Trent in 1996. In 1947 there were just two or three very tightly timed connections (which if missed involved a very long wait) and three or four very slow services daily. Today, Cheltenham even has a through service to and from Stoke-on-Trent.
Many local services in the West Midlands were axed in the 1960s; those that remained have been revitalised mostly with services at half-hour or even fifteen-minute intervals, and now for the most part offer good connections with the trains from Stoke-on-Trent. The exceptions are the stations on the former G.W.R. lines to Solihull, Warwick and Stratford-on-Avon, which still involve a change of station in Birmingham from New Street to Moor Street, or to the recently reopened Snow Hill.
Most of the services from Stoke-on-Trent to South Wales and to Bristol and the West of England in 1947 were connections via Crewe. Later, British Rail switched all the express passenger services via Birmingham and this was the route in 1976.
Birmingham is still the preferred route to Bristol and the West of England with excellent InterCity through services and connections but there is now a fast and frequent express railcar service via Crewe and Hereford to Cardiff and South Wales. By using this alternative to the route via Birmingham and Chepstow it is now possible to reach Milford Haven and other remote places in South-west Wales with just one change of train.
Likewise, Salisbury and Weymouth are both served in 1996 by a choice of routes via Birmingham. Three services operate via Reading with a single change at Basingstoke for Salisbury or at Bournemouth for Weymouth and one service has a single change at Bristol for either destination. Timings are very similar.
The 1998 summer timetable (in addition to the new service from Birmingham to Stansted Airport via Cambridge with excellent connections from Stoke-on-Trent – see Table E) listed five extra trains between Stoke-on-Trent and Birmingham. These included a through train to Penzance and two late evening services to Birmingham leaving Stoke-on-Trent at and compared with the previous last train of . All these additional services continue to run in the winter of 1999/2000. Railway timetables today generally contain few seasonal services.
The Penzance service is the longest through service operating via Stoke-on-Trent. The train leaves Glasgow at and runs via Manchester to Stoke-on-Trent depart and then via Bristol and Plymouth to Penzance arriving , a distance of 585 miles from Glasgow and 340 from Stoke. In addition to Penzance, Liskard, Bodmin, St Austell, Truro, Redruth and St Erth are now, for the first time, served by a through train from Stoke-on-Trent.
Probably the greatest of British Rail's 'new station' success stories has been that of Birmingham International built to serve the Exhibition Centre and International Airport. It is served by six trains per hour from Birmingham New Street as well as by many other InterCity services.
Through trains from Stoke-on-Trent have called at Birmingham International for a number of years. In 1996 there were seven through trains per day. By September 1999 the number of through services had risen to twelve trains daily. How many local people know that there is a through train service from Stoke-on-Trent to the Birmingham International Exhibition Centre?
<![if !vml]>

<![endif]>
The full timetables are given in Table A3 of which the above is only a synopsis.
This line has certainly seen a lot of changes in its passenger services since the war. In 1947 there were only eight through trains to Derby of which seven provided a connection at Tutbury for Burton-on-Trent. Of all the North Staffordshire line closures, the Burton branch was probably the most ill conceived. Had it remained, a regular Stoke-on-Trent to Burton service would surely now be viable.
This cannot be said for Uttoxeter to Ashbourne and the Churnet Valley or even for the Cheadle branch. That line had only three trains per day and was a long way round. Stations to Uttoxeter were also served by trains from the loop line, 15 in all but only 6 made it all the way to Uttoxeter.
With the withdrawal of the loop line services came station closures leaving just three stations between Stoke-on-Trent and Derby. Tutbury station re-opened in 1989. That the Derby service has survived and almost doubled from eight to fifteen trains per day is a tribute to British Rail. In 'Knotty' and L.M.S. times, trains rarely strayed beyond Derby except for Summer excursions returning from Llandudno to Nottingham or Leicester.
The service in 1947 was in fact almost identical to that of 1910 except that in 1910 there were also services operated by the Great Northern Railway (later L.N.E.R.) via Uttoxeter and Egginton Junction to its own stations at Derby, Nottingham and London (Kings Cross). The latter was a very slow route to London.
There was also the curious twice daily L.N.W.R. through service from Buxton to London (Euston) via Ashbourne, Uttoxeter, Tutbury and Burton which was also withdrawn before the war. When this service first ran in October 1899 it took an average of 3 hours 40 minutes from Uttoxeter to London.
The through services to Chester and North Wales were an important feature of North Staffordshire Railway summer operations principally on Saturday when 'The Knotty' went all out to encourage both holiday and excursion traffic and trains operated to and from Llandudno using the N.S.R.'s own engines throughout. South of Uttoxeter these holiday trains were often split with some coaches operating over the Great Northern to Nottingham G.N.R., other coaches ran to Burton, and the main part of the train ran to Derby Midland, Nottingham Midland, and/or Leicester. Under L.M.S. and early B.R. operation, a single daily excursion service to Llandudno was normal during the Summer months.
In the 1970s, British Rail sought to obtain a more efficient use of rolling stock through longer runs and by 1976 most trains on this line were running through via Derby and Nottingham to Lincoln. Later they ran even further to Barnetby on Humberside. The Lincoln and South Humberside trains now run to and from Birmingham or Coventry and so for about eight years, all trains from Stoke-on-Trent terminated once more at Derby or Nottingham.
In recent years, the reorganisation of the South Lincolnshire services through Grantham to Skegness has enabled the through running of ten trains daily from Crewe and Stoke-on-Trent to Sleaford (connection for Spalding), Boston and Skegness making possible excursions which would have been very difficult just a few years ago. Since 1947, speeds on this line have increased significantly, Stoke-on-Trent to Derby is now on average 52% faster than 1947, and the service from Stoke-on-Trent to Nottingham is 59% faster, although still not to express standards.
Connections are made at Derby to Burton and to Matlock, Chesterfield and Sheffield. Southwards from Derby on the Midland main line there are excellent InterCity services to Loughborough, Leicester, Market Harborough, Wellingborough, Kettering, Bedford and Luton where there is an express coach link to Luton Airport. Connections are made at Nottingham for Mansfield (on the recently reopened Robin Hood Line), Newark, Lincoln, Loughborough, Peterborough, Ely and Norwich, while the eight through trains to Grantham now make useful connections with the East Coast main line northwards to Retford and Doncaster and southwards to Peterborough and Stevenage.
The Macclesfield & Manchester Line
<![if !vml]>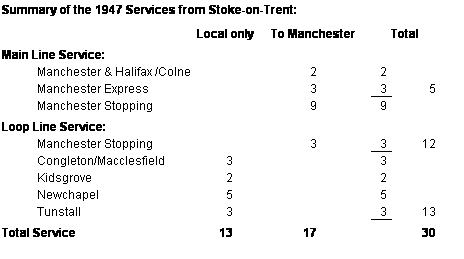 <![endif]>
<![if !vml]>

<![endif]>
A glance at the above figures shows the diversity of the service on the main line and the famous loop line (see also Table A4 and Table A8). It also shows how few public passenger trains actually ran on these lines in 1947. Just five expresses and nine very slow stopping trains to Manchester plus three more even slower stopping trains to Manchester which ran via the loop line. These plus a further 13 local trains made a total 14 main line and 16 loop line trains per day in 1947. The timetable for 1947 shows very similar Stoke-on-Trent to Manchester services to those of 1910. Even more remarkably the (Table 4) 1961 timetable is also a derivative of that for 1910 – 50 years of very little change.
By 1976 the electrified service was offering 18 expresses and 19 stopping trains daily between Stoke-on-Trent and Manchester Piccadilly. The eight loop line stations were closed, as were six others between Stoke-on-Trent and Manchester, but the 1976 stopping trains still stopped eleven times and mostly took just under one hour for the 38 mile journey. The expresses all called at Macclesfield and Stockport and averaged 47 minutes.
The situation in 1996 was very similar to 1976; there were nine fewer stopping services but nine more expresses, including one through train to Edinburgh. Ironically, two of the stopping trains (in 1996 and in all later timetables) take over an hour and a half in the late evening because (to meet local needs) they wait for half an hour at Macclesfield. This has a bad effect on the statistics! Even so, compared with 1947, a reduction of 45% in average journey times to Manchester together with twice the number of trains is a fine achievement.
Back in 1947, the first express for Manchester left Stoke-on-Trent at , took 1 hour 24 minutes and arrived at . For the commuter or day visitor wishing to spend the morning in Manchester this was quite useless. Such a passenger would need to catch the local at due in Manchester at or else the that arrived at . But by 1996, the express was arriving at Piccadilly at while the even faster express arrived at , and there were three stopping trains as well.
Similar very considerable improvements applied to the return in the afternoon or evening. In 1996 there were five expresses and three stopping trains leaving Manchester Piccadilly between and with the expresses taking an average of just 43 minutes. Back in 1947 there were just two stopping trains, the taking 1hour 34 minutes, and the taking 1 hour 23 minutes.
In 1947 the two afternoon services from London to Manchester via Stoke-on-Trent carried through coaches to destinations beyond Manchester. One ran to Halifax via Huddersfield (using a route now regrettably closed) which also offered a very good connection for Bradford and the other to Colne via Bolton, Blackburn & Burnley; but even these had ceased to run by the early 1960s. The through coach to Halifax in 1947 was an express service; it was three minutes faster than the best 1996 connecting service via the Metro and Manchester Victoria. But the through coach to Colne was slower by 36 minutes than the fast 1996 services via Crewe and Preston even with two changes of train and a greater distance travelled.
 These 1947 through services were very limited and there were few alternative connecting services, whereas by 1996 there were frequent and fast connecting services to these and many other Lancashire and Yorkshire destinations.
Of very great importance are the many connections available at Manchester Piccadilly in 1996 (and also, of course, at the present time) that in 1947 or 1976 would have involved either a double change at Stockport and Stalybridge or else a trip across the city to Manchester Victoria or Exchange.
Notable are the many services from Manchester Piccadilly via Oxford Road and Deansgate to Salford, Bolton (with connections to Blackburn and Clitheroe), Wigan, Southport, Leyland, Preston, Blackpool, Lancaster, Windermere, Barrow-in-Furness, Carlisle and Edinburgh. This is the route of the daily through train to Edinburgh which in 1996 left Stoke-on-Trent at 10:31 calling at Bolton, Preston, Lancaster, Oxenholme (Lake District), Penrith, Carlisle and Lockerbie to arrive in Edinburgh at 15:17 after a journey from Stoke-on-Trent of less than five hours.
Many express services to Yorkshire and the North-East that formerly ran from Manchester Victoria or Exchange were switched to Manchester Piccadilly in 1989 at first with a regular half-hourly service between Manchester and Leeds.<![if !supportFootnotes]>[22]<![endif]> By 1996, this service was operating every twenty minutes from Manchester to Huddersfield and Leeds. This also is an enormous improvement on the situation in 1947 or indeed at any time before 1989.
These new trans-pennine railcar expresses have cut journey times drastically and a typical journey from Stoke-on-Trent to Leeds now takes less than two hours with a choice of 28 trains per day. In 1947 there were just eight daily services with journey times between three and four hours.
From Leeds these 'Trans Pennine' trains run forward to provide a through service to a variety of destinations including Selby, and Hull; York, Malton, and Scarborough; Thirsk, Northallerton, Darlington, Durham, and Newcastle-on-Tyne; and Thornaby, Middlesbrough, Stockton, Hartlepool, and Sunderland.
In 1947, the fastest service of the four services available daily from Stoke-on-Trent to Newcastle took almost seven hours with changes at Stockport and Stalybridge. By comparison there were eight services daily in 1996 with just one change at Manchester Piccadilly and a typical journey time of 3 hours 40 minutes (see also Table B).
Stalybridge and Dewsbury are now served via Manchester Piccadilly and there are also frequent trains from Manchester Piccadilly to Manchester Airport. Other local services from Manchester Piccadilly run to Hyde, Romiley, Marple, New Mills, Edale, Hadfield, and Glossop.
Those needing to go to Manchester Victoria (for frequent trains to Oldham, Rochdale, Todmorden, Sowerby Bridge, Halifax, or Bradford) will find the Metro from Piccadilly station to Victoria station is a very easy journey. Fast Metro trams also run from Piccadilly to Bury and also to the G-Mex Centre, Old Trafford, Sale, and Altrincham.
There are also connections at Stockport (without going to Manchester) for Altrincham and Knutsford, for Buxton, and for the express services via the Hazel Grove chord to Sheffield (every half hour) and every hour to Chesterfield, Rotherham, Doncaster, Scunthorpe, Grimsby, and Cleethorpes.
The improvements to connecting services at Stockport and Manchester are truly remarkable. In 1947, and indeed prior to 1988, only Buxton and Stalybridge were served via Stockport.
In 1947, most connections at Manchester involved crossing the city to Manchester Central, Victoria or Exchange and these journeys were not easy by public transport. Only Altrincham, Glossop, the South Manchester Suburbs, and the now closed route to Sheffield via the Woodhead, and Penistone had connections at Manchester (London Road) as Manchester Piccadilly was then called.
Services continue to improve. The 1998 summer timetable listed three additional express trains daily between Stoke-on-Trent and Manchester including a second Scottish express thus providing a through service from Stoke-on-Trent to Glasgow in addition to the through service to Edinburgh, and also a second through service to Preston, Lancaster, the Lake District and Carlisle.
The Crewe Line
<![if !vml]>

<![endif]>
Of all the North Staffordshire passenger services, that to Crewe has changed least. Six intermediate stations were reduced to four by the closure of Chatterley in the fifties and Radway Green under Dr. Beeching. The 13 trains in 1947 had increased to 17 by 1979 only to reduce to 15 by 1996 with the average journey time of 34 minutes falling to 27 minutes. The speed has thereby risen by a very modest 25% and it is not clear why this half of the through service should be significantly slower than that from Stoke-on-Trent to Derby.
The full timetables are given in Table A5 of which the above is only a synopsis.
 The Crewe line's value is not just to commuters, although this is a two-way commuter line used by those working in Crewe as well as by those working in Stoke-on-Trent.
The line also links the two major railway engineering towns of Crewe and Derby and now with the through railcar service from Skegness via Grantham and Nottingham to Crewe it provides a valuable link between the Lincolnshire coast, the East Midlands and the West Coast main line. 
During 1998, Central Trains extended this service to Manchester Airport with an average journey time of less than 70 minutes from Stoke-on-Trent to Manchester Airport (see Table E).
Crewe's importance as a railway centre stems from its locomotive works and its extensive train marshalling facilities mid-way between London and Carlisle on the West Coast route to Scotland. Crewe is at the junction with main lines to Manchester, Liverpool, Shrewsbury, Chester, and of course Stoke-on-Trent.
There are, at Crewe, excellent connecting services via three major routes. There is a service every hour to Shrewsbury (with connections to many stations in Mid and West Wales), Ludlow, Leominster, Hereford, Cwmbran, Abergavenny, Newport, and Cardiff (connections for Swansea, the South Wales coast, and the valleys). This South Wales service from Crewe even includes one through train daily to Swansea, Llanelli, Carmarthen, and Milford Haven.
Most important are the connections at Crewe for North Wales, North-west England and Scotland.
The regular service to Chester and North Wales serves Prestatyn, Rhyl, Colwyn Bay, Llandudno, Bangor, and Holyhead (for the ferry to Dublin).
Other regular services from Crewe operate to Liverpool, Warrington, Wigan, Preston (for the Ribble Valley, Accrington and Colne), Lancaster, Oxenholme, Penrith, Carlisle, Lockerbie, Dumfries, Kilmarnock, Glasgow, and Edinburgh. There are also through services from Crewe to Stirling, Perth, Dundee, Aberdeen, and Inverness. 
The Scottish Highlands offer an interesting example of the train service improvements effected since nationalisation. Scotland is still served by through sleeping cars to Edinburgh, Glasgow, Aberdeen, Fort William, and Inverness, all of which can be joined at Crewe.
In 1947 (and indeed at any previous time) the day services to Scotland from London, Stoke-on-Trent and Crewe operated only as far as Aberdeen. Travel to stations on the lines north from Perth or Aberdeen (to Aviemore, Elgin and Inverness, or beyond) always involved an overnight journey.
In 1996, it was possible to travel all the way to Thurso or Wick in twelve hours by the day service leaving Stoke-on-Trent at 08:57 with only three changes of train (at Stafford, Edinburgh, and Inverness). The average speed for the 583½ miles to Thurso (nearest station to John O'Groats) was 48.6 m.p.h.
By happy and extraordinary coincidence the average speed in 1996 for the seven hour, 340¼ mile journey from Stoke-on-Trent to Penzance (nearest station to Lands End) was also 48.6 m.p.h. when travelling by the with just one change at Birmingham.
Back in 1947 the journey to Thurso (overnight) took over 18½ hours at an average of 31.7 m.p.h. The Stoke-on-Trent to Penzance service was even slower and in 1947 took twelve hours at an average speed of 28.4 m.p.h.
The Local Services and Closed Lines
Table A6 shows the daily service from Stoke-on-Trent (always the hub of the North Staffordshire Railway) to every station and halt formerly served by the company. The service is given for Mondays to Fridays in April 1910, November 1947, May 1961, November 1976, November 1996, and November 1999. From it can be seen the basic level of service in the selected years on the principal lines. This is further summarised in the following table, which also includes the 1887 services:
Total number of trains daily (Monday to Friday)
| | | | | | | | | | | |
| --- | --- | --- | --- | --- | --- | --- | --- | --- | --- | --- |
| | | | | | | | | | | |
| | from | | | | | | | | | |
| | Stoke-on-Trent | | | | | | | | Year | |
| | to | 1887 | 1910 | 1947 | 1961 | 1976 | 1996 | 1999 | Closed | |
| | | | | | | | | | | |
| | Wedgwood | | | 11 | 10 | 11 | 5 | 6 | | |
| | Barlaston | 14 | 14 | 15 | 17 | 14 | 7 | 8 | | |
| | Stone | 14 | 16 | 16 | 19 | 15 | 8 | 8 | | |
| | Norton Bridge | 10 | 9 | 13 | 15 | 10 | 7 | 8 | | |
| | Stafford | 10 | 10 | 15 | 17 | 22 | 25 | 31 | | |
| | Longton | 42 | 46 | 21 | 25 | 14 | 12 | 11 | | |
| | Blythe Bridge | 19 | 22 | 18 | 19 | 14 | 15 | 15 | | |
| | Cheadle | | 6 | 2 | 2 | | | | 1963 | |
| | Uttoxeter | 8 | 10 | 13 | 21 | 14 | 15 | 15 | | |
| | Tutbury | 5 | 8 | 8 | 11 | 0 | 15 | 15 | | |
| | Etruria | 62 | 64 | 37 | 39 | 36 | 15 | 15 | | |
| | Longport | 16 | 24 | 23 | 35 | 36 | 13 | 15 | | |
| | Kidsgrove Central | 16 | 24 | 23 | 35 | 36 | 24 | 24 | | |
| | Congleton | 9 | 13 | 16 | 17 | 20 | 13 | 14 | | |
| | Macclesfield | 9 | 11 | 18 | 19 | 33 | 37 | 40 | | |
| | Alsager | 9 | 11 | 12 | 22 | 17 | 15 | 15 | | |
| | Hanley/Burslem/Tunstall | 46 | 44 | 16 | 5 | | | | 1964 | |
| | Kidsgrove Liverpool Rd. | 8 | 7 | 8 | 4 | | | | 1964 | |
| | Newcastle | 29 | 33 | 5 | 4 | | | | 1964 | |
| | Silverdale | 11 | 13 | 3 | 2 | | | | 1964 | |
| | Audley | 4 | 3 | | | | | | 1931 | |
| | Market Drayton | 6 | 5 | 2 | | | | | 1956 | |
| | Trentham Park | | 5 | | | | | | 1946 | |
| | Colwich | 4 | 3 | | | | | | 1946 | |
| | Sandbach | | 3 | | | | | | 1930 | |
| | Leek | 7 | 8 | 7 | | | | | 1956 | |
| | Biddulph | 2 | 2 | | | | | | 1927 | |
| | Waterhouses | | 2 | | | | | | 1935 | |
| | Churnet Valley | 3 | 3 | 6 | 3 | | | | 1965 | |
| | | | | | | | | | | |
In contrast to the very considerable improvements in express and InterCity passenger services in recent years, local services in North Staffordshire, have been in decline since the 1920s, having lost out to competition first from the electric tram and later from the motor omnibus. The reasons are not difficult to see. Chiefly they are the result of local geography. The railways of the area were built where they are because they needed to follow the natural level routes, which run through the valleys. The three northern towns, Tunstall, Burslem and Hanley are ancient hill towns, which occupy the high ground, easily defended but not very easily approached (especially by railway). Also, they got their railway (the famous loop line) rather late when land was expensive and the best sites had already been developed. Even so, it is difficult to see how a better route could have been found between Longton, Fenton, Stoke-on-Trent, Hanley, Burslem and Tunstall given the very hilly terrain north of Stoke-on-Trent. By 1910 the 'Knotty' was providing the 'six towns' with an excellent and enlightened service of two loop line trains per hour throughout most of the day (44 trains daily in each direction see Table A8). From Stoke-on-Trent to Newcastle there were 33 trains daily.  In 2003, I became aware of a record of the numbers of trains serving stations on the NSR in 1887 and I have included these in the above table. It will be seen that the 1887 services and the 1910 services were remarkably similar.
Elsewhere in 1910, the local service was poor. Less than half of all the North Staffordshire Railway stations had more than six trains daily in each direction. The Biddulph line had just two trains daily, Audley and Sandbach lines each had three, Market Drayton had five, Cheadle had only six and Leek fared little better with just eight trains. Uttoxeter and Pitts Hill each had ten trains daily to and from Stoke-on-Trent.
 By 1910, Hanley had become the largest of the six towns and was already the commercial centre for the whole area and destined to remain so. But, apart from the loop line link with the other five town centres where only a fraction of Hanley's workforce lived, Hanley lacked a local railway service. Indeed, following the post war suburban house building boom of the 1950s only a very small percentage of the population lived anywhere near a railway and travel to work by train was impossible for all but a small minority.
 North of Tunstall, the now closed loop line served relatively small communities. To the east, two former passenger lines from Biddulph and Leek converge at Milton which is under three miles from Burslem or Hanley by road, compared with over seven miles by train, always with a change of train at Stoke-on-Trent. Yet it is to Hanley or Burslem rather than Fenton or Stoke-on-Trent that most passengers and especially commuters from the north-east of the city have always needed to travel.
Anyone wishing to travel the five miles from Biddulph to Tunstall by train (not possible after 1927) would have had a choice of two trains daily and a journey of 14¾ miles that took over an hour with, of course, a change at Stoke-on-Trent.
Beyond the city boundary to the west, the districts of Audley, Lycett, Silverdale and Newcastle were also served by a railway line that went round in a circle before taking its passengers to Stoke-on-Trent rather than to Hanley. Then of course on finally reaching Hanley, after changing at Stoke-on-Trent, the traveller realised that the station was but the starting point for a long uphill walk to just about everywhere in town. It is of course typical of railways that stations are often some distance from the centres of the towns and villages they profess to serve. In this the North Staffordshire Railway was in no way unusual. Newchapel and Goldenhill station for example was in open country midway between these places and a good walk from either.
Had Stoke-on-Trent become the city centre at the time the railways were newly built in the 1850s and developed to its full potential at its relatively level location, then the rail network, following the natural routes as railways must, would have been able to offer an excellent local service.
Today, the local service is limited to that which can be provided in conjunction with the important provincial services to Manchester, Crewe, Stafford, and Derby and beyond. Efforts were made in the 1960s and 70s to improve the local services on these lines but local usage has continued to decline. In an era when even buses need subsidies to compete with private cars in the field of commuter transport, local railways stand no chance unless they offer fast, frequent and direct services between residential areas and the city centre.
Of the local passenger services which survived until 1947 (Table A7), the service to Leek lost out to bus competition at an early date and ceased completely in 1956. At the same time the Market Drayton passenger service was cut back to Silverdale although in both cases the lines remained.
 The Market Drayton line was actually built by the North Stafford (with L.N.W.R. support) as a blocking line to limit competition by preventing the Great Western from building its own line through the Potteries to Manchester. Old feuds die hard and even as late as 1947, no mention of G.W.R. or Wellington appeared in L.M.S. timetables in relation to Market Drayton and likewise the G.W.R. timetable contained no entry for Stoke-on-Trent or Newcastle. Such total omission of connecting services was most unusual.
The timetable for 1882 listed 5 trains daily from Stoke-on-Trent to Market Drayton, as also did Bradshaw's timetable for 1910<![if !supportFootnotes]>[23]<![endif]> compared with just two daily trains in 1947. In no case was there any mention of the G.W.R. or Wellington although Bradshaw's Guide printed the page number for the other company's service next to the station name of Market Drayton in its timetables. Earlier, in 1882, the North Staffordshire did exercise its running powers and operated a market day service over the Great Western line to Hodnet but with no mention of that company. This lack of co-operation was of course most regrettable because two fully equipped double-track railways met at a joint station in Market Drayton and were capable of providing a fast link between two very important industrial areas. The L.M.S. (ex L.N.W.R.) however had its own line to Wellington from Stafford (closed by Beeching in 1964) and endeavoured to move all traffic that way. The G.W.R. with its own line from Wellington through Market Drayton to Nantwich (closed by Beeching in 1963) and with running powers to Crewe Manchester and Warrington, exercised its running rights between Market Drayton and Stoke-on-Trent only by a single daily goods working.
Following nationalisation there was a very considerable increase in freight traffic on this route reaching a peak of 10,000 tons weekly in 1962-63<![if !supportFootnotes]>[24]<![endif]> but this did not prevent total closure between Market Drayton and Madeley Chord in 1966.
Since the Beeching closures, Wellington (now part of the new town of Telford – which in any case prefers roads) manages rather badly with one railway line south-east to Wolverhampton and Birmingham and a second line north-west to Shrewsbury and Chester.
Other lines shown in Table A7 include the Burton-on-Trent service which ceased in 1960 and the Ashbourne branch which closed in 1954 together with the former L.N.W.R. line from Buxton to Ashbourne.
The Churnet Valley happily just won't die. It managed to keep its passenger service for a further four years after the closure of the Stoke-on-Trent to Leek service and even then kept a limited workmen's-service between Leek, Froghall and Uttoxeter for yet five more years until 1965.<![if !supportFootnotes]>[25]<![endif]>  The 1961 timetable shows this workmen's service to be three trains daily from Uttoxeter to Leek and two trains daily in the opposite direction. The times were such that it required two complete train-sets at peak time to operate this very minimal service and these trains must have been idle for the rest of the day. Now, the very scenic section of the route from Cheddleton through Consall Forge to Froghall (which continued in use until quite recently for mineral traffic) is being restored by a railway preservation society with dedicated local volunteers. It is now open from Cheddleton to Consall Forge.
It is difficult to take the measure of the loop line services (Table A8). The 1910 service was indeed first rate, at least as far as the frequent Tunstall to Normacot trains were concerned, and this service continued well into L.M.S. days. Indeed, by 1922 the service between Stoke-on-Trent and Tunstall had actually increased from 44 to 53 trains daily in each direction. This intensive service was very well used and in its hey-day the loop carried over 70,000 passengers per week (averaging about 100 per train). Operating this frequent, tightly timed and very well patronised service over a very difficult route with closely placed stations required the very highest standards of steam train maintenance and operating.
By contrast, north of Tunstall, the 1910 service of ten trains daily to Newchapel and Goldenhill and seven to Kidsgrove was poor.
It is recorded that in 1937 there were still 40 trains daily between Tunstall and Stoke-on-Trent, but that by 1943 the number had declined to 24.<![if !supportFootnotes]>[26]<![endif]>By 1947, the service of 16 trains daily between Stoke-on-Trent and Tunstall was but a shadow of its former self and it is impossible to see the underlying pattern.
Any attempt to plot train utilisation gives the impression that in 1947 the train-sets were used for on average less than four hours per day. What cannot be gauged, however, is the extent, if any, to which these train-sets were also used for the 'secret' trains to and from Cold Meece and elsewhere.
The Loop had lost most of its traffic to the road services even by 1947 when, off-peak (i.e. between about and ), there were just two trains in each direction compared with over 20 off-peak services each way in 1910. By 1956, traffic had declined to such an extent that a traffic survey showed just one fare-paying passenger and three off-duty railwaymen travelling on a mid-morning train with the result that there were further service cuts.<![if !supportFootnotes]>[27]<![endif]>   The 1961 timetable shows just five trains daily from Stoke-on-Trent to Hanley and Tunstall and none at all between and . Clearly, the end was near. The inevitable closure came on 2nd March 1964.
Summaries of Sunday services in November 1947, 1976 and 1996 respectively are given in Table A1 and Table A9. Major track maintenance, which must be done sometime, often requires full possession of the railway for at least eight daylight hours. This has often been best achieved on Sunday morning through to mid-afternoon when traffic is lower than at most other times and consequently it is the morning services, which vary considerably year by year.
In recent times, every effort has usually been made to operate a morning service where possible and to get back to normal by late afternoon when many people are returning after the weekend. Local Sunday service has always been limited and so it was in 'Knotty' days. Published timetables show that on the Loop Line there were just ten Sunday trains in each direction in July 1889 and also in June 1910 but none at all in October 1922.<![if !supportFootnotes]>[28]<![endif]>
Through Services and Connections
Table B, covering two pages, is arranged in alphabetical order of selected towns or cities reached by through trains or connecting services from Stoke-on-Trent. Many places are served by two or more alternative routes e.g. Preston and Edinburgh via Crewe or Manchester; South Wales via Birmingham or Crewe; East Anglia via Derby or Birmingham and Sheffield via Stockport or Derby. For this reason strict alphabetical order is used rather than to attempt an arrangement by route. Many individual places have already been mentioned, in the discussions on tables A1 to A5.
The table contains a wide range of destinations throughout the whole country and shows the level of train service available to passengers from Stoke-on-Trent by through trains or reasonable connections in November of each of the three years 1947, 1976, and 1996. In the case of 1996 there is normally only one change of train required except in a very few cases when two or three may be needed. In earlier years several changes were often needed to many destinations which now require only one change.
There is, of course, a considerable element of subjectivity with regard to what constitutes a 'reasonable connection'. Generally speaking, a service has not been counted where it was overtaken or almost overtaken by a later and faster service. Nor are services that were dependent on a very short connection time, or suffer from a very long wait, except where there are few alternatives.
It will be obvious that the service to some places is much better than to others. This of course has always been so and inevitably always will. But, in almost every case where lines and stations are still open, the service has improved significantly, certainly with faster trains but usually with a more frequent service also. Of course, the improvement in the service to some destinations has inevitably been very much greater than to others.
Included in the table are four new stations which have opened in recent years: Gatwick Airport, Birmingham International, Milton Keynes Central and Manchester Airport. There are also several stations on the L.N.E.R or the Southern Railway for which the 1947 timetables have not been researched but to which travel in 1947 was known to be particularly difficult. Likewise, there was no reasonable alternative to travel via London for journeys to Gatwick or Brighton in 1976 apart from three rather slow services, each with changes and long waits at Birmingham, Reading and Redhill – perhaps a few people went that way.
Until the 1960s there were two stations in Nottingham and a journey from Stoke-on-Trent to Grantham or Skegness involved a change of train at Derby and a change of station at Nottingham. By 1996, there were ten trains daily from Stoke-on-Trent to Spalding, Boston and Skegness of which eight called at Grantham while the other two took the direct line which avoids reversal of the train at Grantham and gives a faster journey.
In 1947, anyone wishing to travel from the North-West to the South Coast or indeed any part of South-east England and the home counties from Hampshire to Essex inclusive and even further afield would expect to travel via London and the fares were fixed accordingly.
Only the well established 'Pines Express' from Manchester to Bournemouth via Crewe, Birmingham, Bath and the former Somerset & Dorset Joint Committee line over the Mendips (long since closed by Dr. Beeching) provided a daily through service to the South Coast.
The 'Pines Express' which first ran in October, 1910 was the L.N.W.R's response jointly with the Midland Railway to the competition posed by the G.W.R. service from Manchester via Crewe and Wellington to Bournemouth introduced jointly with the London and South Western Railway during the summer of 1910.<![if !supportFootnotes]>[29]<![endif]>  The 'Pines' was a leisurely service that took all day and returned the next thus needing two full restaurant car trains dedicated to the service.
During the 1960s the 'Pines Express' changed its route between Manchester and Bournemouth three times in the wake of Dr. Beeching's closures. Firstly, following the closure of the scenic line over the Mendips, it was routed from Crewe over the former G.W.R. route of 1910 (the very route with which it had so successfully competed in the early days of rivalry). This was the route via Market Drayton, Wellington, Wolverhampton (Low Level), Birmingham (Snow Hill), Leamington, Banbury and Oxford to Reading, Basingstoke, Bournemouth and Poole. Six months later the direct line from Crewe to Wellington closed and a second change routed the train from Crewe to Wellington via Shrewsbury.
The third change came in 1967 when, following the closure of Birmingham (Snow Hill), the service returned to the former L.M.S. route from Crewe as far as Birmingham (New St.) but then followed the G.W.R. route to Leamington, Banbury, Oxford, Reading and Bournemouth.
At that time the 'Pines' lost its name but the service grew from strength to strength so that the original one train daily each way eventually became four and three of these now run via Stoke-on-Trent. During 1976/77, the through train to Bournemouth actually ran from Liverpool and even passengers from Manchester had to change trains! The name 'Pines Express' was recently reinstated giving recognition to the fine tradition of this pioneer through service from the North-West to the South Coast. (Specimen times are given in Table F).
These Bournemouth trains together with the trains to Paddington, and the Gatwick and Brighton service, form the basis of the alternative route to southern England. To promote this traffic and also to take pressure off the heavily loaded morning services to London, lower fares were introduced on routes, which avoided London. But, to compensate to some extent for the higher fares and also to save passengers' time in having to stop and buy tickets, through tickets via London now include free underground travel between London termini.
Details of Cross-London services to Southern and Eastern destinations are given in Table C together with alternative services avoiding London. The Cross-London services are in many cases quicker and more frequent.
However, except where more than two changes of train are involved or where time is a problem, the routes which avoid the hassle of crossing London are very popular with people travelling with children or much luggage.
In particular, the through services to Banbury, Reading, Basingstoke, Winchester, Southampton, Bournemouth, and Poole are very heavily used and provide good connections for many places including Salisbury, Weymouth, Portsmouth, Chichester, Bognor, Alton, Aldershot, Guildford and Gatwick (also, at Banbury for the Chiltern Line and Aylesbury).
The Gatwick and Brighton through service (also via Reading) provides connections for Tunbridge Wells, Worthing, Hastings, Eastbourne, Horsham, East Grinstead, and many South London suburban destinations. The Brighton train also provides connections to Folkestone and East Kent but these involve two or three changes and take about two hours longer than via Central London.
Other connecting services offering useful alternatives to Cross-London travel are at Nottingham or Grantham for Peterborough, Norwich, Ipswich, and Harwich Parkeston Quay.
The Cross-London connections are not so advantageous as they used to be. The service from Liverpool and Manchester to Norwich via Nottingham and Peterborough is the great success of the quiet revolution in the 1980s against 'hand-me-downs'.
Before the war and for many years afterwards, the 'North Country Continental' was a regular express offering a daily service between Liverpool Central, Manchester Central, Sheffield, Retford, Lincoln, Spalding, March, Ely, Ipswich and Harwich for the Hook of Holland ferry.
This train has a long and distinguished pedigree, which goes back to 1885 owing to the singular enterprise of the Great Eastern Railway. It was one of the first trains in the country to provide a restaurant car and definitely the first to provide dining saloon facilities for third class passengers, which it did from July 1891.<![if !supportFootnotes]>[30]<![endif]> Its journey took the greater part of the day and returned the next day, requiring two full-length trains with dining cars to operate the service. Consequently operating costs were high.
In later years the income was never sufficient to justify the cost of new trains, despite its pedigree. This resulted in the trial over the years of many alternative routes, some going as far as Edinburgh, and all of them genuine attempts to boost profitability. Consequently, it was almost always composed of older coaches. The writer travelled on this train from Liverpool to Manchester in 1949, and took an excellent afternoon tea in the oldest dining car still in service, at that time, anywhere on British Railways.
In the early 1980s this train was even selected by the BBC for ridicule on the 'That's Life' T.V. programme. On that occasion their ire was particularly directed at booking office staff at Shenfield in Essex (at which station the train had just started to call during one of its periodic re-routings). They, not knowing of the train's existence, had insisted it didn't call at their station, and had directed passengers, who did know about the train, to travel to Scotland via London!
Finally, in the late 1980s, a brand new fleet of two-coach air-conditioned express railcars providing an excellent hourly service from Liverpool, Manchester and Sheffield via Nottingham (with connections from Stoke-on-Trent), to Peterborough, Ely and Norwich replaced the 'North Country Continental' and several similar trains.
Connections are made at Norwich for Cromer, Sheringham, Great Yarmouth and Lowestoft. Today, Harwich is still served, but only by connections at Ely, as the number of passengers travelling by ship to the Continent has continued to fall. There are also connections at Ely for Kings Lynn, Ipswich, and Cambridge. However, the service from Stoke-on-Trent to Cambridge is faster via Birmingham.
There are still many places, notably almost everywhere in Essex and many London suburban destinations, which cannot easily be reached except via Central London and many other places that are provided with a more frequent and much faster service via London. Table C lists 37 destinations including Paris and Brussels which can be reached via a Cross-London route and in most cases the frequency is limited only by the number of trains between Stoke-on-Trent and Euston.
Comparison is provided wherever possible with the fastest service by a route that avoids London. Those who are in a hurry, which of course business people generally are, will find the cross London services best, as they are usually faster and more frequent. Likewise, the use of an early morning train and the cross London service often makes possible a round trip to a southern destination and a worthwhile business meeting all within one day, thus avoiding an expensive overnight stay.
There have been some significant developments since privatisation; notably the new service via Watford Junction to Gatwick Airport introduced by Connex South Central in June 1997, the through service to Manchester Airport as an extension of the Skegness to Crewe service, and the connecting service via Birmingham to Stansted Airport. Both the latter were introduced by Central Trains in May 1998. These new services (see Table E) have a considerable bearing on some of the services covered by Tables B & C. 
Those who think this must be something to do with Isambard Kingdom Brunel and the Great Western Railway are not far wrong. When Brunel built his railway from London to Bristol he chose a good level though slightly curvaceous route following the Thames valley through Reading, then north-westwards to skirt the downs, and then along the Vale of the White Horse and beyond to Bath and Bristol. Not the straightest route but an excellent choice for a fast line to Bristol. From Bristol the G.W.R. pushed south-west through Somerset to Taunton and Exeter and on to Plymouth (a distance from London to Exeter via Bristol of 194 miles).
All was well until competition came to Exeter & Plymouth with the London & South Western Railway by a much shorter route through Salisbury (a distance to Exeter of just 172 miles). Suddenly the G.W.R. became the 'Great Way Round', the new nickname stuck as also did the competition and eventually the G.W.R. was forced to build a long deviation from Reading through Westbury to Taunton. This deviation cut twenty miles and with fewer stops, over half an hour from the through journey.
The Romans knew all about deviation from a straight line and its effect on a marching body of men and took this fully into account when planning their very straight roads. So did the Britons and the Anglo-Saxons, who, no doubt with defence in mind, took their lanes round two sides of every field. Likewise, modern motorways are often quite circuitous owing to the enormous cost of new road construction in urban areas.
One of the problems resulting from Dr. Beeching's reshaping of British Railways is the lengthening of railway routes as the result of line closures and this can add to the difficulties when competing with road transport. In fact, in the wake of the Beeching report, consideration was actually given to the abandonment or downgrading of the Westbury and Salisbury routes to Exeter and the routing of all through traffic from London via Bristol (a deliberate return to Brunel's 'Great Way Round' proposed as an economy measure). Fortunately these proposals were only partly accepted but even so the reduction of much of the Salisbury to Exeter line to single track was a great mistake. Another important line reduced to single track following Dr. Beeching – the central section of the former G.W.R. route to Birmingham via Bicester – is currently being restored to double track to meet the needs of modern traffic.
Many complete line closures were made, however, and five that have resulted in longer routes from Stoke-on-Trent are noted here as being typical of many others.
The route to Burton-on-Trent is now via Derby and the distance had increased by 57% from 30 miles in 1947 to 47 miles by 1976 with the consequence that rail travel is slower than the bus. The railway journey from Stoke-on-Trent to Wellington has similarly increased by 54% from 33 miles to 50¾ miles and there is no obvious alternative public transport available. The shortest route to Colne has increased by 24% from 77¾ to 96¼. To Pwllheli via Machynlleth is a journey of 166 miles compared with 127½ via Bangor.
Lastly, the mileage from Stoke-on-Trent to Stranraer has increased by 24% from 262 miles to 323¾ miles. It must be admitted that the closure of the 75 miles between Dumfries and Stranraer was inevitable since there was almost no local traffic. Most passengers at that time used the Irish boat trains which ran overnight from London and Newcastle-on-Tyne and which had sufficient time for the longer journey via Kilmarnock. Even with the much longer routes, it will be noted that the 1996 times for journeys by train from Stoke-on-Trent to each of the five destinations given above are in every case faster than those in 1947, but given the original routes, today's services could be even faster.
Comparison – Services from London to other Cities
One result of railway nationalisation was the integration of the North Staffordshire Railway Passenger Service into the national network to an extent never previously achieved. The passenger service in 1947 was to a considerable degree the run-down remnant of a local service developed by the local company to meet local needs. Just one overnight train and three daily expresses from Manchester to London called at Stoke-on-Trent and provided a through service to the capital. 
By 1996, as has already been noted, purely local train services had almost completely disappeared and local passenger needs were met almost entirely by the through services to and from Manchester, Birmingham, Crewe, and Derby. Of the service to and from Manchester, almost half comprised the Manchester to London service and most of the remainder was comprised of services from Manchester to Birmingham and beyond. Indeed, these InterCity services, especially the London service, would be most sorely missed if, by some tragedy, Stoke-on-Trent were to lose its through passenger services as many other towns and cities have done.
In Table D, an examination is made of the 1996 and where possible the 1947 services from London to a selection of destinations in the Midlands and the North, including towns and cities both larger and smaller than Stoke-on-Trent. From this it will be seen that a few, such as Doncaster, York, Newcastle, Oxford, Leicester, Coventry, and Birmingham, today have a half-hourly service, while other favoured cities like Leeds, Edinburgh, Nottingham, Sheffield, Derby, Preston, Liverpool, Manchester and Stoke-on-Trent have an hourly service.
Stoke-on-Trent is doubly favoured, only the East Coast Main Line services to Leeds, York, Newcastle and Edinburgh were significantly faster than the average of 82 m.p.h. for the 14 trains daily from London to Stoke-on-Trent in 1996. The location of Stoke-on-Trent on the Manchester to London direct route is a major reason for its excellent service.
Many other towns are much less fortunate. Bradford (a larger city than Stoke-on-Trent) has just three through trains to London daily (in 1976 there were six). Chester and North Wales likewise have just three trains daily (compared with five in 1976). Hull, which is also larger than Stoke-on-Trent, is now reduced to one through London express daily (in 1976 there were four). 
Midlands, North Western, and Northern towns not listed in Table D include Appleby, Barrow, Birkenhead, Blackburn, Blackpool, Bolton, Burnley, Colne, Grimsby, Halifax, Harrogate, Huddersfield, Middlesbrough, Scarborough, Southport, Stockton, Sunderland, Whitehaven, Windermere, Workington, and Wrexham. Each of these had at least one through service to and from London in 1947 and later, but none at all in 1996.
There are, generally, good connections from the above towns into InterCity London services, in many cases at hourly intervals, but these are inevitably slower and less convenient than through services could be. Wellington and Shrewsbury are also in that category with about 30 connecting services daily.
Prior to rationalisation under Dr. Beeching, these Shropshire towns had a service of six trains daily over the former G.W.R. route from Paddington via Bicester and Birmingham (Snow Hill) to Wrexham, Chester, and Birkenhead. After the completion of electrification via the L.M.S. route to Birmingham (New St.), the Paddington service ceased, and Wellington and Shrewsbury were served by services from Euston via Birmingham and Wolverhampton.
 In 1977, this was a single through service daily in each direction. By 1989, Shrewsbury had five through trains daily to and from London Euston. These through services had all been discontinued by 1992. However, since privatisation, Virgin West Coast has reintroduced a through express service of one return journey daily between Shrewsbury, Wellington, Telford and London Euston.
Even after the war, the G.W.R. and the L.M.S. were fiercely competitive on the London to Birmingham routes, such that, in 1947, ten of the trains from London were G.W.R. services from Paddington to Snow Hill and seven were L.M.S. services from Euston to Birmingham New St.  
Elsewhere, there was competition between the L.M.S. and the L.N.E.R. for the passenger traffic from London to Scotland, and to Leicester, Nottingham, Sheffield, Leeds, Bradford and Manchester. The 1947 services to all these places included trains by two or three different routes. 
The service of 17 trains daily to Manchester consisted of four from Euston via Stoke-on-Trent, three via Crewe, six from St. Pancras via Derby to Manchester Central, and four L.N.E.R. trains from Marylebone via Nottingham and Sheffield which was always a very slow route. Three of the 17 trains to Manchester in 1947 were overnight trains. In 1996, the through services were generally by the shortest available route and there were no overnight trains except to and from Scotland.
Passenger Trains and Facilities
A study of the 1947 timetable reveals very little information about the quality of train service other than times, days and dates and cryptic notes concerning the provision of  'through coaches', 'restaurant cars', 'buffet cars' and 'sleeping cars' and those trains which were 3rd class only. Later, 3rd class became 2nd class and is now 'standard class'. After the war, Stoke-on-Trent fared particularly badly for restaurant car services and in 1947 there were just two through trains to London and four from London with dining facilities. By 1976 the timetable had in addition notes of 'Pullman services', 'Hot dishes to order', and 'Buffet service of drinks and cold snacks'.
Changes in travelling habits, in the wake of the faster and more frequent services introduced in the 1970s and 80s, saw a significant reduction in overnight travel and by 1996 sleeping cars were limited to the London – Scottish services.
Likewise, in the wake of the faster services (which reduce the need for on-train dining) and also in response to general changes in eating habits, formal restaurant car services have in many cases given way to informal buffet car and refreshment trolley services. Today, good light refreshments are almost always available on the longer journeys and are not restricted to specific meal times.
On many routes, traditional restaurant car service survives only on the early morning business trains, which usually offer 'at seat' service of full English breakfast in the first class, and in luxury Pullman accommodation. A few prestige InterCity services do still offer traditional 'silver service' breakfast, lunch or dinner, even in standard class, where it is promoted as 'Silver Standard'.
Seat reservations were not available in 1947 and were introduced at first only for passengers who joined the principal expresses at the starting station. In 1976, passengers from Stoke-on-Trent could reserve seats on just 12 weekday and 7 Sunday trains. By the 1990s, Stoke-on-Trent station enquiry office was equipped with computerised advance booking and reservation facilities and seat reservations are now made for all InterCity and many express services, often without extra charge.
Much earlier, in 1969, the growing importance of Stoke-on-Trent as a railway centre was recognised when, in a pilot scheme to evaluate the use of credit cards in ticket offices, it became one of only 18 stations throughout Britain at which passengers could buy tickets using a credit card.<![if !supportFootnotes]>[31]<![endif]>
Privatisation, New Services and Developments
In preparation for privatisation, British Railways operating divisions were divided up into passenger service operating companies. These Limited Companies were given franchises to operate specified services under a wide variety of names ranging from the very traditional 'Great Eastern Railway' and the descriptive 'Island Line' (of the Isle of Wight railway) to the tautological 'ScotRail Railways Ltd' and the very contrived 'Network South Central'. The published titles of some of these oddly named passenger service operating companies tend to change from one timetable to the next as the fancy takes.
The various purchasers of the train operating companies are already beginning to impose their own management structures, promotional images, liveries and logos on their trains and services and some companies are now trading under different brand names. It is almost certain that there will be further changes of company names and brand names during the coming months and years. Indeed, by 1999, even more curious name changes had occurred and the contrived nature of some of these names never ceases to amaze.
Ironically, the internationally recognised, greatly respected, and much imitated 'InterCity' brand name, which brought a new concept to Railway operating, has now disappeared even though this InterCity concept is still at the heart of all modern express passenger services in Britain and increasingly throughout the world.
Of the services through Stoke-on-Trent, the London service is an InterCity West Coast operation now owned by Virgin Trains as also is the CrossCountry Trains service via Birmingham and the Virgin name, logo and livery is already much in evidence. Recently, Virgin Trains have announced two major orders for new trains for their West Coast and cross-country operations. Both projects will incorporate 'tilting train' technology and this, in conjunction with the major track and signalling improvements planned by Railtrack for the West Coast main line, will permit significantly higher speeds on these major express services. Virgin Trains Ltd is also responsible for passenger facilities and station staffing at most of the West Coast mainline stations including Stoke-on-Trent.
Central Trains operate the former Regional Railways services to Crewe and Derby, Nottingham and Skegness. Central Trains also operate the local services to Stafford, Birmingham and the Trent Valley. North Western Trains operate local services to Congleton, Macclesfield, Stockport and Manchester. These regional and local railway operators have also placed major orders for new and refurbished rolling stock, as have most other privatised railway operators. By 1999 many of the Central Trains and First North Western services from Stoke on Trent were being operated by modern air-conditioned diesel and electric trains.
Privatisation brings with it competition between train operators and this could seriously affect the interchangeability of tickets in cases where several operators serve the same route or alternative routes between major cities. Situations have already arisen where a wide range of fares is on offer for similar journeys and passengers have been unable to get accurate advice as to the cheapest fares available and the restrictions if any which apply.
These and related problems are likely to increase as competition reduces the operators' margins and they in turn seek to maximise their income by promoting the more expensive fare options whilst keeping the cheaper deals for those who shop around. The indications are that competition could also take the form of complimentary refreshments served airline style by attendants in every coach and similar 'we take good care of you' inducements to promote 'brand loyalty'. The traditional 'unrestricted open ticket' will probably give way gradually to pre-booked all-reservation ticketing for express and InterCity services with premium fares for the most popular services and heavy discounting of lightly used trains.
At the time of privatisation, the onus was placed on train operators to provide objective, accurate and impartial information to potential passengers on all the fares and services available including those by alternative routes and competing operators. This is a grand ideal but hardly practicable. The problem is that all this takes time and every ticket sale or enquiry potentially gives rise to multiple questions concerning times and dates of travel for both outward and return, routes, journey times and facilities. The intended travel data must then be compared with the availability or not of special fares with fancy names like 'Apex', 'Super Apex', 'Super Advance', 'Saver' and 'Super Saver'. This can then result in major time consuming decisions having to be made at the point of sale with queues getting longer so that cost of ticket selling increases and conversely the revenue decreases.
Buying the correct tickets with seat reservations for a weekend at Brighton or Margate for a fare of under £50 each can now take almost as long as making reservations for a packaged fortnight on the Spanish Coast at an inclusive charge of over £500 per person. Meanwhile, people miss their trains whilst queuing for tickets. The new operating companies will need to sort out these ticketing inefficiencies quickly if they are to retain the confidence of travellers.
Increasingly, those who are able to plan their journeys at least a week ahead are buying their tickets and making reservations by telephone or the Internet (paying by credit card in each case) with the tickets sent to them by post thus reducing the pressure on the station booking facilities.
The writer was asked, early in 1997, to find a route (with convenient times and reasonable fares) for a friend intending to travel alone from Stoke-on-Trent to Stevenage which is located on the East Coast Main Line 27½ miles north of London. The Computer based RailPlanner picked out in about ten seconds all the possible trains and routes on a normal weekday and, as fully expected the most frequent service and the fastest journeys were via London. The real surprise was the suggested underground route from Euston via the Victoria Line to Finsbury Park for a connection with the Great Northern Railway train to Stevenage. This is quicker than changing from the underground to the main line at Kings Cross and probably involves less walking – an interesting route for an enthusiast.
However, the alternative via Grantham, although it took about an hour longer, was the obvious route for my friend as it involved just one easy change. Also, Grantham is a quiet and very pleasant station with few platforms to confuse the occasional traveller and is equipped with a comfortable buffet on the London platform in which to wait.
This exercise, in fact, provided a very good example of the choices of route now available and the ease with which the trains and connections can be found. The computerised RailPlanner is very good with timetables but has no information on fares, so enquiry for fares for the journey from Stoke-on-Trent to Stevenage was made at Stoke-on-Trent station enquiry office. This, having queued for twenty-five minutes, proved an interesting and enlightening experience. The only through fares on offer were via London. However, on pressing the point, the very busy but also very competent booking and inquiry clerk consulted several separate computer files to find an alternative. He discovered that booking two separate fares, Stoke-on-Trent to Grantham return and Grantham to Stevenage return would cost several pounds less than the fare via London.
This is entirely consistent with the journey via Grantham being 21½ miles shorter but about one hour longer than the journey via London and reflects the differences in distance travelled and time taken. But the fact that the cheapest fare, and also the shortest route, was not at that time available as a through ticket, is an example of the increasing fragmentation which privatisation is bringing to the railway services, and highlights the need for vigilance when buying a ticket.
Mention has been made earlier of three important developments introduced in the first two years of privatisation which are detailed in Table E, namely, the Central Trains services to Manchester Airport, and Stansted Airport and the Connex South Central service to Gatwick Airport.
The Manchester Airport service has become possible following the completion of the triangular junction near Style, permitting through running via Style between Crewe and Manchester Airport. This hourly service shows considerable enterprise on the part of Central Trains who will have needed to allocate an extra train set to the Skegness – Nottingham – Crewe service to cover the extension to the airport. This provides 15 through trains daily from Stoke-on-Trent to Manchester Airport and back with a journey time of about 65 minutes.
The other Central Trains development has been the extension of the Birmingham to Cambridge service to Stansted Airport. In 1998, this provided a service of nine trains daily from Stoke-on-Trent to Stansted Airport (compared with only one in 1996) with just one change of train at Birmingham New St.
The newly introduced (post-nationalisation) through service from Rugby, Milton Keynes, and Watford to Gatwick Airport (Table E) provides fourteen connections daily with the Virgin Trains Manchester – Stoke-on-Trent – London services and further reduces the need to cross London. This service to Kensington, Clapham Junction, East Croydon and Gatwick provides much improved connections to South London, Southern England, Brighton and the South Coast, and also is from an operational point of view extremely interesting.
 The service runs throughout on existing railways that have carried passenger trains and heavy freight trains for well over a hundred years. Indeed, for a number of years before and after the 1914-18 war, there was a daily summer service between Manchester and Brighton jointly operated over this route by the LNWR and the LBSCR and popularly known as the 'Sunny South Express'. In the late 1930's, the train left Manchester at and ran via Crewe to arrive in Brighton at .<![if !supportFootnotes]>[32]<![endif]> The service was limited to one train daily during the summer and was suspended during the war.
After the war, this West London line was used occasionally by excursion trains and by a few holiday trains on Summer Saturdays.<![if !supportFootnotes]>[33]<![endif]> Only in the mid-1980's was an attempt made to operate a few through InterCity services from North-west England to Gatwick and the south coast this way but by 1992 those services all ran via Reading. In the summer of 1986, six trains daily, but only three of these ran via Stoke-on-Trent, two to Gatwick and one to Dover.<![if !supportFootnotes]>[34]<![endif]> By the Summer of 1988, there was no through service from Stoke-on-Trent to Gatwick or Dover.<![if !supportFootnotes]>[35]<![endif]>
Connex South Central (formerly Network South Central), the curiously named modern successor to the old and very famous London Brighton and South Coast Railway, is to be congratulated for introducing this long overdue regular and frequent service via Watford Junction. This Connex South Central service is comprised of 22 trains daily between Watford Junction and Clapham Junction over the West London Line via Kensington Olympia. Most of these trains start from Rugby and run via Northampton and Milton Keynes, and continue beyond Clapham Junction to East Croydon and Gatwick Airport. One or two run through to Brighton. This service, which was completely new in June 1997,<![if !supportFootnotes]>[36]<![endif]> is a fine example of what can be done to make better use of existing railways and is comparable to the Thameslink service between Bedford and Gatwick via Kings Cross.
In addition to the 14 connections with the Manchester – Stoke-on-Trent – Euston service, there are, of course, similar connections with the many other Virgin and Silverlink (formerly North London Railways) services operating through Milton Keynes and Watford Junction. Kensington Olympia station is ideal for visitors to the big exhibition and conference centres at Olympia and Earl's Court and for passengers with business in the Kensington & Chelsea areas. Connections at Clapham Junction and East Croydon offer services to very many destinations in the South London and South-west London suburbs as well as in central southern England generally.
The timings are similar to the traditional Cross-London routes without the hassle of the London Underground (or the cost of a taxi). The Virgin 'CrossCountry' early morning through service from Manchester to Gatwick and Brighton via Stoke-on-Trent, Birmingham, Oxford and Reading still runs, but the journey from Stoke-on-Trent to Gatwick takes over an hour longer than the service via Watford. Unfortunately, few people know about the new Connex South Central service via Watford Junction – certainly not in North Staffordshire. Locally, at the time of writing, Virgin Trains appear to have made very little effort to publicise the 14 excellent connections available via Milton Keynes and Watford Junction to South-west London, Gatwick Airport and the South Coast despite their obvious potential to generate completely new traffic for Virgin Trains as well as Connex South Central.
In 1948, the British Transport Commission took over a declining industry then operating its train services (not just in North Staffordshire but throughout most of the country) with an inferior version of the 1910 passenger timetable. Under their able management, the North Staffordshire Railway Passenger Services were developed and improved out of all recognition, in order to meet public demand for fast services to London and the regional cities, in the highly mobile second half of the twentieth century.
Thus the North Staffordshire Railway has been restructured to concentrate on its original primary function of linking 'The Potteries' by train with London, Manchester and Birmingham. Today, frequent and fast train services are also provided to many other parts of the country, to an extent that could hardly have been envisaged in 1948.
It is most noticeable that the service, in terms of frequency and the number of stations served by through trains, has been steadily improving year by year. British Rail left to its private enterprise successors a flourishing business that presents them with a great challenge and a great opportunity. Under privatisation there are very clear signs that these services will be maintained and improved still further. 
In 1996, there were fifteen express trains from Stoke-on-Trent to London compared with just four in 1947. Today, this through service totals 17 through trains daily to and from London and stands favourable comparison with the service between London and most other industrial cities in the North and the Midlands.
The Stoke-on-Trent to Birmingham service now has 21 expresses daily compared with only two during L.M.S. days and the average journey time has been reduced by half. Likewise there are now 30 express services daily to Manchester compared with just five in 1947.
These vital express links with the three largest cities in England also provide many excellent onward through services and connections, via Birmingham to the South-West and the West of England, via Manchester to Lancashire, Yorkshire and the North-East, and via London to the Home Counties, the South Coast and the Continent. There are also through trains to Edinburgh and Glasgow, which is a remarkable development.
In addition, Derby and Nottingham, with an hourly service from Stoke-on-Trent, provide gateways to the East Midlands & East Anglia, as well as to the South Lincolnshire coast. Likewise, the service to Crewe provides an hourly through service to Manchester Airport and almost hourly connecting services to Wales, to the North-West, and to Scotland.
Much more could and should be done to bring Stoke-on-Trent's excellent train services to public notice. Today's services are much better than those provided even ten years ago and far superior to the services operated in the days of steam. Certainly the valuable through services need continuous publicity but it is even more important to create general public awareness of the fast, frequent, and comfortable connecting services now available to distant parts of the country often with just one change of train. The train service is there now, but the publicity is not evident.