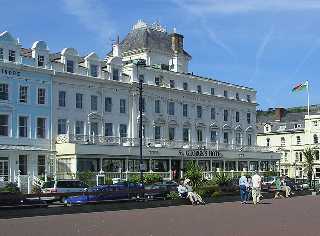 Saint George's Hotel

This famous four star hotel, built in 1854, the first hotel on the newly created Llandudno Promenade, has been patronised by many famous visitors to the "Queen of Welsh Resorts" including no less than seven United Kingdom Prime Ministers from Disraeli to Mrs Thatcher.

The hotel was extensively refurbished in 2006.
Esplanade Hotel -

A traditional, family-run hotel located on the promenade in the heart of Llandudno's magnificent bay, close to the pier with fine views across the sea and within walking distance of the town centre and the tramway and cable car to the Great Orme Countryside Park.
Marlborough Hotel -
Prince Edward Square, South Parade, Llandudno
,
LL30 2LN. This family run
40 Bedroom Hotel is close to the pier, seafront and the town centre and welcomes private guests and groups.
All rooms are ensuite with Digital TV and refreshment trays.
Waverley Hotel - The Waverley, a Grade II listed building, was built in 1882 and is located at the Northern end of the Promenade, in the heart of the historic Victorian Conservation Area. This successful hotel is ideally positioned to provide its guests with Bed and Breakfast accommodation from which to explore North Wales. Come and be welcomed at the Waverley by Bob Longmire-Bowns.
Hotel Carmen - Carmen Sylva Road, Llandudno. Perfectly situated in a level location 100 yards from the promenade and only a short walk from the theatre, conference centre and shops. The hotel features open plan lounges, separate bar and refurbished bedrooms. Ample unrestricted on-street car parking to the hotel's frontage is normally available.
Oasis Hotel

-

Commanding an enviable location on the Central Promenade with outstanding views of the famous Great Orme and the Little Orme, the Oasis is renowned for its convivial atmosphere and the friendly personal service offered by the hosts.
Hilary Guest House - 32 St David's Road, Llandudno. 'You'll wonder why you've never been before'. Beautifully decorated and spotlessly clean 4 star guesthouse in a quiet yet central area of Llandudno. Wifi, digital TV, refrigerator, bathrobes and chocolates in all rooms. Totally no smoking. Free private parking. Secluded garden with views of The Great Orme.
Plas Llwyd - Victorian Guest House - 37 Lloyd Street, Llandudno. Offering great Bed & Breakfast Accommodation. Evening meals with free wine. Ideally situated on the flat, and just a few minutes walk from Llandudno town centre. Off-road parking facilities for up to five cars.
Holcombe House

- This fine Victorian town house built in 1853 retains much of its original character. It is beautifully maintained as a 4 star Guest house and is ideally located at 4 Abbey Road, Llandudno, and just a few minutes walk to the promenade, pier, shops and restaurants. All nine bedrooms are individually designed and immaculately maintained. Car parking available.

Bryn Derwen Guest House - 34 Abbey Road, Llandudno. This four-star guesthouse built in 1878 as a private residence has been beautifully converted yet retains much of its original character. Care has been taken to preserve the charm of this elegant building and create a tranquil atmosphere. There is off road parking for each room and free wireless broadband internet access.
Cliffbury Guest House - 34 St David's Road, is situated in one of the most beautiful and peaceful tree lined streets in Llandudno with fantastic views of the Great Orme. Short level walk to the promenade, theatre, shops and restaurants in this lovely Victorian town. All rooms are en-suite with digital freeview TV, free wireless broadband internet access and tea & coffee facilities.

Burleigh Guest House - 74 Church Walks. A short walk to the promenade, shops and restaurants and within easy reach of the theatre. All rooms have TV/DVD, a hospitality tray, mineral water & Neutrogena toiletries. Wireless Broadband connection is available throughout the guest house, which is totally NO SMOKING.

Sorry – No children under 12 years old.
Kensington Hotel

- 6 Nevill Crescent, Central Parade, Llandudno. A traditional family-run hotel located in a central location in the heart of Llandudno's north shore. The hotel is close to shops, bars, restaurants and the Venue Cymru theatre & conference centre
Bodnant Guest House - 39 St. Marys Rd., Llandudno. A family run Victorian Guest House with many original features situated on the level in a wide, peaceful,tree-lined avenue within short walking distance of beach. promenade and pier, shops and restaurants, railway station, Venue Cymru theatre and conference centre, and many other amenities.
Lauriston Court Hotel - We offer bed and breakfast guest accommodation in a choice of single, double, twin and family rooms. For guests' convenience we have a car park, licensed bar and free WiFi. The hotel's excellent seafront location overlooking the pier makes it ideal for your holiday or short break.
Kinmel Hotel

-

This independently run seafront hotel situated in Mostyn Crescent on the famous promenade is ideally situated for your visit to Llandudno.We offer bright, pleasant rooms with comfortable double, twin and king size beds. In the restaurant we serve traditionally fresh home cooked food using locally sourced products wherever possible.
Clifton Villa Guest House

-

This family run bed and breakfast is located in quiet Chapel Street in the heart of Llandudno with attractions such as the promenade, pier, beaches, the Great Orme, Llandudno town shops and the railway station all within a few minutes walk. We offer off street car parking and secure parking for motorcycles.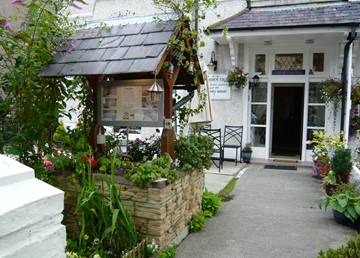 This quaint B&B in quiet Chapel Street is just a few yards from Llandudno`s main shopping street, the North shore beach and the Promenade. It offers a full Welsh breakfast, a comfortable lounge with Freeview 42" TV, free wireless internet access in all rooms

, 24 hour access and a private car park.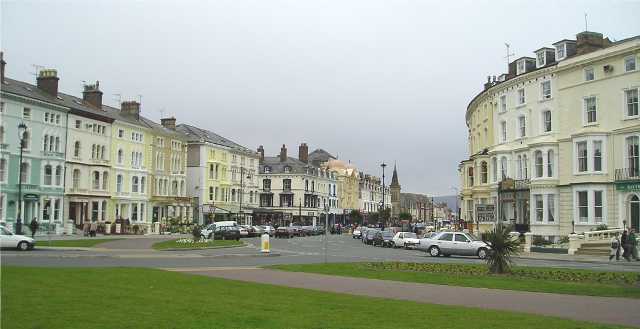 Prince Edward Square where South Parade (left) meets North Parade (right)
All Llandudno hotels and guest houses may have a free link above to their own website
complete with three or four lines of descriptive text. Please
(Noel Walley).