[Marine Drive] [

Great Orme

] [Saint Tudno] [Summit Complex] [Tramway] [Aerial Cable Car]
GREAT ORME - COAST & CAVES

The Great Orme is a massive limestone promontory, which is of course full of fissures and underground caverns that are mostly connected with earlier exploitation of the rich copper ore deposits to be found in this rock. Around the steep shoreline, mostly on the seaward sides are open caves, some of which have been occupied by men at various times during the long history of mankind in these parts. Some of these caves may be reached from the road above and here in order, together with other coastal features are those found as we follow the route of the Marine Drive or better still sail with local boatmen round the headland:
Ogof Hanner Dydd
This cave between the Happy Valley Toll Gate and the minor headland of Pentrwyn is impossible to reach without climbing techniques and its Welsh name says it all: "The Midday Cave." The name recalls an ancient happy tradition that at 12 noon at the spring and the summer equinox, the sun's rays shine straight into the cave.

Dutchman's Cave

Local guides do not mention a Welsh name for this rock fissure on the Pentrwyn headland nor why this name was chosen.
Ogof Colomenriod
This is "Pigeons' Cave" in Porth yr Helyg where a quarry was established to produce stone for the construction of Telford's Conwy Bridge and delivered by boat c1820. The wide limestone shelf is easily accessible and is a favourite location for sea angling. Still within Porth yr Helyg are features known as Frog's Head (a natural rock resemblence to a frog seen only from the sea) and Austen's Rock. The latter is a submerged limestone shelf named after the first keeper of Llandudno lighthouse who drew attention to this dangerous underwater feature that can only be seen at low tide.

Cilfin Ceirw
The "Precipice of the Deer" is the name given to the minor headland and exactly locates two carefully positioned lines of megalithic stones on the sloping headland above that bear the name "Hwylfa'r Ceirw" or the "Path of the Deer" and which has been the subject of much speculation as to their purpose. In 1880 it was said that the older name for this "Stone Row" was "Cerrig Coch" or the "Divination Stones" thus suggesting that their function was religious or ceremonial.

Pen y Gogarth

This is the northernmost headland of the Great Orme and the location of the Great Orme's Head lighthouse seen from the sea in this photograph: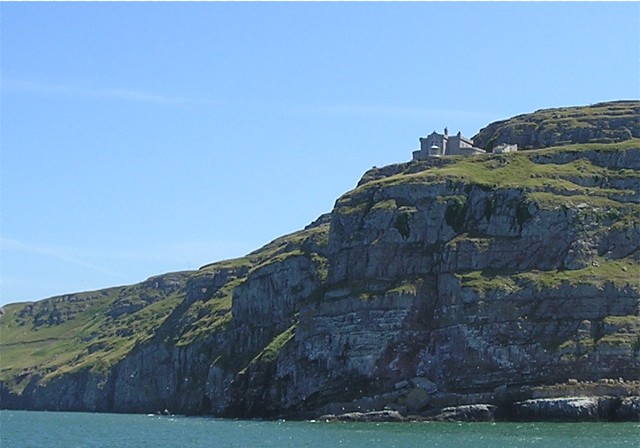 Britain's highest lighthouse no longer illuminates the night sky and has been private property since 1986.
Ogof Llech
Of all the Great Orme Caves this is perhaps the most intriguing. Certainly it is to the scholars something of an enigma. Unfortunately most of us must take their word for it because today one needs to be in the company of proficient cavers or climbers to reach it safely.


Traditionally it is said: The Ogof Llech (or hiding cave), a small cave on the headland, difficult of access, this is an understatement, but with a clear spring of water was Saint Tudno's cell." Saint Tudno, a monk of Bangor-is-y-coed, came to the Great Orme in the 7th century AD and made his home in this cave. From here he took the faith of Christ to the local people living on the Great Orme.


Access is in fact easier from the sea than from the land above and particularly since the ancient rough stone steps are now in a very dangerous condition. There is a wide stone shelf on the cliff near the water level and forming a natural quay, together with a small beach, which extends above the high water mark and onto which small boats may be dragged clear of the sea. The cave is formed, or was constructed, within a natural rock fissure and so is not easily identified from the sea.

But the above does not explain the present condition of the cave, which is unusual and of much later date than St Tudno, in that the walls of the cave are lined with finely dressed high grade sandstone, which is not a local stone and some have suggested it resembles Pennine sandstone from Derbyshire or Northumbria. The resulting sandstone lined octagonal chamber, with a stone seat around the walls, contains also the remains of a sandstone table set on sandstone columns as well as a little spring of clear water. Unfortunately, much of the finely carved detail is obscured by moss and lime scale deposits. Just outside the entrance to the cave is a weathered statue carved from the local stone and thought to depict an angel.

These features: the use of imported sandstone, the octagonal shape, a possible round stone altar and the statue all support a later tradition that links the cave with religious use by the Knights of St John of Jerusalem. The Great Orme is at the seaward end of the Conwy Valley route to and from Ysbyty Ifan, the hospice of St. John established there in 1190 and Ogof Llech may have been a chapel for the Knights on their way to and from the crusades. If indeed it was so used, perhaps it was used in the knowledge or belief that had been earlier used by the local saint.

More recently, researches by the British Geological Survey and reported by Neil Oliver in the BBC "Coast" programme have indicated that the very special sandstone comes from the Mostyn Estates Talacre quarry and suggests that it was erected by members of the Mostyn family (owners of much of the Great Orme).

This connexion is also mentioned in a Welsh bardic poem of 1683 "Cywydd i'r Llech yn Llandudno" by Siôn Dafydd Las (John Davies) of Llanuwchllyn near Bala. In the poem he says "it was repaired with skill and taste for Mostyn's heir, a man of wit." This heir is thought to be William Mostyn who became MP for Flintshire in 1553. The poet also refers to the kitchen and wine cellar below. Note too it is said that the poem mentions repair rather than new construction, thus suggesting an earlier use. Could the Knights' chapel, if that is what it was, have been bought back from the crown by the Mostyn's following the disolution of the religious orders just a few years earlier by King Henry VIII?

Finally, the cave was last used as a hiding place during the first world war on the night of August 13th 1915, when two German submarines, the U27 and the U38 attempted a rendezvous with three senior German officers who had escaped from a prison camp at Llansannan. The three men failed to make contact with the submarines and were later arrested in Llandudno. The fuller story of this failed escape and its planning with their eventual capture following quiet observation by a shop-keeper and a cab driver is told by Ivor Wynne Jones in his book Llandudno "Queen of Welsh Resorts". Interestingly one of the three was arrested by a policeman and spent the night in a police cell but the other two fared much better, they were arrested by soldiers and following interrogation by officers at the Imperial Hotel they were dined and spent the night in gentlemen's rooms at the Royal Hotel in Church Walks!


Hornby Cave


<>This cave takes its modern name from the brig

Hornby

, which was wrecked on the surrounding rocky cliffs (now known as the Hornby crags) on New Year's Day 1824. The ship was bound from Liverpool to South America and was blown against the rocks by a northwesterly gale. Only one man, John Williams, survived. He was flung from the bowsprit on to the land and managed to climb the cliffs to safety. He stayed on the Great Orme for the rest of his life working as a copper miner.

To the west of Hornby cove is the westerly headland known as Squatter's Rock and just beyond is the notorious "Cerrig Uffern" or "Hell's Stones". This was the site of the wreck on Shrove Tuesday 1847 of the barque

Jane Tudor

on its maiden voyage laden with timber from Maine to Liverpool. The crew escaped to safety by felling the foremast and using it as a bridge to the shore. The wreck was bought in situ by a Conwy timber merchant, who refloated and repaired the vessel and used it for many years bringing timber from America for the construction of many of Llandudno's Victorian buildings.


>



Click for a Map of the Great Orme


Llandudno the Queen of North Wales Resorts